Levels of Palestinian terrorism against Israel have risen considerably since the start of Israeli-Palestinian diplomatic talks, with a growing number of attacks coming out of the West Bank and Gaza Strip.
Senior figures in the Israeli defense establishment have linked some of this violence to ongoing diplomatic negotiations with the Palestinians, while also stressing that there is no direct connection between most of the terrorism occurring in the West Bank and the attacks from Gaza.
The Palestinian Authority's systematic incitement to hatred and violence, combined with the media's now shining its spotlight on diplomatic talks, has led to a wave of incidents by lone terrorists – individuals who are not part of a wider, organized cell. Such attacks against Israelis have been launched in the West Bank, Jerusalem, and in Israeli cities.
Simultaneously, there are ongoing efforts by Hamas and Islamic Jihad in Gaza to set up terrorism cells in the West Bank. If successful, these terror organizations would be able to undermine their rival, the Palestinian Authority [PA], and attack Israel from the PA's turf. So far, most of these efforts have been thwarted by Israel's domestic intelligence service, the Shin Bet.
Complicating matters further, inside Gaza, smaller terror groups, such as the Popular Resistance Committees, are seeking to undermine the truce in place between Israel and Hamas by launching rockets at southern Israel, shooting at Israeli army patrol units, and attempting to plant bombs along the border.
The following incidents have occurred in recent days:
A bomb left by a terrorist on a bus in Bat Yam, a southern Tel Aviv suburb, went off, but failed to injure anyone, thanks to the vigilance of passengers and driver, who noticed a suspicious item and got everyone off the vehicle in time.
An Israeli-Bedouin civilian employee of the Defense Ministry, who was carrying out repairs to Israel's Gaza border fence, was shot dead by a Palestinian sniper, in an unprovoked cross-border shooting, which triggered a firm Israeli military response, in which six Hamas and Islamic Jihad sites were struck.
A few days later, southern Israeli farming communities were targeted by Palestinian rocket attacks, prompting additional Israeli air strikes in Gaza.
During this same period, an Israeli policeman was stabbed and seriously injured by a knife-wielding Palestinian attacker near Jerusalem. IDF units who entered inner city zones of West Bank cities, to carry out arrests of wanted security suspects, were shot at, resulting in exchanges of fire that killed Palestinian gunmen.
In addition, there was a deadly stabbing attack by a Palestinian lone-wolf terrorist against a soldier sleeping on a bus in northern Israel, in November.
A look at official terrorism figures, as presented by the Shin Bet, confirms that since Israeli-Palestinian peace talks began in July, there has been a rise in violence. In July, the Shin Bet recorded 82 Palestinian attacks. In November this year, that number rose to 136 attacks, the majority of them occurring in greater Jerusalem and the West Bank.
Israel's security forces have responded to this wave of Palestinian attacks in several ways. In Gaza, the IDF has sought to boost its deterrence and make clear to Hamas that it must reign in the smaller armed factions, or risk paying a painful price.
The message to Hamas is that it must prevent attacks on Israel, or it will ultimately jeopardize its sustainability as a ruling regime in Gaza.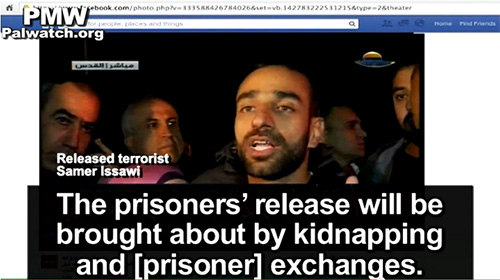 Convicted Palestinian terrorist Samer Issawi, who has twice been released from Israeli prison, speaks to the Palestinian media about the need to kidnap Jews. (Image source: Palestinian Media Watch)
In the West Bank, the IDF has kept up security raids in Palestinian cities like Jenin, Tul Karem, and Kalkilya, targeting terrorist cells before they are ready to act, while also staying on high alert for lone attackers.
Defense Minister Moshe Ya'alon said about recent events: "In recent months, we witnessed the growth of terror attacks stemming from the atmosphere in Judea and Samaria. This in turn stems from the severe incitement in the Palestinian Authority, and the unwillingness of its leaders to educate the young generation about coexistence, a culture of peace, and a recognition of the State of Israel's right to exist as the nation-state of the Jewish people, in any borders."
Ya'alon accused the PA leadership of paying lip service to peace when communicating with the outside world, while continuing to teach Palestinians to idolize suicide bombers and issuing calls for the destruction of Israel in messages to the domestic audience.
The result, Ya'alon said, can be seen in the spike of lone-wolf attackers, who "leave their homes in order to kill Jews, only because they are Jews. This is an intolerable situation from our perspective, and despite the difficulties in dealing with a lone attacker... we will act decisively and in various ways to harm those who try to harm us."
The defense minister added that Israel would not tolerate any levels of attacks from Gaza, and put Hamas on notice. As a sovereign regime, Hamas will be held responsible for any further attacks on Israelis from the Gaza Strip, he warned, adding: "If it won't be quiet in Israel, it won't be quiet in Gaza."