A breakdown in state sovereignty among Arab countries bordering Israel has created a vacuum eagerly filled by radical non-state actors.
In lawless areas around Israel, both Sunni and Shi'ite terrorist organizations are reaching out across borders and moving personnel and weapons. This means that an eruption of violence in one area carries the potential to ignite other arenas around Israel.
To Israel's south and west, Al-Qaeda-affiliated terrorist networks are growing. They operate in both the Gaza Strip and in Egypt's Sinai Peninsula, and maintain a relationship with Gaza's rulers – Hamas – as well as with Islamic Jihad.
Smaller Gazan terror groups, such as the Popular Resistance Committees (which are heavily involved in firing rockets at Israel) have taken to "sub-contracting jobs" to terrorists in the neighboring Sinai Peninsula, to avoid exposing Hamas in Gaza to Israeli retaliation.
Hamas and Islamic Jihad use the same "trick" when they wish to attempt low signature terror attacks. It also allows them to build up their own rocket arsenals to prepare for a future clash with Israel.
The transnational terror networks in Gaza and Sinai will likely soon link up with extremist jihadi groups in Syria and Lebanon, meaning that pro-Al-Qaeda elements can be expected to pose a tactical threat to four of Israel's borders: Egypt, Gaza, Syria, and Lebanon.
To Israel's north, Shi'ite Hezbollah has sent large numbers of fighters to Syria: at the moment, in addition to its traditional bases in southern Lebanon, the Iranian-backed terror organization, armed with some 100,000 rockets and missiles, can use Syria as a staging ground for future attacks on Israel. In the same vein, terror networks link the Gaza Strip to the West Bank.
Both Hamas and Islamic Jihad are actively trying to construct terror cells in the West Bank and east Jerusalem; so far, these efforts have been successfully stopped by Israel's domestic intelligence agency, the Shin Bet .
Even if efforts by Gazan terrorists to orchestrate attacks in the West Bank fail, however, a future flare-up in Gaza will likely lead to a rise in spontaneous violent disturbances in the Palestinian territories of the West Bank, as already occurred during a 2012 conflict in Gaza between Hamas and Israel.
Egypt's ongoing lack of stability has made it difficult for Cairo to exercise control over the Sinai Peninsula, despite the best efforts of the Egyptian military to combat the threat. Under the leadership of its military chief, Field Marshal Mohamed Fattah Al-Sisi, Egypt, like Israel, views the Gaza Strip as a national security threat, due to the movement of hundreds of Salafi jihadi terrorists and weapons between Gaza and Sinai through underground tunnels. It is these terrorists who are now frequently attacking Egyptian security forces there.
Meanwhile, to Israel's north, Syria has, to all intents and purposes, imploded, with the Assad regime controlling, according to some estimates, no more than 40% percent of the country. Syria has also become the world's top recruitment area for Al-Qaeda-affiliated groups; some 30,000 jihadi fighters are thought now to be active there.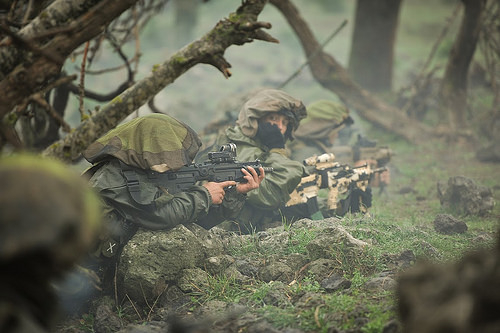 The IDF's Rimon special-forces unit conducts a training exercise in the Golan, near the Syrian border, on Feb. 2. (Image source: IDF)
Lebanon, which has hinged its existence as a state on a delicate sectarian balance, is reeling from the war exploding in next door Syria -- a conflict that has seen over a million Syrian refugees, as well as radical Sunni groups, move into Lebanon.
It is this uncertain reality for which the IDF is preparing. These initiatives include enhanced intelligence, strengthened border security, improved surveillance capabilities, and swift responses to any sudden eruption of conflict on multiple fronts.
The dramatic changes in the region have prompted the Israel Defense Forces to put a special focus on its intelligence and precision-fire capabilities.
Hi-tech intelligence-gathering techniques give Israel a superior chance of receiving a prior warning before threats materialize, while precision-guided weapons, which can be deployed by the air force or from ground-based platforms, enable the IDF to strike targets both near and far at a moment's notice.
Israel is prepared, even if it hopes that these preparations will not be necessary.