According to security expert Brian Krebs, writing in Krebs on Security, Chinese hackers have gained access to crucial information related to Israel's Iron Dome missile defense system. Iron Dome has been successfully intercepting rockets fired by Hamas from the Gaza Strip into Israel, protecting the Israeli population from harm.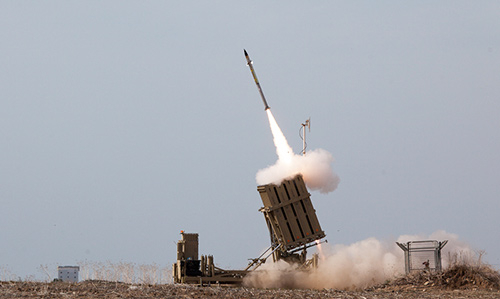 Israel's Iron Dome anti-missile defense system launches a missile to intercept a rocket fired from Gaza. (Image source: Nehemia Gershuni)
Krebs writes that according to Cyber Engineering Services [CyberESI], these latest cyber attacks, to steal crucial information regarding the missile defense system, were made by using "sophisticated tools" which resemble those used by Chinese hackers to steal information from U.S. defense firms.
According to CyberESI, more than 700 documents were stolen from three leading Israeli defense contractors: Israel Aerospace Industries [IAI], Elisra Group, and Rafael Advanced Defense Systems. The stolen data were "in the form of Word documents, PowerPoint presentations, spread sheets, email messages, files in portable document format (PDF), scripts, and binary executable files." CyberESI also reported that the data included information on other systems such as the Arrow missile defense system and Unmanned Aerial Vehicles.
CyberESI suggests that this hacking was done by the Chinese state-sponsored hacking group known as the "Comment Crew". Members of this group, also known by the official designation "People's Liberation Army Unit 61398," were charged in May by the U.S. Justice Dept. "with a raft of criminal hacking and espionage offenses against U.S. firms".
"We allege that members of Unit 61398 conspired to hack into computers of six US victims to steal information that would provide an economic advantage to the victim's competitors, including Chinese, state-owned enterprises," said John P Carlin of the FBI when announcing the charges in May.
According to John Lindsay, a researcher with the University of California, the Chinese breach and theft of this classified information could either be the result of routine espionage practice, or it could be China's attempt to gain information specifically regarding the missile defense system. The latter claim is clearly more likely, given China's efforts at developing its own ballistic missile defense system. China is also reported to be working on interceptor missiles and anti-satellite [ASAT] weapons.
According to Uzi Rubin, former head of missile defense at Israel's Defense Ministry, "[t]he Chinese have been doing that to all defense contractors in the West."
John Lindsay, as well, has said, "The Chinese style of espionage is more like vacuum cleaner than a closely-directed telescope," although seemingly a highly-targeted vacuum cleaner, and that Beijing goes only after leading firms in particular industries.
According to Israel Aerospace Industries, the Chinese hacking is "old news." IAI spokeswoman Eliana Fisher further clarified that "[t]he information was reported to the appropriate authorities. IAI undertook corrective actions in order to prevent such incidents in the future."
In 2000, there were reports that Chinese government had hired hackers to steal information from an the Los Alamos nuclear weapons research laboratory in New Mexico, and obtained information from the laboratory on every nuclear warhead. Those included US W-56 warheads used for their Minuteman II, W62 and W-78 warheads from Minuteman III, W70 warhead for Lance SRBMs, W76 warhead for the Trident SLBMs and W87 for Peacekeeper. A report from 1999 also confirmed that China gained access to information regarding the W-88 nuclear warheads and their miniaturization process from the same laboratory.
For the future of the free world, the U.S. and the international community must put an immediate end to China's regular practices of cyber espionage and theft of classified information from the defense industries of other countries.
Debalina Ghoshal is an Associate Fellow at the Centre for Air Power Studies, New Delhi, India.