The two Palestinian groups, Hamas and Fatah, are once again proving that when it comes to terrorism, they are masters of double-talk, saying one thing for the international community, which has so recently been good to them, while at home practicing the opposite. Mahmoud Abbas's denunciation of the Paris terror attacks and his decision to participate in the anti-terrorism rally in the French capital is also a sign of the ongoing hypocrisy and double standards of both Fatah and Hamas.
Hamas should be the last to denounce assaults on journalists and free speech. Its security forces in the Gaza Strip continue to arrest and intimidate Palestinian journalists on a regular basis.
Both groups have a long history of simultaneously denouncing terrorist attacks abroad while at home doing their utmost to suppress and punish any freedom of expression. Palestinian journalists have been frequently targeted by Palestinian Authority security forces for posting critical remarks on Facebook or for writing stories that reflect negatively on Mahmoud Abbas and other Palestinian officials.
Hamas's condemnation of the attack on the French magazine Charlie Hebdo coincided with a report published by the Palestinian human rights group Addameer, which accused the Islamist movement of torturing several senior Fatah leaders in the Gaza Strip.
According to the report, the Fatah leaders were stripped to the underwear and forced to stand in the cold for several hours. The report also said that Hamas interrogators had beaten them with plastic hoses and poured freezing water on them.
In the past year alone, in fact, as the opportunity to be accepted by the European Union came nearer, both Hamas and Fatah have actually stepped up intimidating, arresting and torturing journalists in the West Bank and Gaza Strip. Their intimidation and suppression of free speech at home, however, did not stop either Hamas or Fatah from condemning the brutal killing of the French journalists at the satirical magazine Charlie Hebdo.
Hamas, ironically, which has carried out hundreds, if not thousands, of terror attacks against civilians over the past 27 years, was quick to issue a statement condemning the killing of the French journalists. In its statement, published in French, Hamas said it "condemns the attack against Charlie Hebdo magazine and insists on the fact that differences of opinion and thought cannot justify murder."
Hamas, however, was extremely careful not to condemn the terror attack on the kosher Jewish supermarket in Paris -- because Hamas believes that attacks against Jews are legitimate. Condemning the killing of Jews would have meant that Hamas would also have to denounce its own terror attacks against Jews in Israel.
In another twist of irony, just hours before the Hamas statement was delivered to the offices of foreign media outlets in the Gaza Strip, a Hamas-affiliated website, Al-Resalah, tweeted a photo of the three slain French terrorists and described them as "martyrs."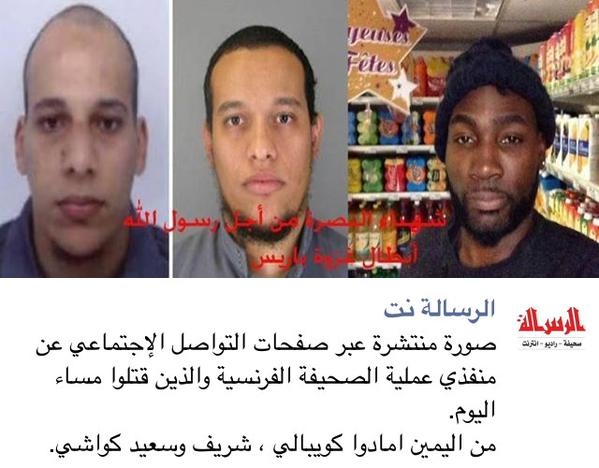 A tweet from a Hamas affiliate describing the Paris terrorists as "martyrs".
The photo was later deleted to avoid causing any embarrassment to Hamas, which is now doing its utmost to show France and other European countries that it is worthy of the recent EU court decision to remove the Islamist movement from the EU's terrorist list.
Hamas's condemnation of terrorism -- which apparently fooled many good people, who sincerely hoped that maybe "this time" Hamas was actually reforming -- should be seen only as an effort to appease the EU and persuade its government's that they were right to remove the movement from the terrorist list.
In case you are thinking that that these abuses apply only to Hamas, sources close to Abbas said that his quick condemnation of the Paris terror attacks was attributed to France's support for the recent Palestinian statehood bid at the UN Security Council. "The Palestinians are indebted to France for its support of the Palestinian resolution at the Security Council," the sources said. "We hope the French people won't change their attitude toward the Palestinian issue following the recent terror attacks in Paris."
The Fatah-dominated Palestinian Authority has just as a long a history of suppressing and punishing freedom of expression in the West Bank. Earlier this month, Abbas's Fatah "celebrated" the 50th anniversary of the launching of its first terror attack against Israel by posting a drawing on its official Facebook page, showing a large pile of skulls and skeletons with Jewish stars on them. Like Hamas, Fatah also later removed the image as part of its attempt to prevent the world from seeing how proud Palestinians are of the large number of Jews they have killed over the past few decades.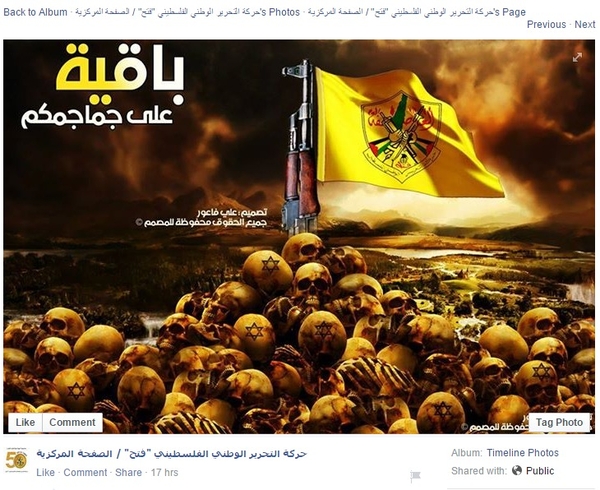 Fatah's image from its official Facebook page, celebrating their killings of Jews.
Abbas is prepared to condemn terror attacks only when such a move serves his interests. After the terror attack at a synagogue in Jerusalem last November, only after heavy pressure was applied by Secretary of State John Kerry was Abbas forced to issue a statement of condemnation.
Members of Abbas's Fatah later admitted that his condemnation was not at all sincere and had come solely as the result of international pressure.
In reality, Abbas's media and senior officials still regularly glorify Palestinians who commit terror attacks like the ones perpetrated by the French terrorists. They still never fail to describe the men who perpetrate them as "martyrs" and "heroes." In spite of his condemnation of terror attacks against Israel, Abbas has spared no effort to praise Palestinians who target Israelis. A good example of Abbas's double-talk took place last November, when he sent a letter of condolence to the family of a Palestinian who shot and seriously injured a Jewish activist, Rabbi Yehuda Glick, in Jerusalem. In his letter, Abbas said that the assailant, who was later killed by in a shoot-out with police, "will go to heaven as a martyr defending the rights of our people and its holy sites."
Hamas and Fatah are once again trying to fool the Europeans and the rest of the world by pretending to be on the side of those who oppose violence and terrorism. This is happening at a time when both groups continue to condone terrorism and glorify terrorists.
Bassam Tawil is a scholar based in the Middle East.