His Excellency, François Hollande
Dear Mr. President,
First, I wish to express my deep condolences over the killing of innocent citizens in the recent terror attacks in Paris.
Second, I want to apologize to Your Excellency for not revealing my true identity. After you read my letter, you will realize why people like me are afraid to reveal their real identity.
I decided to write to you this letter after hearing my president, Mahmoud Abbas, declare that you had invited him to attend the anti-terror rally in Paris earlier this week.
Like many Palestinians, I see President Abbas's participation in a rally against terrorism and assaults on freedom of speech as an act of hypocrisy -- a condition that is not alien to Palestinian Authority leaders.
In fact, many Palestinians nearly fell off their chairs upon seeing their president march in the front row of a rally in your capital, in protest against terrorism and assaults on freedom of the media.
President Abbas's participation in the rally is an insult to the victims of the terror attacks. It is also an insult to Western values, including freedom of expression and democracy.
Your Excellency, myself and other journalists living under the rule of the Palestinian Authority in the West Bank were the first to be offended by the invitation you extended to President Abbas to attend the anti-terror rally.
Undoubtedly, you are unaware of the fact that Abbas is personally responsible for punishing Palestinian journalists who dare to criticize him or express their views in public. Of course, Your Excellency, we cannot blame you for being unaware of this assault on public freedoms because the mainstream media, including French newspapers and magazines, deliberately turn a blind eye to these practices. Every day we see that the Western media does not care about such violations unless they are committed by Israel.
That is why, Your Excellency, you are probably unaware of the cases of several Palestinian journalists who have been arrested and intimidated by President Abbas's security forces over the past few years. Yes, this is the same Abbas who came to Paris to express his condolences over the brutal killing of the Charlie Hebdo journalists.
The most recent example of Abbas's crackdown on Palestinian journalists occurred shortly before Your Excellency phoned President Abbas to invite him to Paris. The case involves my female colleague, Majdolin Hassouneh, who was detained for "extending her tongue," or insulting, President Abbas.
Your Excellency, please allow me to tell you that you are completely mistaken if you ever thought that President Abbas and his Palestinian Authority are tolerant toward satire or any form of criticism. And of course, you haven't heard of the Palestinian Authority's decision to cancel the only popular satirical show on Palestine TV, Watan ala Watar (Country on a String).
The show was forced off the air in 2011 because President Abbas believed it had "crossed a line" by mocking his top officials in Ramallah. This is the same Abbas who came to Paris to protest the massacre at the satirical magazine Charlie Hebdo.
And, Your Excellency, if you want further evidence of President Abbas's clampdown on political satire, you can ask Palestinian comedians Abdel Rahman Daher and Mahmoud Rizek. The two men are currently in Jordan because they are afraid to return to the West Bank. No, Your Excellency, they are not afraid to return home because of Israel. They are afraid of being arrested by President Abbas's security forces, which accuse the two men of insulting their leader.
President Abbas, Your Excellency, should be the last person to walk in a march honoring journalists who were massacred because of their satirical work. His participation in the Paris rally is not only in an insult to the memory of the slain journalists, but to all those who believe in freedom of expression and media.
I also want to bring to the attention of Your Excellency that while President Mahmoud Abbas was attending the rally in Paris, a human rights group published a report accusing the Palestinian Authority of "waging war" against university students in the West Bank. According to the report, 24 students have been arrested in recent weeks by Abbas's security forces for "political reasons."
Again, I'm sure Your Excellency did not hear about the crackdown on university campuses because Western media outlets and foreign journalists based here do not report about such stories. You read and hear about such incidents only when the Israeli army or police are involved.
I do not want to take much of your time, Your Excellency, by telling you about President Abbas's double standards and hypocrisy on the subject of terrorism. You can learn a lot about this by going on the Internet and seeing, with your own eyes, how our president often condones and glorifies terrorism and terrorists.
You will even discover that our president, who will soon celebrate his 80th birthday, is prepared to stay awake all night to welcome Palestinians released from Israeli prison for murdering Jews and committing terror attacks no less serious than the ones your country experienced last week.
You will also discover, Your Excellency, that our president also rewards terrorists by granting them monthly salaries and other privileges.
What would be your reaction, Your Excellency, if someone decided to reward financially the families of the terrorists who massacred the innocent civilians in Paris?
Your Excellency, perhaps it is now too late to talk about the decision to invite President Abbas to the anti-terror rally. The damage has already been done, as far as I and many Palestinians are concerned. The way we see it is as follows: President Abbas has once again managed to deceive you and the rest of the international community by placing himself on the side of the good guys in their fight against terrorism and extremism. Even worse, President Abbas has managed to create the false impression that he cares about freedom of speech and independent journalism.
Undoubtedly, now Palestinians like me will now pay a heavier price because President Abbas has been emboldened by his participation in the Paris rally. President Abbas will now step up his assaults on public freedoms because he knows that the international community will only see photos of him marching together with Your Excellency and other world leaders in defense of freedom of expression.
By extending the invitation to President Abbas, you have caused damage to Palestinians like me who have been hoping that someone -- maybe even a leader like you -- would finally expose the dictatorship of the Palestinian Authority for what it is. President Abbas's participation in the Paris rally is a severe blow to people like me who are genuinely opposed to terrorism and suppression of free speech.
Your Excellency, now that the damage has already been done, all that is left for people like me is to beg you to take all what I have said into account in your future dealings with President Abbas. Please do not hesitate to raise these issues with President Abbas the next time he requests your support for the creation of an independent Palestinian state. Otherwise, France will be helping to establish another corrupt and repressive Arab dictatorship -- one that glorifies and rewards terrorists no different from those who carried out the Paris attacks.
Finally, Your Excellency, I hope that by now you understand the reason why I am too scared to reveal my identity.
Sincerely,
A Palestinian Journalist with No Name or Voice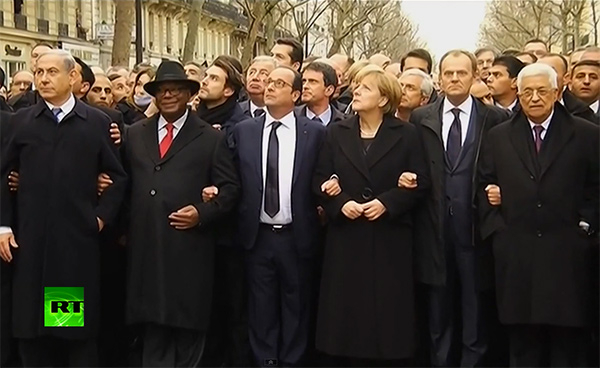 World leaders link arms at the Paris anti-terror rally on January 11, 2015. Palestinian Authority President Mahmoud Abbas stands at the far right of the front row. (Image source: RT video screenshot)