"This is the first time in history that a foreign army has killed civilian Turks in peacetime!"
This is how government-friendly media justified Turkey's reaction to Israel when, in May 2010, the Israel Defense Forces raided the "Mavi Marmara," a ship in a Turkish-led flotilla off the Gazan coast, and killed nine pro-Palestine activists aboard.
Any reader could be tempted to believe that Turkey was preparing to go to war with Israel.
Prime Minister Ahmet Davutoglu, then foreign minister, insisted that "This is Turkey's own 9/11."
Turkey asked the United Nations Security Council to summon an emergency meeting. It knocked on other doors too: NATO, the European Union (EU), the Arab League and the Organization for Islamic Cooperation (OIC). Then Prime Minister (now President) Recep Tayyip Erdogan called to discuss the Mavi Marmara crisis with U.S. President Barack Obama and German Chancellor Angela Merkel.
Erdogan's portrayal of the incident contained words such as "state terrorism," "an attack on world peace," "piracy," "thuggish state," and "massacre." He said that:
Israel must definitely be punished,
Israel will pay a very heavy price for this,
Israel murdered innocent people at sea, and
[Addressing and threatening Israeli citizens:] Israel is openly exposing your security to great risk.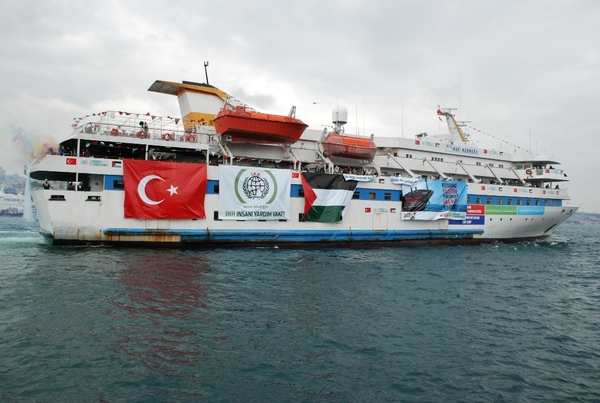 The Turkish-owned ship Mavi Marmara, which took part in the 2010 "Gaza flotilla" that attempted to break Israel's naval blockade of Gaza. (Image source: "Free Gaza movement"/Flickr)
Since the incident, Turkey's relations with Israel never normalized. Neither country has an ambassador in the other's capital. Turkey has vowed to isolate Israel internationally until Israel has apologized, paid compensation to the families of the victims, and removed the naval blockade of the Gaza Strip (which a UN commission probing the Mavi Marmara incident later declared to be legal).
One might, initially, understand the Turkish ire. After all, a foreign country's military had targeted a civilian ship and killed people aboard, with or without good legal reason. After all, again, the vessel that was attacked was not a Turkish frigate intending to shell the Israeli coast. So, Turkey's justified anger presumably had nothing to do with the inherent anti-Semitism of its Islamist rulers. Really?
For Erdogan, Israel is a terrorist state. But apparently, he has had a confused mind about another Mediterranean-basin country: Libya. In 2010, Erdogan, with a happy and smiling face, received Libya's "distinguished" Al-Gaddafi International Prize for Human Rights. He returned the favor by eventually joining an allied force that overthrew the Libyan dictator and led to his lynching. However, shortly before Erdogan decided that Turkey should join the allied forces, he had publicly said -- in criticism of the planned NATO operation against Gaddafi -- "What business does NATO have in Libya?"
As Turkey did in the Palestinian territories, or elsewhere where such groups exist, it apparently has an obsession about supporting the Islamists in Libya, too.
In response, Abdullah al-Thinni, the Prime Minister of the Libyan interim government, has repeatedly accused Turkey of interfering in the domestic affairs of Libya and earlier this year warned that Libya's government could put an end to investments by Turkish companies in the country.
On May 10, almost five years after "Turkey's own 9/11," a Turkish cargo ship's third officer was killed and several other crew members were wounded after the ship was shelled off the Libyan coast and attacked from the air by Libyan forces.
The vessel, the Tuna-1, was approaching Tobruk, a coastal city in Libya where the country's internationally-recognized government is headquartered, to deliver sheetrock cargo loaded in Spain, when it was shelled in international waters, 13 miles away from the Libyan port city. The Tuna-1 was then attacked twice from the air as it tried to leave the area. A Libyan military spokesman told Reuters that the Turkish vessel was bombed "after it was warned not to approach the Libyan city of Derna."
But this time there was no request for an emergency meeting of the UN Security Council; no talks with the EU, NATO, Arab League, OIC, Obama or Merkel. No words flying in the air such as "terrorist state," "piracy," "massacre," "an attack on world peace." No "murderers." No threats to Libyans that "your security is being exposed to great risks." And, naturally, this is not "Turkey's own 9/11."
Instead, the Turkish Foreign Ministry on May 11 issued a weak protest note. It condemned the attack and demanded legal action. It called the attack a violation of international law. All Turkey's Foreign Minister, Mevlut Cavusoglu, could say was that Ankara had sent a frigate off the Libyan coast to escort the Tuna-1 back to Turkish waters.
President Erdogan's reaction to the attack on a civilian Turkish vessel by a foreign army was revealing. He said: "Things would have been different had the Turkish ship carried a Turkish flag." That would be Turkey's wrath on Libya, he simply meant, were the Tuna-1, owned by a Turkish company, not registered in the Cook Islands.
By the way, what flag did the Turkish ship Mavi Marmara carry? Comoros.
Still wondering why Turkey's voice was so loud after the Mavi Marmara incident? For Turkey's Islamists, "what was done" does not matter much. "Who did it" does.
Burak Bekdil, based in Ankara, is a Turkish columnist for the Hürriyet Daily and a Fellow at the Middle East Forum.