On International Women's Day, March 8, Turkish news outlets covered the tragic life and early death of a Syrian child bride.
Last August, in Aleppo, Mafe Zafur, 15, married her cousin Ibrahim Zafur in an Islamic marriage. The couple moved to Turkey, but the marriage ended after six months, when her husband abruptly threw out of their home. With nowhere to sleep, Mafe found shelter with her brother, 19, and another cousin, 14, in an abandoned truck.
On 8 March, Mafe killed herself, reportedly with a shotgun. Her only possession, found in her pocket, was her handwritten marriage certificate.
Mafe Zafur is only one of many young Syrians who have been victims of child marriage. Human rights groups report even greater abuse that gangs are perpetrating against the approximately three million Syrians who have fled to Turkey.
A detailed report on Syrian women refugees, asylum seekers, and immigrants in Turkey, issued as far back as 2014 by the Association for Human Rights and Solidarity with the Oppressed (known in Turkish as Mazlumder), tells of early and forced marriages, polygamy, sexual harassment, human trafficking, prostitution, and rape that criminals inflicted upon Syrians in Turkey.
According to the Mazlumder report, Syrians are sexually exploited by those who take advantage of their destitution. Children, especially girls, suffer most.
Evidence, both witnessed and forensic, indicates that in every city where Syrian refugees have settled, prostitution has drastically increased. Young women between the ages of 15 and 20 are most commonly prostituted, but girls as young as thirteen are also exploited.
Secil Erpolat, a lawyer with the Women's Rights Commission of the Bar Association in the Turkish province of Batman, said that many young Syrian girls are offered between 20 and 50 Turkish liras ($7-$18). Sometimes their clients pay them with food or other goods for which they are desperate.
Women who have crossed the border illegally and arrive with no passport are at high risk of being kidnapped and sold as prostitutes or sex slaves. Criminal gangs bring refugees to towns along the border or into the local bus terminals where "refugee smuggling" has become a major source of income.
Professional criminals convince parents that their daughters are going to a better life in Turkey. The parents are given 2000-5000 Turkish liras ($700-$1700) as a "bride price" -- an enormous sum for a poor Syrian family -- to smuggle their daughters across the border.
"Many men in Turkey practice polygamy with Syrian girls or women, even though polygamy is illegal in Turkey," the lawyer Abdulhalim Yilmaz, head of Mazlumder's Refugee Commission, told Gatestone Institute. "Some men in Turkey take second or third Syrian wives without even officially registering them. These girls therefore have no legal status in Turkey. Economic deprivation is a major factor in this suffering, but it is also a religious and cultural phenomenon, as early marriage is allowed in the religion."
Syrian women and children in Turkey also experience sexual harassment at work. Those who are able to get jobs earn little -- perhaps enough to eat, but they work long and hard for that little. They are also subjected to whatever others choose to do to them as they work those long hours.
A 16-year old Syrian girl, who lives with her sister in Izmir, told Mazlumder that "because we are Syrians who have come here to flee the war, they think of us as second-class people. My sister was in law school back in Syria, but the war forced her to leave school. Now unemployed men with children ask her to 'marry' them. They try to take advantage of our situation."
If they are Kurds, they are discriminated against twice, first as refugees, then as Kurds. "The relief agencies here help only the Arab refugees; when they hear that we are Kurds, they either walk away from us, or they give very little, and then they do not return."
The organization End Child Prostitution, Child Pornography and Trafficking of Children for Sexual Purposes (ECPAT) has produced a detailed report on the "Status of action against commercial sexual exploitation of children: Turkey." ECPAT's report cites, from the 2014 Global Slavery Index, estimates that the incidence of slavery in Turkey is the highest in Europe, due in no small measure to the prevalence of trafficking for sexual exploitation and early marriage.
The ECPAT report quotes a U.S. State Department study from 2013: "Turkey is a destination, transit, and source country for children subjected to sex trafficking."
The ECPAT report continues,
"There is a risk of young asylum seekers disappearing from accommodation centres and becoming vulnerable to traffickers.

"It is feared that reports from the UN-run Zaatari refugee camp for Syrians in Jordan are equally true for camps in Turkey: aging men from Saudi Arabia and other Gulf states take advantage of the Syrian crisis in order to purchase cheap teenage brides.

"Evidence indicates that child trafficking is also happening between Syria and Turkey by established 'matchmakers' who traffic non-refugee girls from Syria who have been pre-ordered by age. Girls between the ages of twelve and sixteen are referred to as pistachios, those between seventeen and twenty are called cherries, twenty to twenty-two are apples, and anyone older is a watermelon."
Apparently, 85% of Syrian refugees live outside refugee camps, and therefore cannot even be monitored by an international agency.
Many refugee women in Turkey, according to the lawyer and vice-president of the Human Rights Association of Turkey (IHD), Eren Keskin, are forced to engage in prostitution outside, and even in, refugee camps built by the Turkish Prime Minister's Disaster and Emergency Management Authority (AFAD).
"There are markets of prostitution in Antep. Those are all state-controlled places. Hundreds of refugees -- women and children -- are sold to men much older than they are," said Keskin. "We found that women are forced into prostitution because they want to buy bread for their children."
Keskin said that they have received many complaints of rape, sexual assault and physical violence from refugees in the camps in the provinces of Hatay and Antep. "Despite all our attempts to enter those camps, the officials have not allowed us to."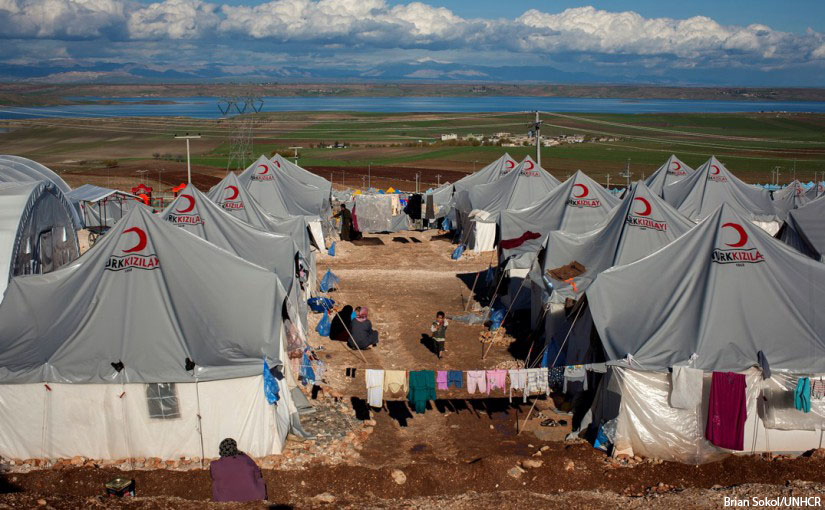 The Human Rights Association of Turkey has received many complaints of rape, sexual assault and physical violence from Syrian refugees in camps in Turkey. (Image source: UNHCR)
Officials at AFAD, however, have strongly denied the allegations. "We provide refugees with education and health care. It is sad that after all the devoted work that AFAD has done to take care of refugees for the last five years, such baseless and unjust accusations are directed at us," a representative of AFAD told Gatestone.
"The number of refugees in Turkey has reached to 2.8 million. Turkey has twenty-six accommodation centers in which about three hundred thousand refugees live. Those centers are regularly monitored by the UN; some UN officials are based in them."
"Many refugees could have been provided with jobs suited to their training or skills," Cansu Turan, a social worker with the Human Rights Foundation of Turkey (TIHV), told Gatestone.
"But none of them was asked about former jobs or educational background when they Turkish officials registered them. Therefore, they can work only informally and under the hardest conditions just to survive. This also paves the way for their sexual exploitation.

"The most important question is why the refugee camps are not open to civil monitoring. Entry to refugee camps is not allowed. The camps are not transparent. There are many allegations as to what is happening in them. We are therefore worried about what they are hiding from us."
"At our public centers where we provide support for refugees," Sema Genel Karaosmanoglu, the Executive Director of the Support to Life organization, told Gatestone.
"We have encountered persons who have been victims of trafficking, sexual, and gender-based violence.

"There is still no entry to the camps, and there is no transparency as entry is only possible after getting permission from relevant government institutions. But we have been able to gain access to those camps administered by municipalities in the provinces of Diyarbakir, Batman, and Suruc, Urfa."
A representative at AFAD, however, told Gatestone that "the accommodation centers are transparent. If organizations would like to enter those places, they apply to us and we evaluate their applications. Thousands of media outlets have so far entered the accommodation centers to film and explore the life in them."
"The number of current refugees is already too high," said the lawyer Abdulhalim Yilmaz, head Mazlumder's Refugee Commission. "But many Arab states, including Saudi Arabia and Bahrain, have not taken in a single Syrian refugee so far. And there are tens of thousands of refugees waiting at the borders of Turkey."
If these women and children knew what was possibly awaiting them in Turkey, they would never set foot in the country.
This is the inevitable outcome when a certain culture -- the Islamic culture -- does not have the least regard for women's rights. Instead, it is a culture of rape, slavery, abuse and discrimination that often exploits even the most vulnerable.
The horror is that Turkey is the country that the EU is entrusting to "solve" the serious problem of refugees and migrants.
The international community needs to protect Syrians, to cordon off parts of the country so that more people will not want to leave their homes to become refugees or asylum seekers in other countries. Perhaps many Syrians would even return to their homes.
The West has always opened its arms to many beleaguered individuals from Muslim countries -- such as 25-year-old Afghan student and journalist Sayed Pervez Kambaksh, who was beaten, taken to prison, and sentenced to death in 2007 for downloading a report on women's rights from the internet and for questioning Islam.
It was Sweden and Norway that helped Kambaksh to flee Afghanistan in 2009 by helping him get access to a Swedish government plane. Kambaksh is now understood to be in the United States.
Several European countries, however, have become the victims of the rapes, murders and other crimes committed by the very people who have entered the continent as refugees, asylum seekers or migrants.
Europe is going through a security problem, as seen in the terrorist attacks in Paris and Brussels. Many Muslims have difficulty with, or even an aversion to, assimilating into the Western culture. Many seem to have the aim of importing to Europe the culture of intimidation, rape and abuse from which they fled.
It would be more just and realistic if Muslim countries that share the same linguistic and religious background as Syrian refugees -- and that are preferably more civilized and humanitarian than Turkey -- could take at least some responsibility for their Muslim brothers and sisters. Although the desperate victims are their Muslim sisters and brothers, wealthy Arab states do not take in refugees. We have not seen any demonstrations with signs that read "Refugees Welcome!" People know that asylum seekers would bring with them problems, both social and economic. For many Muslim men such as wealthy, aging Saudis, it is easier to buy Syrian children from Turkey, Syria or Jordan as cheap sex slaves.
Women and girls are not, to many, human beings who deserve to be treated humanely. They are only sex objects whose lives and dignity have no value. Syrians are there to be abused and exploited. The only way they can think of helping women is to "marry" them.
Uzay Bulut born and raised a Muslim is a Turkish journalist from the Middle East.