On his last visit to Cairo, Palestinian Authority (PA) President Mahmoud Abbas reportedly told Egyptian President Abdel Fattah el-Sisi that he does not intend to run in any future election.
Palestinian officials who accompanied Abbas to Cairo quoted him as saying that he does not want to be a "president for life" and that he is eager to see new presidential elections take place in the Palestinian territories as soon as possible.
"My age and health don't allow me to remain in power," the 81-year-old Abbas explained. "My term in office expired several years ago and I'm still in power only because of the Hamas, which staged a coup and is controlling the Gaza Strip and refusing to allow new elections."
Abbas's remarks came amid increased talk about a "battle for succession" that has been raging for weeks among the top brass of the Palestinian Authority leadership in the West Bank.
For now, it seems that there is no shortage of Palestinians who consider themselves "natural" and "worthy" successors to Abbas, who recently celebrated the 11th year of his four-year-term in office.
Abbas's refusal to appoint a vice president, choose a possible successor, or share power, as well as his insistence on managing the PA as a one-man show, has left the door wide open for speculation as to what will happen the day he is gone.
Some Palestinians expect a smooth transition of power, while many fear that the "battle for succession" will lead to anarchy and violence.
Palestinian journalist Munir Abu Rizek recently sounded an alarm bell when he disclosed that some senior Palestinian officials and their supporters in the West Bank have been purchasing weapons in preparation for the post-Abbas era. He predicted that the anarchy that could erupt in the West Bank would be similar to what happened in the Gaza Strip before Hamas expelled the Palestinian Authority nearly a decade ago. Abu Rizek did not rule out the possibility that Palestinian cities in the West Bank would be turned into cantons ruled by rival Fatah officials and warlords.
However, the question is not which Palestinian official will succeed Abbas, so much as who will elect the next president and how? Besides, does it really matter who will be the next president?
Clearly, Abbas's successor will not be elected through the ballot box. There are no free and democratic elections in the West Bank and the Gaza Strip. Hamas and the PA, however, disagree why this is so.
Hamas is convinced that the Palestinian Authority will never allow elections in the West Bank because of the likelihood that Hamas would win, as it did in the 2006 parliamentary elections.
The PA, for its part, argues that Hamas will never allow a free election in the Gaza Strip because it does not tolerate any competition.
In any event, since Hamas and the Palestinian Authority crack down on each other's supporters in the Gaza Strip and West Bank, no free elections will emerge. So it is clear that an election to choose a successor for Abbas is off the table, at least for the foreseeable future. That is, of course, unless the PA leadership decides to hold separate elections for the West Bank -- an option that seems to be highly unlikely. Holding a separate vote in the West Bank would result in Palestinians accusing the PA of "solidifying" the split between the Gaza Strip and West Bank, thus destroying the effort to establish a unified Palestinian state in these two areas.
Therefore, it is up to the ruling Fatah's Central Committee to elect a new president. This body, established in 1963, is the most senior decision-making body of the PLO and consists of twenty-one Fatah officials, all known to be Abbas loyalists. But in recent years, the make-up of the Committee has changed a bit.
One of its members, Othman Abu Gharbiyeh, died a few weeks ago during open-heart surgery in an Indian hospital. Another member, Marwan Barghouti, is currently serving a prison term of five-life sentences for his role in terror attacks against Israelis during the Second Intifada. A third member, Mohamed Dahlan, was expelled from Fatah five years ago after falling out with Abbas and his sons.
Yet the Fatah leadership will not hand over the presidency to anyone who is not from its ranks, not even an independent and widely-respected figure such as former Palestinian Authority Prime Minister Salam Fayyad.
So the decision as to who will replace Abbas will be in the hands of 18 senior Fatah officials -- all members of the faction's Central Committee. The last time this committee held internal elections was in July 2009, when Abbas was elected as chairman.
More than half of the Committee members have announced their lack of interest in succeeding Abbas. But that may change the day after Abbas's departure. Indeed, Abbas's presence seems to discourage any such ambition. The PA president has expelled any Fatah official suspected of setting his eyes on the presidency. Mohamed Dahlan is the best example of how Abbas is quick to get rid of any official who may pose a threat to his throne. Since his expulsion from Fatah, Dahlan has been forced to relocate to the United Arab Emirates, after Abbas accused him of corruption and murder.
Six of the Committee members are over the age of 70, while most are in their 60s. Only two of them are in their 50s: Marwan Barghouti and Hussein Sheikh. But those two are not considered serious successors, although some public opinion polls have shown that many Palestinians would vote for Barghouti.
Today, Palestinians point to at least three candidates whose chances of succeeding Abbas are strong: Saeb Erekat, Mohammed Shtayyeh and Majed Faraj.
Erekat and Shtayyeh are members of the Fatah Central Committee, while Faraj, who is also a senior Fatah official, heads the Palestinian Authority's General Intelligence Force in the West Bank.
Last year, Abbas promoted Erekat to the position of PLO Secretary-General, a move that was interpreted by many Palestinians as a sign that Abbas sees him as his successor. But Faraj is also very close to Abbas, who relies on him blindly when it comes to protecting the PA regime against Hamas and other political rivals.
Regarding Barghouti, Fatah officials said this week that it would make no sense to have a president who is in prison and thus not able to perform his duties.
Prime Minister Rami Hamdallah, who previously headed An-Najah University in Nablus, regards himself as a potential successor. One of his aides said that there is "no reason why such a widely-respected man should not become the next president." Hamdallah, however, holds no official position in Fatah and has no power base there.
In this regard, Hamdallah is not different from his predecessor, Salam Fayyad. The two men do not have enough "credentials" among Palestinians, because they did not serve time in Israeli prisons and were never active members of the Palestinian "resistance."
Because of the power struggle between members of the Fatah Central Committee, there is a chance that they could elect a veteran Fatah figure who is not a Committee member. Faraj is one of the "outsiders," but there is no shortage of such people.
Another scenario that could take place, in wake of the internal squabbling and sharp differences within Fatah, sees its leaders forming a "collective leadership" to manage the affairs of the Palestinians. Tawfik Tirawi, a Fatah Central Committee member and a former head of the PA's General Intelligence Force in the West Bank, lately hinted at this option when he said that, "President Abbas will be the last president of the Palestinians."
Finally, a last question needs to be addressed: Does it really matter who replaces Abbas? In other words, will the next leader be able to deviate from the policies and strategy that have already been drawn by Abbas and his Fatah leadership? More importantly, will the next president be able to accept any peace deal with Israel that has already been rejected by Abbas and Yasser Arafat?
After Arafat died, Arafatism lived on. The same applies to Mahmoud Abbas. No real changes, if ever, should be expected in the Palestinian attitude towards the conflict with Israel after his departure.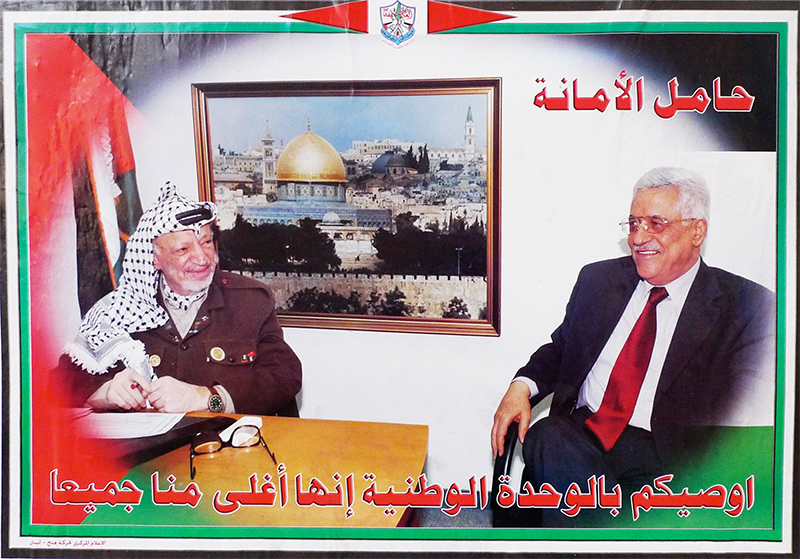 After Yasser Arafat died, Arafatism lived on. The same applies to Mahmoud Abbas. No real changes, if ever, should be expected in the Palestinian attitude towards the conflict with Israel after his departure. Pictured above: Yasser Arafat (L) and Mahmoud Abbas (R) in a Fatah propaganda poster.
Once again, the Palestinians will be the big losers. No one is going to ask their opinion about the next president and they will not be given the opportunity to cast their ballots in a presidential election.
Fatah's Central Committee in the West Bank brings to mind the Politburo of a Communist Party, which made decisions on behalf of the people, though not with their best interests in mind. In the Gaza Strip, the Palestinians will continue to be ruled by Hamas, an Islamist movement that has brought nothing but destruction and disaster to Palestinians.
So, in the end, the question of Abbas's successor is rather unimportant. The Palestinians will continue to be ruled by dictatorships that do not give a damn about their people.
Khaled Abu Toameh, an award-winning journalist is based in Jerusalem.