Building work has begun on a wall in the northern French city of Calais, a major transport hub on the edge of the English Channel, to prevent migrants from stowing away on cars, trucks, ferries and trains bound for Britain.
Dubbed "The Great Wall of Calais," the concrete barrier — one kilometer (half a mile) long and four meters (13 feet) high on both sides of the two-lane highway approaching the harbor — will pass within a few hundred meters of a sprawling shanty town known as "The Jungle."
The squalid camp now houses more than 10,000 migrants from Africa, Asia and the Middle East who are trying to reach Britain. The migrants at the camp are mostly from Sudan (45%), Afghanistan (30%), Pakistan (7%), Eritrea (6%) and Syria (1%), according to a recent census conducted by aid agencies.
Construction of the wall — which will cost British taxpayers £2 million (€2.3 million; $2.6 million) and is due to be completed by the end of 2016 — comes amid a surge in the number of migrants from the camp trying to reach Britain.
Around 200 migrants from Calais, the principal ferry crossing point between France and England, are successfully smuggled into Britain each week, according to police estimates cited by the Telegraph. This amounts to more than 10,000 so-called "lorry drops" — when illegal migrants hiding in the back of trucks jump out after reaching the UK — this year.
In 2015-16, more than 84,000 migrants were caught attempting illegally to enter Britain from the Ports of Calais and Dunkirk, according to Home Office figures cited by the Guardian. On just one day, December 17, 2015, around 1,000 migrants stormed the Channel Tunnel in a bid to reach Britain. Police, who used tear gas to disperse them, said the number seeking to cross the Channel in a single day was "unprecedented." Many of the migrants who are turned away move to "The Jungle" and try over and over again.
Migrants at the camp have been using felled trees and gas canisters to create makeshift roadblocks to slow trucks heading for Britain. When the trucks come to a stop, migrants climb aboard to stow away as the vehicles head to Britain through the Channel Tunnel or on ferries.
UK-bound migrants are building up to 30 barricades a night to stop vehicles travelling through Calais, according to French officials. Teams of traffic police now spend every night trying to keep the roads around Calais clear of migrants and their debris.
In recent months, masked gangs of people smugglers armed with knives, bats and tire irons have forced truck drivers to stop so that migrants can board their vehicles. The Deputy Mayor of Calais, Philippe Mignonet, has described the main route to the port as a "no-go area" between midnight and 6am.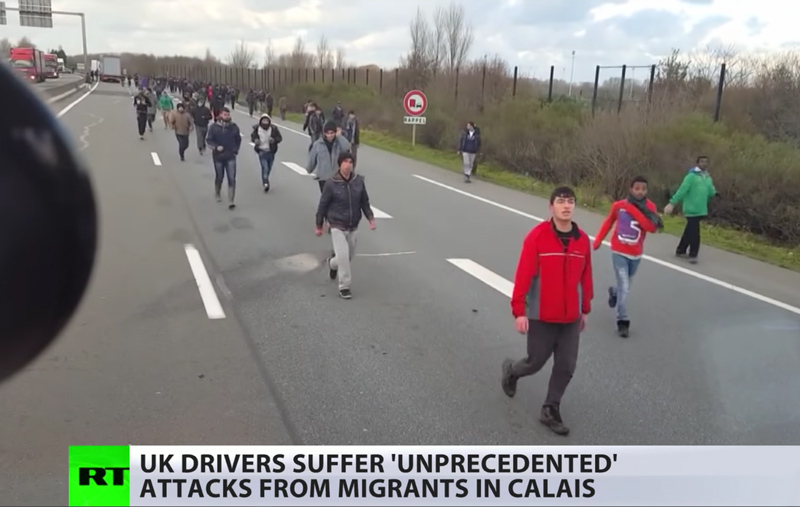 Hundreds of migrants roam the highway near Calais, France, trying to stop trucks headed for Britain, in an attempt to stow away on board. (Image source: RT video screenshot)
In an interview with the French newspaper Liberation, Xavier Delebarre, who is in charge of France's northern road network, said the migrants have "tools, electric chainsaws that can be bought anywhere for fifteen euros." He added:
"There is a strategy in their concerted attacks. They launch simultaneous assaults, and also diversions. Migrants build barricades by piling different materials on the road, including branches, as well as mattresses and trash. They set it on fire, and then put gas cylinders in the fire, which is very worrying. They create traffic jams to storm the trucks, so they can board them to try to get to England."
On September 5, hundreds of French truck drivers and farmers (who complain that fields around the migrant camp are full of rubbish and human excrement) blocked off the main route in and out of Calais, in an attempt to pressure the French government to close "The Jungle." The blockage brought to a standstill the route used by trucks from all over Europe to reach Calais and Britain.
Antoine Ravisse, president of the Grand Rassemblement du Calaisis, a coalition of local businesses, said the protesters wanted assurances from the French government that the roads in Calais will be made safe again. He said:
"The main image of Calais today in the newspaper and on TV is very negative, all about the migrants and attacks on the highway. The first point is we want the highways safe again. It's unacceptable that today in France you can't travel without fear and without the certainty that you won't be attacked.

"We apologize to our British friends — our economy depends very much on the business we do with England. We apologize to all the families but some of them have experienced very bad times and dangerous times and they will agree it can't go on.

"We are standing here and we will wait until we hear something back from the government. We are not moving until we hear from the government."
David Sagnard, president of FNTR national truck drivers' federation, said:
"We have to do this. We have to escalate things, because for months now the situation has been getting worse and worse. Before, it was just attempts to get on trucks. Now there is looting and willful destruction, tarpaulins are slashed, goods stolen or destroyed. Drivers go to work with fear in their bellies and the economic consequences are severe."
The problems in Calais are a source of increasing tension between France and Britain.
The Treaty of Le Touquet, signed between France and Britain in 2003, allows for so-called juxtaposed controls, meaning that immigration checks are carried out before people board trains or ferries, rather than upon their arrival after disembarkation. France, for example, maintains an immigration checkpoint at the Port of Dover in Britain to check the passports of all travelers bound for France.
Conversely, British border police check the passports of UK-bound travelers at checkpoints at Calais and Dunkirk. Travelers without proper documentation are removed from cars, trucks, ferries and trains and left behind in France. Migrants denied entry into Britain can apply for asylum in France or go elsewhere.
Some French politicians are blaming Britain for the problems in Calais. Mayor of Calais Natacha Bouchart said Britain's "black market economy" and "cushy benefits system" were responsible for drawing migrants to her town. She said:
"They want to go to England because they can expect better conditions on arrival there than anywhere else in Europe or even internationally. There are no ID cards. They can easily find work outside the formal economy, which is not really controlled.

"Calais is a hostage to the British. The migrants come here to get to Britain. The situation here is barely manageable. The UK border should be moved from Calais to the English side of the Channel because we're not here to do their jobs."
Xavier Bertrand, president of the Calais region, said: "It's all England's fault. The main reason we have so many problems is because of the English. Either they change their rules, or we hand them back their border."
Former French President Nicolas Sarkozy, who is a candidate for presidential in elections in 2017, has said the Le Touquet treaty should be renegotiated and that Britain should be required to process asylum claims in the UK. During a campaign speech, he said:
"I demand the opening of an asylum processing center in Britain for those who are in Calais, so that the British do the work there. The British should organize charter flights to send home people they do not want."
It was Sarkozy himself who signed the treaty with Britain in 2003 when he was the French interior minister.
By contrast, British authorities view "The Jungle" as primarily a French problem. In the words of correspondent James Glenday:
"Firstly, the camp is in France.... Secondly, the asylum seekers could apply for protection in France or the European country they first landed in. Lastly, they only reached Calais by crossing French borders. France is part of the borderless Schengen Area of the EU, whereas Britain is not."
A European law known as the Dublin Regulation requires anyone seeking asylum in the European Union to do so in the first EU country they reach. In other words, according to EU law, French authorities should send most of the migrants in Calais back to Italy or Greece, where they first entered the EU, rather than to Britain.
The Dublin Regulation, however, has been in disarray since August 2015, when German Chancellor Angela Merkel suspended the requirement for asylum seekers from Syria. The move, which allowed Syrians reaching Germany to stay while their applications are being processed, has resulted in a collapse of the EU's refugee system — and has encouraged even more migrants to make their way to Germany.
Authorities in France are worried that any changes to the Le Touquet treaty could attract thousands — possibly tens of thousands — of additional migrants to Calais. This would play into the hands of Marine Le Pen, the leader of the anti-immigration National Front party, and one of the most popular politicians in France.
A recent poll showed that if the French presidential election were held today, Le Pen would win the first round with 29%, compared to 20% for Sarkozy and 11% for the incumbent, French President François Hollande.
Not surprisingly, Hollande has ruled out making changes to the Le Touquet treaty. He has also said that the decision by British voters to leave the EU will have no bearing on the treaty, which is a bilateral agreement. He said:
"Challenging the Le Touquet agreement on the pretext that the UK passed the Brexit does not make sense. What should perhaps be seen is how the UK and France could better work together to improve the situation of these immigrants."
French Interior Minister Bernard Cazeneuve recently pledged to dismantle "The Jungle" with the "greatest determination." Migrants at the camp are to be relocated throughout the rest of France.
Soeren Kern is a Senior Fellow at the New York-based Gatestone Institute. He is also Senior Fellow for European Politics at the Madrid-based Grupo de Estudios Estratégicos / Strategic Studies Group. Follow him on Facebook and on Twitter.