Opponents of a proposed Turkish mega-mosque in Romania's capital, Bucharest, have filed a lawsuit against the government in an effort to halt the project. The court is set to begin hearing the case on October 14.
The lawsuit seeks to reverse a June 2015 decision by the Romanian prime minister at the time, Victor Ponta, to approve construction of what could become the largest mosque in Eastern Europe — second only to the Blue Mosque in Istanbul — on a large tract of city-owned land in northern Bucharest.
The property, valued at more than four million euros ($4.4 million), is being provided for free by the Romanian government, while the construction costs, estimated at three million euros ($3.3 million), are being paid for by Turkey.
Ponta said the mosque will reap economic benefits for Romania because Turkey is the country's leading non-EU trading partner. The mosque's critics, including an array of Romanian academics, historians, politicians, anti-immigration groups and even some Muslims, counter that not only will it increase Turkish influence over Romania, it will also encourage Muslim immigration to the country.
The Bucharest mosque is the result of more than a decade of talks between the Romanian and Turkish governments. The original deal called for a "mutual exchange" in which Romania would build a new Orthodox Church in Istanbul, while Turkey would build the mosque in Bucharest.
In July 2015, however, Ponta revealed that the Romanian government had abandoned the Istanbul church project because it is "not allowed under Turkish law." Ponta approved the Bucharest mosque project anyway, saying it was a multicultural symbol of Romania's acceptance of the Muslim community.
Ponta's decision to approve the mosque, which will mimic Ottoman-era architecture, was greeted with outrage in a country that was under Ottoman Turkish domination for nearly five centuries until 1877.
"Turkey attempts a symbolic conquest of Europe through these mosques," said Tudor Ionescu, leader of the anti-immigration Noua Dreaptă (New Right) party. "I don't know why we are the recipients of such a 'blessing.'" Noua Dreaptă has organized protests against the project where people have chanted, "Romania is not a Turkish province."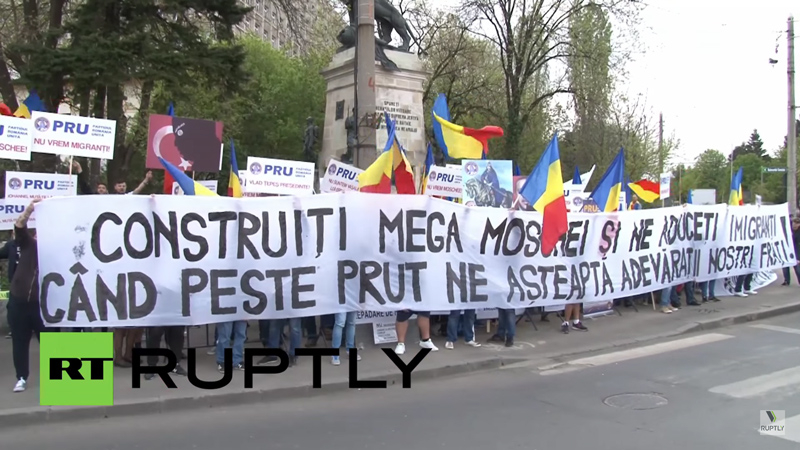 Romanians protest against a proposed Turkish mega-mosque in Bucharest, April 10, 2016. (Image source: RT video screenshot)
Critics say the large size of the mosque is out of proportion to the small size of Bucharest's Muslim population. The 13,000 square meter (140,000 square foot) project, to be situated near the Romexpo trade fair grounds, includes a mosque for 2,000 worshippers, a Koran school, a library and a recreational center.
Bucharest is home to around 9,000 Muslims who are being served by ten mosques scattered throughout the city. The Muslim population of Romania is 65,000, or less than one percent of the country's population of 19.5 million. Most are ethnic Turks and Tatars living in the Dobrogea region of eastern Romania.
In an interview with Balkan Insight, historian Ionut Cojocaru said:
"It is a bit surprising, building such a big mosque in a country where the number of Muslims is very small. This is just a sign of Turkey's neo-Ottoman policy, which is designed to promote its economic and political interests all around the Balkans."
Turkey has been on a mega-mosque building spree across the Balkans and Eastern Europe as part of an effort by Ankara to expand its influence — and its brand of Islam — in the region.
In interviews with Balkan specialist Michael Bird, several observers said that Turkish President Recep Tayyip Erdoğan's international mosque-building program is part of a plan to project Turkey as the pre-eminent Muslim nation.
"Ultimately every mosque abroad with a Turkish brand name seems to contribute to the discourse of Turkey as a leading Islamic power," said Kerem Oktem, Professor of Modern Turkey at the University of Graz.
Ozgur Kazim Kivanc, an activist opposed to Erdoğan's destruction of public commons to build mosques, added:
"The Roman Empire used to build temples on the places they took over to remind people of their conquest. We believe the instinct is the same. Places of worship are not compulsory for a belief system to spread — especially in Islam. This plan is not about worship, it is about marking the territory of their authority through a monument."
Former Romanian President Traian Basescu worries that the Bucharest mosque could fuel Islamic extremism in the country. He has said the mosque project is "irresponsible" and a threat to national security. On Facebook he wrote:
"Perhaps you cannot imagine a subway station in Bucharest, during rush hour, where a young man would blow himself up in the name of Allah. Or perhaps your intelligence cannot help you imagine young Romanians who have failed in life being sent off to training camps in Syria, Iraq or Afghanistan and brought back to Europe in order to bring us the benefits of the Islamic State."
Islamic State has repeatedly stated that Romania and other parts of Eastern Europe and the Balkans are part of its "pan-Islamic Caliphate." Omar Bakri Muhammad, a prominent Sunni Islamist cleric who has recruited British jihadis for Islamic State, has alleged that Romania is Islamic territory. In an interview with the Bulgarian daily 24 Chasa (24 Hours), he said:
"Once Islam enters a land, that land becomes Islamic and Muslims have the duty to liberate it someday. Spain, for example, is Islamic land, and so is Eastern Europe: Romania, Albania, Macedonia, Serbia, Kosovo and Bosnia..."
Basescu has also said he believes the mosque — the first purpose-built mosque in the Romanian capital (the existing places of Muslim worship in the city are buildings converted into mosques or prayer rooms) — is not actually meant for Bucharest's Muslim population, but for Muslim migrants who will arrive in the years ahead.
During a visit to Romania in April 2015, President Erdoğan said the mosque will be the "the most beautiful expression of dialogue and solidarity between the two countries."
A Romanian Muslim leader, however, expressed skepticism about Turkey's intentions. "We heard about it on TV, like everyone else," he said. "We are Romanian Muslims, but now the Turkish are coming and they get the land. When they complete the building, they won't even allow us there. So we are sold, thrown out."
During an official visit to Turkey in March 2016, Romanian President Klaus Iohannis tried to reassure Erdoğan that the mosque project is moving forward, despite mounting opposition at home. Commenting on the trip, the daily România Liberă wrote:
"Apparently Iohannis demanded nothing but a measly Orthodox chapel that will probably be built somewhere on the outskirts of Istanbul in exchange for the construction of the mosque.... Erdoğan has inherited from the Ottomans the skill of making his guests feel more important than they are. ... Iohannis was welcomed with a military ceremony including the firing of 21 cannon salvoes which only sultans offer their guests. ... In the end, however, Erdoğan will despise him for letting himself be tricked and making it so easy for him to turn the president of an EU state into a vassal of his court."
Some Romanian politicians are now calling for a referendum on the mosque. More than 90% of the public is opposed to the project, according to an online survey conducted by the mainstream newspaper Gândul.
Meanwhile, the pending lawsuit calls on the court to annul the government's grant of free city land for the mosque project. The lawsuit states:
"We consider the disposal of free land which, ironically, belonged to the family of Prince Constantin Brâncoveanu, who was beheaded by the Turks on August 15, 1714, to be a betrayal of the Romanian people. In the current context in which all of Europe is being brought to its knees by terrorist attacks by Muslim extremists, we are entitled to fear the establishment of Islamic learning schools. We believe the Romanian state is unable to ensure the security of its citizens, and approving a mega-mosque in Romania could set a precedent with unintended catastrophic consequences."
Soeren Kern is a Senior Fellow at the New York-based Gatestone Institute. He is also Senior Fellow for European Politics at the Madrid-based Grupo de Estudios Estratégicos / Strategic Studies Group. Follow him on Facebook and on Twitter.