Last week, the United Nations Educational, Scientific and Cultural Organization (UNESCO) voted Christian and Jewish heritage off of the Temple Mount in Jerusalem; Tuesday they ratified their perfidy. The vote seems clearly a response to the expansionist, jihadist aspirations of members of the Organization of Islamic Cooperation (OIC) that sponsored it: Algeria, Egypt, Lebanon, Morocco, Oman, Qatar and Sudan. The vote, and the behind the scenes machinations, deserve evaluation.
Upfront:
Group 1: The "in favor" voters are a nasty collection of corrupt, dictatorial, largely Islamist (traditional Islamic theology gives Jews their place on the Temple Mount; these Islamists appear intent on removing all traces of Christian and Jewish presence from the Middle East) or Marxist, and unanimously frightening places. They are, in the immortal words French diplomat Daniel Bernard applied to Israel, "shitty little countries." Even the big ones. But see below for a caveat.

Group 2: The US, UK, the Netherlands, Estonia Germany and Lithuania had nothing to be ashamed of in the first round; they voted "against." But see below for a caveat.

Group 3: Some analysts consider a vote to abstain to be a victory for Israel, but for Spain, Greece, France, Sweden, Slovenia and Italy it was blatant appeasement of Group 1 and fear of their own often-violent Muslim minorities: "Please, please, don't blow up our capital cities. We will reject Jewish and Christian history and pretend Jesus chased the money changers from the steps of Montmartre."
If the West had stood for its own history, it would have mattered. Democratic Japan and South Korea should have voted "against" as well. There might be a narrow exception for India, which had never before failed to vote in favor of an Arab-led anti-Israel resolution.
Group 4: Israel's friends in Africa were a disappointment -- Cameroon, Cote d'Ivoire, Ghana, Guinea, Togo and Uganda abstained. Can we dump on them? Yes, we can. Isn't it too much to expect African countries to stand on principle when Western European countries duck? No, it is not. True, Israel will not make them pay for their "in favor" vote, but countries that benefit from their relations with Israel in a profound and concrete way (check especially Uganda and Ghana) can and should stand with Israel in the face of Arab countries -- heirs to colonial Muslim slave-traders and still practice slavery today -- who drained African coffers for oil money and exported radical Islamic jihad to the continent. In this hemisphere, Haiti, where IsrAID is for the second time promptly on the ground to help Haitians recover from a natural disaster, is particularly disappointing.
Mexico deserves special mention -- though whether as a good guy or a bad guy is debatable. Mexico voted in favor of the resolution, although the Mexican President had apparently told Israel it would vote against. When the time came, UN Ambassador Andreas Roemer received a directive from the Foreign Ministry to vote in favor. Opposing his country's position, Roemer left the room. His deputy cast the vote; the Ambassador has been relieved of his position.
After a weekend of machinations in Mexico City, including an announcement by the Foreign Ministry that it was going to "investigate" how the "in favor" vote actually happened (that should be long and complicated, right?) Mexico announced its intention to reopen the vote to change its position. This is permitted under UNESCO rules; Israel had expected it; and UNESCO Executive Board Chairman Michael Worbs was, apparently, planning to agree. UNESCO's Director General Irina Bokova had already announced her opposition to the resolution, a position for which she received death threats.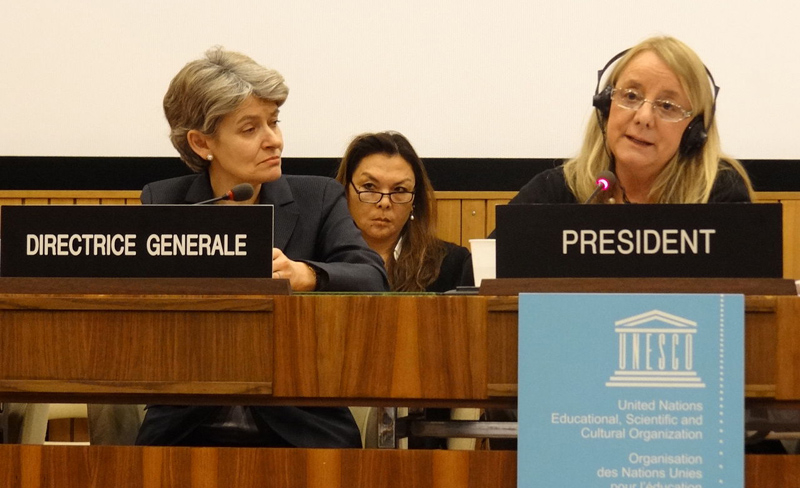 UNESCO Director General Irina Bokova (left) received death threats after announcing her opposition to a jihadist resolution. (Image source: Wikimedia Commons/MDS)
But if you think the way was being cleared to erase this jihadist resolution, you would be mistaken.
According to later reports, the Arab bloc pressured Worbs to recuse himself from the vote, which he did. After that, Western countries prevailed on Mexico not to request a reopening of the actual vote for fear, they said, that other UNESCO resolutions would become subject to new votes. So an ahistorical, anti-Semitic sop to countries with little redeeming social value was allowed to stand for fear that some other bit of UNESCO stupidity might be revisited. This tarnishes other countries that might otherwise have had second thoughts and changed their votes -- Brazil, in fact, moved from "in favor" to "abstain."
Mexico instead decided also to amend its vote from "in favor" to "abstain," accompanied by a statement from the Foreign Ministry that the Mexican government recognizes "the undeniable connection of the Jewish people to the cultural heritage in East Jerusalem."
Some Israelis prefer to see the UNESCO glass half-full: 26 countries voted for the resolution; 34 did not, whether by voting against, abstaining or absenting themselves from the room.
Not good enough. Having demonstrable historical fact, such as Jewish patrimony on the Temple Mount in Jerusalem, subject to the whims of the United Nations, in which, as the late Abba Eban said, Arabs could muster a majority to decide the sun rises in the West, is not a positive proposition. Pakistan, Nicaragua, Mozambique and Vietnam are not likely ever to vote for historical accuracy on Jerusalem and Israel, nor are China and Russia. France is a serial appeaser, more concerned about its back than the truth. But Sweden, Mexico, Brazil, Spain, Ivory Coast, Argentina, Paraguay, Nevis & St. Kitts and others should be loath to relinquish their Judeo-Christian humanistic culture, roots and values to jihadi pond scum.
The question remains how to convince nations in the West to stand for themselves in the face of Islamists committed to replacing them.
Shoshana Bryen is Senior Director of the Jewish Policy Center.