October 1. Two migrants raped a 23-year-old woman in Lüneburg as she was walking in a park with her young child. The men, who remain at large, forced the child to watch while they took turns assaulting the woman.
October 2. A 19-year-old migrant raped a 90-year-old woman as she was leaving a church in downtown Düsseldorf. Police initially described the suspect as "a Southern European with North African roots." It later emerged that the man is a Moroccan with a Spanish passport.
October 2. Finance Minister Wolfgang Schäuble called for the development of a "German Islam" to help integrate Muslims in the country. In an opinion article published by Welt am Sonntag, he wrote:
"Considering the diverse origins of Muslims in Germany, we want to promote the development of a German Islam, the development of self-assurance of Muslims living as Muslims in Germany, in a free, open, pluralistic and tolerant order, according to our laws and the religious neutrality of the state.

"There is no doubt that the growing number of Muslims in our country today is testing the tolerance of mainstream society. The origin of the vast majority of refugees means that we are increasingly dealing with people from very different cultures.... In this tense situation, we should not allow for the emergence of an atmosphere in which well-integrated people in Germany feel alien."
October 4. Münchner Merkur reported that the 2016 Munich Oktoberfest recorded its lowest turnout since 2001. Visitors reportedly stayed away due to concerns about terrorism and migrant-related sexual assaults.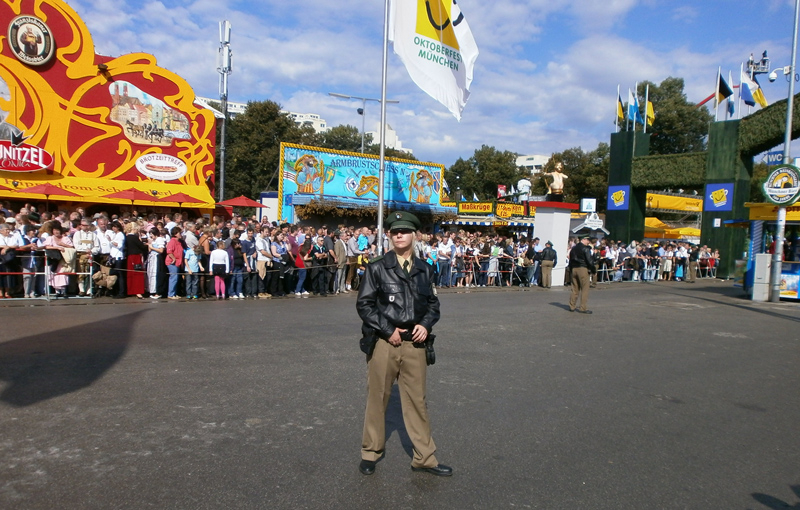 This year's Munich Oktoberfest recorded its lowest turnout since 2001. Visitors reportedly stayed away due to concerns about terrorism and migrant-related sexual assaults. (Image source: Flickr/Sergey Zhaffsky)
October 6. Frankfurter Allgemeine Zeitung reported on a German intelligence study which found that almost half the German Salafists who left for Syria or Iraq were active in mosques. "The mosques continue to play a central role in the radicalization of Islamists in Germany," a spokeswoman for the German domestic intelligence agency, the Bundesamt für Verfassungsschutz (BfV), said. The ongoing study analyzes the background and course of the radicalization of persons who left for Syria or Iraq. The study has collected data from 784 Islamists who left Germany or were actively trying to leave the country. The BfV estimates that there are 9,200 known Salafists in Germany.
October 6. More than 400 residents of the Altenessen district in Essen met local politicians in a televised "town hall meeting" to discuss spiraling violence and crime perpetrated by migrants in the area. Residents complained that police often refuse to respond to calls for help and begged city officials to restore order. One resident said: "I was born here and I do not feel safe anymore." City officials flatly rejected the complaints. Mayor Thomas Kufen said: "Altenessen is not a no-go area, the people here are just angry." Police Chief Frank Richter added: "I am sick and tired of hearing about no-go zones in Essen." He insisted that Essen und Altenessen are perfectly safe.
October 7. The Sarah Nußbaum Haus, a kindergarten in Kassel, announced that it would not be celebrating Christmas this year, "because of the high proportion of Muslim children." According to local media, there will be "no Christmas tree, no Christmas stories and no Christmas spirit." Non-Muslim parents said that celebrating Christmas is a normal "part of the integration process to get to know the new culture." School officials responded by saying that because of the different cultures of the children, the school was "renouncing" Christian rituals. They also said that teachers at the school are now required to ensure that the children do not exchange their sandwiches, to prevent Muslim children from eating pork.
October 8. Welt am Sonntag reported that during the first six months of 2016, more than 2,000 migrants who requested asylum were found to be carrying false passports, but German border control officers allowed them into the country anyway. Migrants with false papers could be linked to the Islamic State, security analysts warned.
October 10. Jaber al-Bakr, a 22-year-old refugee from Syria, was arrested after police found explosives in his apartment in Chemnitz. He was suspected of plotting to bomb an airport in Berlin. Two days later, he hanged himself in a jail in Leipzig.
October 14. German President Joachim Gauck, who is stepping down for health reasons, said he believed that Germany will eventually have a Muslim president. Of the eleven German presidents so far, nine have been Protestant and two have been Catholic. Gauck's statement caused a stir in Germany. Some said that all German citizens are eligible for the position, regardless of confession, and others said a Muslim president would further divide society. Vice President of the European Parliament Alexander Graf Lambsdorff said: "A mullah with a turban would be impossible, but a representative of modern, enlightened Islam, such as the mayor in London, of course." The Office of the President told Bild that the oath of office would never be changed from "so help me God" to "so help me Allah."
October 14. Green Party politician Volker Beck called on Germans to learn Arabic so that they can communicate with migrants who do not speak German. When asked on NTV how migrants can integrate if there are no German speakers in many parts of German cities, he replied: "Other countries are more relaxed about the fact that, in some areas, a different language is spoken by a migrant community. In the US, you will find your Chinatown, you will find areas where Mexicans live, or whatever community is strong in a city." He also said it was good that German is not spoken in many German mosques. "Arab sermons are a piece of home," he said.
October 14. Volker Kauder, a key member of Chancellor Angela Merkel's party, threatened internet giants such as Facebook and Google with fines up to 50,000 euros ($53,000) if they fail to tackle online hate speech. The move comes amid a rise in anti-immigration sentiment in Germany.
October 15. A Syrian migrant disrupted a wedding at the Karmel Church in downtown Duisburg. He burst into the building and began fondling a statue of the Virgin Mary while shouting "Allahu Akhbar" ("Allah is the greatest.") After undergoing a psychological evaluation, the man was released. The incident is one of a growing number in which Muslim migrants have disrupted or vandalized German churches.
October 16. A 16-year-old boy and his 15-year-old girlfriend were walking along the banks of the Alster, a lake in the heart of Hamburg, when a stranger ambushed him from behind and plunged a knife into his back. The attacker then pushed the girl into the water and walked away. The girl survived, but the boy died of his wounds. The suspect, a "southern-looking" (südländischer Erscheinung) man in his early twenties, remains at large. Police say the victims were not robbed and there is no evident motive for the crime: The suspect appears to have randomly stabbed the boy just because he felt like it. The Islamic State later claimed responsibility for the murder, but German police cast doubt on that claim.
October 17. The German Press Council reprimanded the weekly newspaper, Junge Freiheit, for revealing the nationality of three Afghan teenagers who raped a woman at a train station in Vienna, Austria, in April 2016. The press council said the nationality of the perpetrators was "not relevant" to the case, and by revealing this information the newspaper "deliberately and pejoratively represented the suspects as second-class persons." In the interests of "fair reporting," the council demanded that the newspaper remove the offending item from its website. The newspaper refused to comply, and said it would continue to publish the nationalities of criminal suspects.
October 17. The German branch of Open Doors, a non-governmental organization supporting persecuted Christians, reported that Muslims are attacking Christians at refugee shelters throughout Germany. The NGO documented 743 incidents between May and September 2016, but said they were only the "tip of the iceberg." The report said:
"Many of the refugees concerned have previously been persecuted and discriminated against in their Islamic countries of origin and have therefore fled to Germany. The religious minorities in refugee accommodations are now experiencing the same oppression prevalent in their countries of origin."
October 17. The Federal Statistics Office reported that the birthrate in Germany reached the highest level in 33 years in 2015, boosted mainly by babies born to migrant women. The rate was 1.5 births per woman in 2015, up from 1.47 births in 2014, and the highest figure since 1982 when it was 1.51. For German women, the birth rate increased only slightly from 1.42 children per woman in 2014 to 1.43 in 2015. For women of foreign nationality, the rate increased from 1.86 to 1.95 children per woman.
October 18. Sigrid Meierhofer, the mayor of Garmisch-Partenkirchen, in an urgent letter (Brandbrief) to the Bavarian government, threatened to close a shelter that houses 250 mostly male migrants from Africa if public safety and order could not be restored. The letter, which was leaked to the Münchner Merkur, stated that local police had responded to more emergency calls during the past six weeks than in all of the previous 12 months combined.
October 18. Süddeutsche Zeitung reported that during the first eight months of 2016, more than 17,000 migrants sued the Federal Office for Migration and Refugees (BAMF) for not giving them full refugee status. Most Syrian refugees in Germany receive only partial asylum status, known as subsidiary protection, which delays family repatriations by at least two years. According to Süddeutsche, 90% of the refugees who challenged the subsidiary protection status in court won their case and were granted full rights under the Geneva Convention. Refugees with full status are allowed immediately to submit applications to bring spouses and children to Germany. If all of the 17,000 migrants win their cases, hundreds of thousands of additional migrants would be allowed to come to Germany.
October 19. Bild reported that a 49-year-old Syrian refugee in Rhineland-Palatinate is seeking social welfare benefits in Germany for his four wives and 23 children. The man, identified as Ghazia A., told Bild that "according to our religion, I have the duty to visit and be with each family equally, and not show any preferential treatment." Local officials told the newspaper that the family is integrating well and all of the children are going to school.
October 19. A 29-year-old migrant from Syria appeared in court on charges of sexually molesting ten children in Freiburg and Müllheim. The father of one of the victims took a photograph of the suspect, but police waited ten days before acting on the lead.
October 19. A 16-year-old German-Moroccan girl appeared in court on terrorism charges. In February 2016, when she was 15, she stabbed a police officer with a kitchen knife at the central train station in Hanover. Prosecutors say she was conducting a "martyrdom operation" for the Islamic State.
October 20. Pupils at a grade school in Garmisch-Partenkirchen were required to memorize and recite the shahada, the Muslim profession of faith ("There is no god but Allah, and Mohammed is his messenger."), in both German and Arabic, for an interfaith chapel service.
October 21. In an interview with Welt am Sonntag, Islam expert and Green Party member Kurt Edler said that Syrian migrants should be allowed to set up their own city in Germany as a way to prevent radicalization. He said: "Why do not we set up a New Aleppo in Pomerania? Then we can show that what the British and Irish emigrants have done in the North East of the USA is also possible with us."
October 24. A group of Serbian teenagers in Hamburg were handed suspended sentences for gang-raping a 14-year-old girl and leaving her for dead in sub-zero temperatures. The judge said that although "the penalties may seem mild to the public," the teens had all made confessions, appeared remorseful and longer posed a danger to society. The ruling, which effectively allowed the rapists to walk free, provoked a rare moment of public outrage over the problem of migrant sex crimes in Germany.
October 24. A YouGov poll found that 68% of Germans believe that security in Germany has deteriorated over the past several years. Also, 68% of respondents said they fear for their lives and property in German train stations and subways, while 63% feel unsafe at large public events.
October 25. Seven migrant boys, some as young as seven years old, sexually assaulted three girls (ages 9, 11 and 14) at a public swimming pool in Berlin.
October 25. The German edition of the Huffington Post published an article by a Syrian migrant named Aras Bacho in which he demanded that all signs and products in Germany be translated into in Arabic to make life easier for migrants. He wrote:
"As a refugee I believe that in Europe the street signs should be translated into Arabic. Likewise, food packaging should be in Arabic. It should also be possible to take exams in Arabic.... Most refugees have been driving in Syria. It would be helpful if the road signs were in Arabic. We should help these people more, no matter what it costs."
October 25. Police in five German states raided a dozen apartments and a refugee shelter as part of a counter-terrorism investigation. Fourteen Chechens, all asylum seekers who arrived in Germany in 2013, are at the center of a probe into "terrorist financing." No one was arrested.
October 25. A group of Muslim children shouting "Allahu Akbar" threw stones at a visiting Ethiopian priest who was walking to a chapel in Raunheim. Police said the priest was targeted because he was wearing a cross.
October 27. A ten-year-old girl was raped while she was riding her bicycle to school in Leipzig. Police published a facial composite of the migrant suspect with the politically correct warning: "This image is to be published only in print media products in the Leipzig region. Publishing it on the internet, including on social media such as Facebook, is not covered by the court order and is therefore not allowed."
October 27. Officials in Monheim donated 845,000 euros ($890,000) of taxpayer money to two Islamic associations, to build mosques in the town. The money will be used to purchase land for the mosques, the construction of which will be paid for by the Turkish government. Mayor Daniel Zimmermann said he hopes the mosques will promote Muslim integration. "I hope the mosques will be city-shaping and also architectural monuments," he said. The grant is subject to only one condition: the minarets must not be more than 25 meters (80 feet) high.
October 27. Deutsche Welle reported that the parents of a German teenager face prosecution for refusing to allow their son to enter a mosque during a school field trip. The parents were fined 300 euros ($315) for their son's truancy. The prosecutor's office in Itzehoe is now reviewing whether or not the parents should appear in court because they did not pay the fine. The school's principal, Renate Fritzsche, said that there are no exceptions to Germany's mandatory school law. The goal of education, Fritzsche emphasized, is to teach children about other cultures so they will be able to interact and tolerate them.
October 27. Berliner Zeitung reported that a 19-year-old Syrian migrant, identified only as Shaas Al-M., scouted out potential terror targets in Berlin for the Islamic State. He was allegedly actively recruiting assassins in Germany and was preparing to attack when he was arrested in March 2016. The man, who received religious and military training with the Islamic State in Syria, arrived in Germany in the summer of 2015 posing as a Syrian refugee.
October 28. Reuters reported that many Arab mosques in Germany are more conservative than those in Syria. The report states: "A dozen Syrians in six places of worship in three cities told Reuters they were uncomfortable with very conservative messages in Arabic-speaking mosques. People have criticized the way the newcomers dress and practice their religion, they said. Some insisted the Koran be interpreted word-for-word."
October 28. A mob of 17 Muslim migrants sexually assaulted two women in front of a church in Freiburg. Police arrested three of the men, all from Gambia, who arrived in Germany as refugees in 2015 and had previously been detained for other crimes.
October 28. Der Spiegel reported that Justice Minister Heiko Maas wants to make it easier for German courts to void child marriages. There currently are 1,475 married adolescents in Germany; 361 of them are younger than 14 years, 120 are 14 or 15 years old. According to German law, young people above the age of 16 may marry, but only if the other spouse is 18 and a family court gives a so-called exemption. Maas wants to tighten the criteria for this. The exemption is to be granted only "if the intended marriage does not affect the welfare of the applicant." Günter Krings (CDU), parliamentary secretary of state, said the measure does not go far enough. "For the sake of clarity of our legal system, we should consistently ensure that no marriages with minors can be concluded in our country, even in exceptional cases," he said.
October 31. A 53-year-old woman attacked two police officers after they entered her apartment in Mülheim. The officers were checking in on her after she had allegedly thrown furniture out the window. When she refused to open the door, the officers broke it down. Once inside the apartment, the veiled woman attacked them with a box-cutter while shouting "Allahu Akbar" ("Allah is the greatest.") Police said the woman was a Muslim convert and was already familiar to police after a series of earlier incidents linked with Islamic extremism.
Soeren Kern is a Senior Fellow at the New York-based Gatestone Institute. He is also Senior Fellow for European Politics at the Madrid-based Grupo de Estudios Estratégicos / Strategic Studies Group. Follow him on Facebook and on Twitter.