January 1. The Interior Ministry announced the most anticipated statistic of the year: a total of 945 cars and trucks were torched across France on New Year's Eve, a 17.5% increase from the 804 vehicles burned during the annual ritual on the same holiday in 2015. Car burnings, commonplace in France, are often attributed to rival Muslim gangs that compete with each other for the media spotlight over which can cause the most destruction. An estimated 40,000 cars are torched in France every year.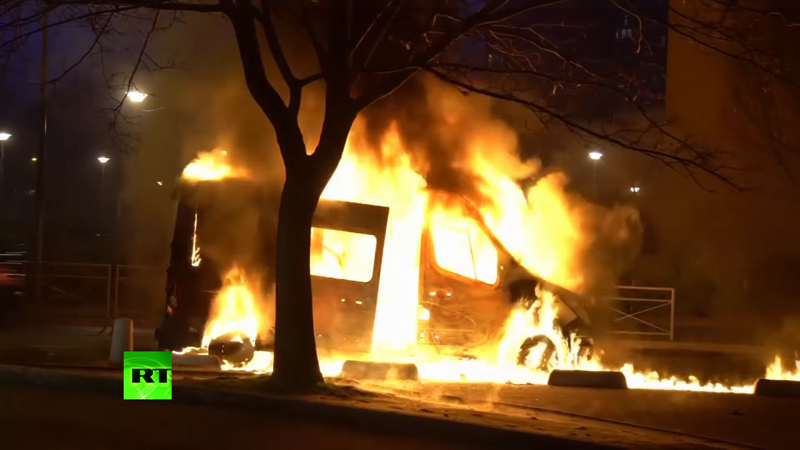 A van burns during a recent riot in a Paris suburb. Car burnings, commonplace in France, are often attributed to rival Muslim gangs that compete with each other for the media spotlight. An estimated 40,000 cars are torched in France every year. (Image source: RT video screenshot)
January 2. Approximately 3.7 million crimes were reported in France in 2016, a 4% increase over 2015, according to Le Figaro. Seine-Saint-Denis, a Paris suburb which has one of the highest concentrations of Muslims in France, ranks as the most dangerous part of the country, with 18.2 attacks per 1,000 inhabitants. It is followed by Paris, with 15.7 attacks per 1,000 inhabitants and Bouches-du-Rhône with 11.5 attacks per 1,000 inhabitants.
January 2. The Criminal Court of Paris sentenced Nicolas Moreau, a 32-year-old French jihadist, to ten years in prison for fighting for the Islamic State. He is the brother of Flavien Moreau, the first French jihadist to be sentenced for such an offense upon his return from Syria in November 2014. Born in South Korea, adopted by a French family at the age of 4, Nicolas became a delinquent after the divorce of his adoptive parents. He converted to Islam in prison, where he spent five years. Nicolas said he fled the Islamic State after 17 months due to its "excesses."
January 3. Jean-Christophe Lagarde, the president of the Union of Democrats and Independents, a center-right political party, attributed the closure of a PSA Peugeot-Citroën automobile factory to an excess of religious demands by Muslim employees. "There have been difficulties even in my department, for example in Aulnay-sous-Bois. It has never been said, but part of the reason for the closure of PSA was due to the omnipresence of religion and the fact that there were religious demands at work, work stoppages, decreased productivity. PSA's decision to close Aulnay was influenced by this aspect."
January 3. The Administrative Court of Poitiers dismissed a lawsuit filed by the Coalition against Racism and Islamophobia (CRI), which tried to ban a 14-page document aimed at preventing radicalization in schools. The document called on teachers to monitor several criteria, including "uncut long beards," "shaved hair," "Muslim clothing," "refusal of tattoos," and "weight loss associated with frequent fasting." The document also referred to behavior such as "identity withdrawal," "selective exposure to the media," and "political rhetoric" concerning Palestine, Chechnya and Iraq. The document urged teachers to monitor closely students interested in the "history of early Islam." The court emphasized the strictly internal nature of the document, which was deemed to be "devoid of any legal effect" because it contains "no mandatory provisions."
January 4. Of the 230 French jihadists who have been killed in Iraq and Syria, seven were killed by American drones, according to Le Monde. "The French targets had a twofold status: they were military objectives, the elimination of which is theoretically governed by the law of war, and they were also targets of judicial proceedings in France. In the name of the 'self-defense,' which the coalition states claim, military logic prevailed over the right to legal defense," the paper complained.
January 4. Jean-Sébastien Vialatte, the deputy mayor of Six-Four-Les-Plages, ordered police to visit the Reynier Primary School there on two occasions after he heard rumors that the school was requiring students to attend Arabic language classes. The courses, which were optional, not mandatory, have since been cancelled.
January 5. The Magistrate's Court of Rennes sentenced a 34-year-old man to 17 months in prison on charges of domestic violence for striking his female companion because she refused to convert to Islam. The woman said the man had "profoundly changed" after he visited Mali. "He has become radicalized," she said. "He promises Allah will take revenge against the disbelievers who do not convert. Religion has taken an increasingly important place in his life. He believes he is good and all others are evil." The man denied he ever "forced someone to be a Muslim." He added, "Before, I was like her, I smoked, I drank, but it is over now."
January 5. Farid Benyettou, a 35-year-old former French jihadist who indoctrinated the gunmen who attacked the Charlie Hebdo magazine in Paris in January 2015, admitted that he was partly to blame for the violence. "I bear a share of responsibility, I cannot deny it," he said in an interview with Le Parisien. "I preached hate, I distilled this ideology even though it was not me who told him to commit this massacre. I served my prison sentence, I paid my debt to society, but not my moral debt." He tells his story in a new book, "My Jihad: Journey of a Repenter."
January 6. A statistical analysis carried out by François Desouche, an influential French blog, found a dramatic increase in the popularity of Muslim first names given to children born in France during the past 20 years. In Paris, for example, 17.1% of babies born in 2016 received Muslim first names, up from 9.4% in 1996. In Seine-Saint-Denis, a Paris suburb, 42.9% of babies born in 2016 received Muslim first names, up from 17.3% in 1996. The trend repeats itself across France.
January 6. Zineb El Rhazoui, a 35-year-old Moroccan-born journalist, quit her job at Charlie Hebdo because the magazine is now following an editorial line that "Mohammed is no longer drawn" — as demanded by Islamists before the January 2015 attacks. She said Charlie Hebdo now feels "too alone to go to the front." But our colleagues "must not have died for nothing. If it were up to me, I would continue," she said.
January 6. The Nice Criminal Court acquitted Pierre-Alain Mannoni, 45, for helping three Eritrean women who crossed the border into France from Italy. Mannoni, a teacher-researcher at the French national research center (CNRS), was arrested at the Turbie toll booth just beyond the Italian border in October 2015 and charged with "assisting the entry, movement and residence of irregular migrants." The charge incurs five years in prison and €30,000 ($31,000) in fines. The prosecutor argued that people are not allowed to help illegal migrants move about the country. Mannoni said he was "protecting their dignity and integrity." Christian Estrosi, the president of the Nice Côte d'Azur Riviera region, said the ruling was "an insult to the work of the security forces who put their life in danger to protect ours."
January 10. Around 5,000 Jews emigrated from France to Israel in 2016, according to the Jewish Agency of Israel, which released the data to mark two years since attacks on the Charlie Hebdo and on a Jewish supermarket in Paris in January 2015. The departures in 2016 add to the 7,900 who left in 2015 and 7,231 in 2014. In total, since 2006, 40,000 French Jews have emigrated.
January 12. Salah Abdeslam — a Belgium-born French national of Moroccan descent and the main suspect in the November 13, 2015 attacks that killed 130 people in Paris — said, "I am not ashamed of what I am. I am a Muslim, that is to say, submissive to Allah who created me and who by his grace has harmoniously shaped me." Abdeslam is reportedly receiving stacks of mail "from Catholics with questions about his faith, from women who declare their love for him and say they want to bear his child, from lawyers who offer their services, it is incessant," according to Libération.
January 12. A French couple were given suspended sentences for selling Islamic State flags online. They were caught after neighbors saw them boasting about their business in a television documentary about jihadi recruitment and called the police.
January 16. Asian tourists are avoiding France due to fears over terrorism and spiraling crime, according to Le Parisien, which interviewed Jean-François Zhou, President of the Chinese Association of Travel Agencies in France. Some 1.6 million Chinese tourists visited France in 2016, compared to 2.2 million in 2015, a 27% decline. The number of tourists from South Korea also declined by 27%, and the number of Japanese tourists declined by 39%. "Our tourists have turned to Russia, which is less attractive but at least it is a safe country," Zhou said. "For Putin, it is an economic windfall." Zhou explained:
"The decline is explained above all to the scourge of petty delinquency aimed especially at Chinese tourists. They are robbed in the Palace of Versailles, at the foot of the Eiffel Tower, in front of their hotel, when they exit the buses. In high season, there is not a day without tourists being assaulted. I saw an 80-year-old man seriously injured because he was trying to resist thieves. Women are pushed and when they fall their bags are stolen with all their papers. This has created a panic on Chinese social networks. The Chinese began turning away from France last year.

"The police have increased their numbers to protect tourists. But since the terrorist attacks, these forces have been mobilized elsewhere. We want France to stop its laxity. We, along with my traveling colleagues, are counting on the future government to get things done. I have been in France for twenty-five years, and I myself have seen the decline of France in terms of security. Before, the Chinese tour operators deplored the insecurity in Italy, today it is France and more particularly Paris and Marseilles which we speak. There are many regions in France where tourism can be leisurely pursued, but Paris is ranked No. 1 in Europe in terms of the increase in delinquency."
January 17. The Magistrate's Court in Paris acquitted Pascal Bruckner, a renowned intellectual and author, on charges of defamation after he remarked on the "28 minutes-Arte" television program that pro-Muslim activist groups such as "The Indivisibles" (Les Indivisibles) and "The Republic's Natives" (Les Indigènes de la République) were "ideological accomplices" of jihadism. The decision was hailed as a "victory for the freedom of expression" in France, which does not have legal protections such as the First Amendment to the United States Constitution, guaranteeing the freedom of speech.
January 18. One of the suicide bombers who blew himself up outside the Stade de France during the November 2015 attacks on Paris turned out to be an Iraqi jihadist, according to France's DGSE intelligence agency. Until now, only one of the three bombers had been identified: a 20-year-old Frenchman living in Belgium. DGSE believes that one of that man's accomplices, who was carrying a fake Syrian passport, was from the Iraqi city of Mosul. He and the third attacker, whose identity is still unknown, are believed to have slipped into Europe with a group of refugees who landed on the Greek island of Leros on October 3, 2015.
January 20. The Council of State (Conseil d'État), France's highest administrative court, ruled that the mosque in Stains (Centre Culturel et Islamique de Stains) in Seine-Saint-Denis, a northern suburb of Paris, will remain closed. The Salafist mosque, which was identified as the last place of prayer for several French jihadists before they joined the Islamic State, was shuttered in November 2016 as part of a state of emergency.
January 21. Kevin Guiavarch, a 24-year-old convert to Islam, was charged with terrorism offenses after being extradited from Turkey. He is believed to have been a member of both the Islamic State and the former Al-Nusra Front. He was arrested in Turkey in June 2016 after leaving Syria with his four wives and six children. Guiavarch, a Breton who converted to Islam at the age of 14, is believed to have gone to Syria in 2012.
January 23. The Grand Mosque of Paris announced that it was withdrawing from the Foundation for Islam of France (Fondation de l'Islam de France), a new, government-sponsored foundation charged with "contributing to the emergence of an Islam of France that is fully anchored in the French Republic." In a statement, the mosque, which represents 250 of the 2,500 of the mosques and Muslim associations in France, said that it denounced "any form of interference in the management of Muslim worship." Others said the mosque's rector, Dalil Boubakeur, 76, was angry that he was not named to be president of the foundation.
January 23. The Administrative Court of Marseilles effectively terminated a project to build a €22 million ($23 million) mega-mosque with a capacity for 7,000 worshippers. In July 2007, the municipality granted a Muslim association a parcel of land in the 15th arrondissement to build the Grand Mosque of Marseille, but the project has been plagued by legal and financial problems. The cornerstone was laid in 2010, but since then nothing else has been built. In October 2016, the city terminated the lease for the land because the association had not paid the rent since 2013. According to the court, "the materiality of all the facts alleged against the association does not appear to be seriously contestable."
January 23. Benoît Hamon, the presidential candidate for the Socialist Party, lashed out at critics of Islam:
"There is ultimately a desire to say that Islam is incompatible with the Republic. This is not true. It is unbearable that we continue to make the faith of millions of our compatriots a problem in French society. Let us stop making Islam an adversary of the Republic."
January 25. The trial began of Georges Bensoussan, a highly regarded Jewish historian of Moroccan descent, who is being prosecuted for talking about anti-Semitism among French Arabs. During a debate on Radio France Culture, he said:
"An Algerian sociologist, Smaïn Laacher, with great courage, just said in a documentary aired on Channel 3: 'It is a shame to deny this taboo, namely that in the Arab families in France, and everyone knows it but nobody wants to say it, anti-Semitism is sucked with mother's milk.'"
Bensoussan was referring to a documentary entitled "Teachers in the Lost Territories of the Republic," aired on Channel 3 in October 2015. In this documentary, Laacher, who is a French professor of Algerian origin, said:
"Antisemitism is already awash in the domestic space. It rolls almost naturally off the tongue, awash in the language. It is an insult. When parents shout at their children, when they want to reprimand them, they call them Jews. Yes. All Arab families know this. It is monumental hypocrisy not to see that this anti-Semitism begins as a domestic one."
Laacher was not prosecuted but Bensoussan was. The court's decision will be rendered March 7. "This witch-hunt against Bensoussan is symptomatic of the state of free speech today in France," wrote the French journalist Yves Mamou.
January 26. The Administrative Court of Bastia in Corsica validated a burkini ban in the village of Sisco. Mayor Ange-Pierre Vivoni argued the ban was necessary to avoid a repeat of fighting between local youths and Muslims in August 2016, when five people were hurt. The court rejected a similar ban in Ghisonaccio, due to a lack of evidence that the garment was a threat to public order.
January 27. Pascal Bruckner, a renowned author and intellectual, in an essay entitled "An Imaginary Racism," wrote that Islamophobia is a "weapon of intimidation" and an "invention to forbid debate."
January 27. "The Halal Market: The Invention of a Tradition," a new book by anthropologist Florence Bergeaud-Blackler, argues that "buying halal is not a religious obligation." Although the Koran and Sunnah (the teachings and practices of Mohammed) prohibit pork, blood and alcohol, they do not impose rules dictating behavior, according to Bergeaud-Blackler.
"Eating halal is presented today as an obligatory practice for Muslims, even though the term did not exist in the Muslim world before it was exported by developed countries," she told FRANCE 24. Bergeaud-Blackler, who has studied halal for the past 20 years, said the market has flourished in non-Muslim countries because of immigration. "There's a recent poll by the Montaigne Institute which shows that 40% of France's Muslim population thinks eating halal is a pillar of Islam; this notion is false," she said.
In reality, the halal food industry is a product of the "random convergence of neo-fundamentalism and neo-liberalism" during the early 1980s, Bergeaud-Blackler explained. "At the time, these two ideologies were dominant on the international scene. Their convergence would change the theological definition of halal from 'recommended' to 'required' and which is a hallmark of fundamentalism," she said.
January 29. Three months after French authorities demolished the "Jungle" migrant camp, migrants are returning to Calais at the rate of around 30 a day. Most of them are unaccompanied minors hoping to smuggle their way across the English Channel to Britain.
Soeren Kern is a Senior Fellow at the New York-based Gatestone Institute. Follow him on Facebook and on Twitter.