A Slap in the Face for Anti-Israel BDS Movement
Abbas's stance against the BDS campaign should serve as a wake up call to all its supporters, especially those who are not Palestinians, that negative campaigns only serve to promote hatred and extremism in the region.

Many Palestinians seem to share Abbas's view. That is why many Palestinians continue to do business with Israelis on a daily basis and continue to hold joint conferences in Israel and different parts of the world.
The international campaign for boycott, divestment and sanctions [BDS] against Israel received a slap in the face last week from Palestinian Authority President Mahmoud Abbas.
As BDS supporters continue to campaign against Israel around the world, Abbas, asked about his position regarding the BDS campaign at a press conference in Johannesburg, where he was attending Nelson Mandela's funeral, stated that he does not support the boycott of Israel.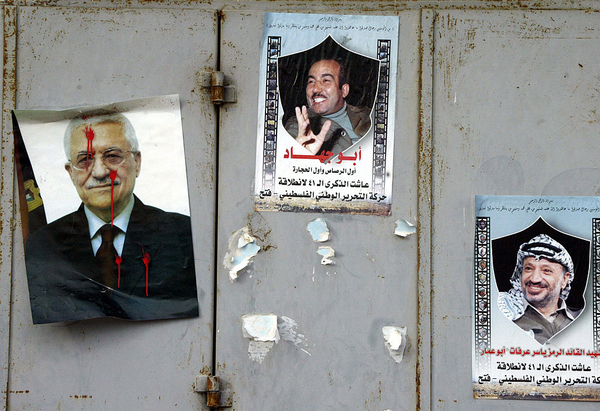 US President Barack Obama and PA President Mahmoud Abbas meet at the memorial service of Nelson Mandela in South Africa. In a press conference, Abbas denounced the BDS campaign against Israel. (Image Source: GCIS)
It is ironic that while Abbas is saying no to a boycott of Israel, the American Studies Association, an association of U.S. professors with almost 5,000 members, voted to endorse an academic boycott of Israeli colleagues and universities.
The U.S. professors obviously do not care about what the Palestinian Authority president has to say about the boycott of Israel. The professors, like BDS supporters, apparently believe that Abbas is a "traitor" because he is conducting peace talks with Israel.
Abbas's attack on the BDS movement is a serious embarrassment for the anti-Israel activists, many of whom are not Palestinians.
The statements have enraged BDS activists worldwide, with some calling into question Abbas's right to speak on behalf of the Palestinians.
Prominent Palestinian journalist Daoud Kuttab noted that Abbas's statement in Johannesburg "naturally has angered many Palestinian and international supporters of the BDS movement."
Kuttab wrote that Abbas's statement "reflects the absence of any clear strategy from the Palestinian political leadership except for negotiations. It is unclear whether the reason behind the Palestinian leader's public attack at the BDS movement is a result of trying to protect the Palestinian elite or not wanting to anger the Israelis and their US allies."
Abbas did, however, call on people around the world to boycott products of settlements. "No, we do not support the boycott of Israel," Abbas said. "But we ask everyone to boycott the products of settlements because the settlements are in our territories. It is illegal."
Abbas's statements conflict "with the Palestinian national consensus that has strongly supported BDS against Israel since 2005," Omar Barghouti, one of the founders of BDS, told Electronic Intifada.
"There is no Palestinian political party, trade union, NGO [non-governmental organization] network or mass organization that does not strongly support BDS," Omar Barghouti continued. "Any Palestinian official who lacks a democratic mandate and any real public support, therefore, cannot claim to speak on behalf of the Palestinian people."
Salim Vally, spokesman for the Palestine Solidarity Committee in South Africa, told The Electronic Intifada that Abbas's comments were "shocking" and represented an "attack on the global solidarity movement."
The claim that Abbas does not represent the Palestinian "consensus" regarding a boycott of Israel is inaccurate. In fact, many Palestinians seem to share Abbas's view, which supports a boycott only of settlement products.
That is why many Palestinians continue to do business with Israelis on a daily business. That is also why, despite the BDS campaign, Palestinians and Israelis continue to hold joint seminars and conferences in Israel and different parts of the world.
In wake of Abbas's statements, the BDS movement should reconsider its strategy. Calls for boycotting any party do not contribute to the cause of peace. Abbas's stance against the BDS should also serve as a wake-up call to its supporters, especially those who are not Palestinians, that negative campaigns only serve to promote hatred and extremism in the region.
Related Topics: Israel | Khaled Abu Toameh receive the latest by email: subscribe to the free gatestone institute mailing list
Reader comments on this item
| | | |
| --- | --- | --- |
| Title | By | Date |
| Non-"Palestinian" anti-Israel activists [37 words] | Gordon Ross | Dec 20, 2013 14:46 |
| Buycott [82 words] | Ike Semaya | Dec 19, 2013 08:38 |
| Obscuring the intellectual process [163 words] | Ivan Gur-Arie | Dec 17, 2013 20:54 |
| Hear hear! [84 words] | frumious falafel | Dec 17, 2013 20:34 |
| Abbas Tactical Move [102 words] | Jossef | Dec 17, 2013 14:31 |
| Selective boycott prejudice? [40 words] | Andreas Ost | Dec 17, 2013 13:27 |
| ↔ First address all the world's other political problems, then criticize Israel [105 words] | Hannes Minkema | Dec 19, 2013 23:59 |
| ↔ Anti-semites arise & join up. [114 words] | Andreas Ost | Dec 21, 2013 16:10 |
| The ASA's boycott vote [71 words] | Lynne T. | Dec 17, 2013 10:55 |
| Doing Business With Israelis [38 words] | DockyWocky | Dec 17, 2013 08:57 |
| "Slap in the Face" [94 words] | judy | Dec 17, 2013 08:39 |
Comment on this item
Tweets by @GatestoneInst
Subscribe To Mailing List
Latest Articles
by Khaled Abu Toameh
Now Abbas is going to mislead Obama into thinking that he is coming to meet with him not only as the "rightful" leader of the Palestinians but also as a representative of the Arab world. Never mind that the Arab League, which issued the statement, is considered extremely inefficient and incompetent and that no one in the Arab world takes it seriously.
But the Obama Administration does not seem to care. Obama and Kerry seem to want a deal at any cost, even if it is with a president who lost his legitimacy many years ago and even if the deal will unravel the day after.
Abbas also believes he can say no to Obama because the U.S. Administration will not take any retaliatory measures against the Palestinian Authority. The Palestinians do not take Obama seriously, especially in light of his failure in dealing with the crises in the Arab world and Ukraine.
by Samuel Westrop
The individuals attached to the radicalization of the Woolwich killers were not unabashed advocates of terrorism, but so-called "soft Islamists" – afforded money and responsibility by the government in the vain hope that "non-violent" extremists would temper the more visible consequences of violent extremists. In truth, "moderate" Islamism seems to act as a "conveyor belt" to violent Islamism.
The greatest obstacle remains the failure of government, media and academia to accept that some "moderate" Islamists are frequently the cause, and Adebowale merely the symptom.
by Campaign to Free Political Prisoners in Iran
by Khaled Abu Toameh
"The dispute with Israel is not only over recognizing Israel as a Jewish state.The dispute is over Jerusalem, settlements, refugees and borders." — Mohamed Shtayyeh, Member of Fatah Central Committee.
Abbas is not authorized to make concessions on any of these issues.
Today it is clear that the Palestinian Authority is preparing to hold Israel responsible for the failure of the peace talks because of its refusal to comply with all of the Palestinians' demands.
by Yaakov Lappin
According to UN Security Council Resolution 1747, Iran is banned from trading in or sending weapons across, international borders. Yet, as the latest arms shipment intercepted by Israel shows, Iran systematically violates this resolution. Will diplomats prefer to look the other way?
Most Shared
Most Viewed