A Slap in the Face for Anti-Israel BDS Movement
Abbas's stance against the BDS campaign should serve as a wake up call to all its supporters, especially those who are not Palestinians, that negative campaigns only serve to promote hatred and extremism in the region.

Many Palestinians seem to share Abbas's view. That is why many Palestinians continue to do business with Israelis on a daily basis and continue to hold joint conferences in Israel and different parts of the world.
The international campaign for boycott, divestment and sanctions [BDS] against Israel received a slap in the face last week from Palestinian Authority President Mahmoud Abbas.
As BDS supporters continue to campaign against Israel around the world, Abbas, asked about his position regarding the BDS campaign at a press conference in Johannesburg, where he was attending Nelson Mandela's funeral, stated that he does not support the boycott of Israel.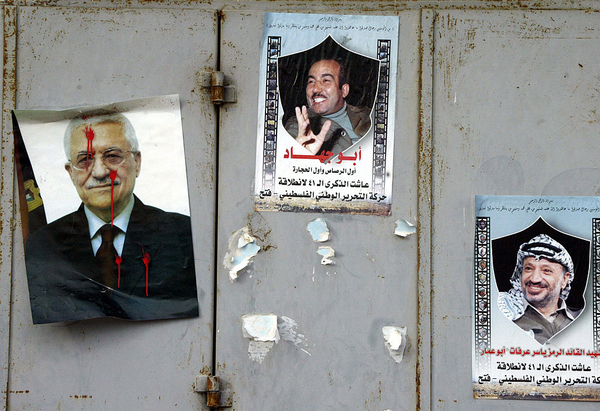 US President Barack Obama and PA President Mahmoud Abbas meet at the memorial service of Nelson Mandela in South Africa. In a press conference, Abbas denounced the BDS campaign against Israel. (Image Source: GCIS)
It is ironic that while Abbas is saying no to a boycott of Israel, the American Studies Association, an association of U.S. professors with almost 5,000 members, voted to endorse an academic boycott of Israeli colleagues and universities.
The U.S. professors obviously do not care about what the Palestinian Authority president has to say about the boycott of Israel. The professors, like BDS supporters, apparently believe that Abbas is a "traitor" because he is conducting peace talks with Israel.
Abbas's attack on the BDS movement is a serious embarrassment for the anti-Israel activists, many of whom are not Palestinians.
The statements have enraged BDS activists worldwide, with some calling into question Abbas's right to speak on behalf of the Palestinians.
Prominent Palestinian journalist Daoud Kuttab noted that Abbas's statement in Johannesburg "naturally has angered many Palestinian and international supporters of the BDS movement."
Kuttab wrote that Abbas's statement "reflects the absence of any clear strategy from the Palestinian political leadership except for negotiations. It is unclear whether the reason behind the Palestinian leader's public attack at the BDS movement is a result of trying to protect the Palestinian elite or not wanting to anger the Israelis and their US allies."
Abbas did, however, call on people around the world to boycott products of settlements. "No, we do not support the boycott of Israel," Abbas said. "But we ask everyone to boycott the products of settlements because the settlements are in our territories. It is illegal."
Abbas's statements conflict "with the Palestinian national consensus that has strongly supported BDS against Israel since 2005," Omar Barghouti, one of the founders of BDS, told Electronic Intifada.
"There is no Palestinian political party, trade union, NGO [non-governmental organization] network or mass organization that does not strongly support BDS," Omar Barghouti continued. "Any Palestinian official who lacks a democratic mandate and any real public support, therefore, cannot claim to speak on behalf of the Palestinian people."
Salim Vally, spokesman for the Palestine Solidarity Committee in South Africa, told The Electronic Intifada that Abbas's comments were "shocking" and represented an "attack on the global solidarity movement."
The claim that Abbas does not represent the Palestinian "consensus" regarding a boycott of Israel is inaccurate. In fact, many Palestinians seem to share Abbas's view, which supports a boycott only of settlement products.
That is why many Palestinians continue to do business with Israelis on a daily business. That is also why, despite the BDS campaign, Palestinians and Israelis continue to hold joint seminars and conferences in Israel and different parts of the world.
In wake of Abbas's statements, the BDS movement should reconsider its strategy. Calls for boycotting any party do not contribute to the cause of peace. Abbas's stance against the BDS should also serve as a wake-up call to its supporters, especially those who are not Palestinians, that negative campaigns only serve to promote hatred and extremism in the region.
Related Topics: Israel | Khaled Abu Toameh receive the latest by email: subscribe to the free gatestone institute mailing list
Reader comments on this item
| | | |
| --- | --- | --- |
| Title | By | Date |
| Non-"Palestinian" anti-Israel activists [37 words] | Gordon Ross | Dec 20, 2013 14:46 |
| Buycott [82 words] | Ike Semaya | Dec 19, 2013 08:38 |
| Obscuring the intellectual process [163 words] | Ivan Gur-Arie | Dec 17, 2013 20:54 |
| Hear hear! [84 words] | frumious falafel | Dec 17, 2013 20:34 |
| Abbas Tactical Move [102 words] | Jossef | Dec 17, 2013 14:31 |
| Selective boycott prejudice? [40 words] | Andreas Ost | Dec 17, 2013 13:27 |
| ↔ First address all the world's other political problems, then criticize Israel [105 words] | Hannes Minkema | Dec 19, 2013 23:59 |
| ↔ Anti-semites arise & join up. [114 words] | Andreas Ost | Dec 21, 2013 16:10 |
| The ASA's boycott vote [71 words] | Lynne T. | Dec 17, 2013 10:55 |
| Doing Business With Israelis [38 words] | DockyWocky | Dec 17, 2013 08:57 |
| "Slap in the Face" [94 words] | judy | Dec 17, 2013 08:39 |
Comment on this item
Subscribe To Mailing List
Tweets by @GatestoneInst
Subscribe To Mailing List
Latest Articles
by Guy Millière
Belgian security services have estimated that the number of European jihadists in Syria may be over 4000.
European leaders have directed their nastiest comments against the Jewish state, none of them has asked why Palestinian organizations in Gaza put their stockpiles of weapons in hospitals, homes, schools and mosques, or their command and control centers at the bottom of large apartment buildings or underneath hospitals. None of them has even said that Hamas is a terrorist organization despite its genocidal charter.
The majority of them are wedded to the idea of redistribution. Their policies are anti-growth, do not afford people any economic opportunity, and are what caused these economic crises in Europe in the first place. The United States seems to be following these thoroughly failed policies as well.
"Europe could not stay the same with a different population in it." — Christopher Caldwell, Reflections on the Revolution in Europe.
by Raymond Ibrahim
"I abducted your girls. I will sell them on the market, by Allah... There is a market for selling humans. Allah says I should sell." — Abubakar Shekau, leader of Boko Haram.
Hillary Clinton repeatedly refused to designate Boko Haram a terrorist organization.
In Malaysia -- regularly portrayed in the West as a moderate Muslim nation -- any attempt to promote religions other than Islam is illegal.
"The reason they want to kill me is very clear -- it is because of being a convert to Christianity." — Hassan Muwanguzi, Uganda.
by Dexter Van Zile
Rev. Hanna Massad does not mention that perhaps Hamas actually wants the blockade to end so it can bring in more weapons and cement to build attack-tunnels so it can "finish the job."
Hamas does not just admit to using human shields, it brags about using human shields. Why does Massad have to inject an air of uncertainty about Hamas's use of human shields when no such uncertainty exists?
The problem is that any self-respecting journalist would confront Massad with a follow-up question about Hamas's ideology and violence, but not the folks at Christianity Today.
by Burak Bekdil
In Turkey however, the protests were not peaceful. They included smashing a sculpture than was neither Jewish nor Israeli.
It was the usual "We-Muslims-can-kill each other-but-Jews-cannot" hysteria.
If Turkish crowds were protesting against Israel in a political dispute, why Koranic slogans? Why were they protesting in Arabic rather than their native language? Do Turks chant German slogans to protest nuclear energy?
by Burak Bekdil
So in the EU-candidate Turkey, a pianist should be punished for his re-tweets, but a pop-singer should be congratulated for her first-class racist hate-speech. This is contagious.
No reporter present at Mr. Ihsanoglu's campaign launch speech thought about asking him if his commitment to the "Palestinian cause" included any affirmation of the Hamas Charter, in particular a section that says, "…The stones and trees will say, 'O Muslims, there is a Jew behind me, come and kill him.'"
Turkey is also the country where a few years earlier, a group of school teachers (yes, school teachers!) gathered in a demonstration to commemorate Hitler.
Most Shared
Most Viewed