Germany: Islamists Infiltrating Schools in Hamburg
The document warns that increasing numbers of students in Hamburg are being influenced by Islamist propaganda and are embracing radical Islam and idolizing jihadist fighters in Syria.

The problems in Hamburg are drawing renewed attention to the alarming growth of Salafism in Germany. Salafists openly state that they want to replace democracy in Germany (and the rest of the world) with a Sunni Islamic government based on sharia law.
Muslim radicals are imposing Islamic norms and values in primary and secondary public schools in Hamburg, the second-largest city in Germany, say school officials, who are asking for stepped-up monitoring of the Salafist groups thought to be behind the Islamization efforts.
At least 25 schools across Hamburg are believed to have been infiltrated by Salafists and other fundamentalist Muslim groups, according to German media reports. But local politicians from the ruling Social Democratic Party (SPD)—a party committed to enforcing multiculturalism in Hamburg—have refused to disclose precisely which schools are affected.
Now, for the first time, a confidential report leaked to the German newspaper Bild identifies seven of the problem schools by name. The schools where Islamist fanatics are "waging a religious war" against non-Muslim teachers and classmates are located in districts across the city, the document says, but the situation in Mümmelmannsberg in eastern Hamburg is "particularly appalling" and "the focus of an organized strategy" by Islamists to recruit new followers.
Teachers and school administrators say that efforts by Muslim fundamentalists to run the schools "according to their own rules" have increased in recent months, and speculation is rife that the document was leaked by someone seeking to force city officials into taking more forceful action.
School principals are being pressured, among other demands, into setting up special prayer rooms for Muslim children, who are increasingly gathering for prayers and shouting Islamist slogans on school playgrounds. Girls are requesting exemptions from gym classes and swimming lessons, and are being harassed if they fail to dress according to Islamic norms.
Teachers at the Öjendorf District School and the An der Glinder Au primary school say that some Muslim parents are being asked by other Muslims to ensure their daughters are dressing according to Islamic standards. The pressure to conform to Islamic norms has been "especially great" at the Mümmelmannsberg District School, where teachers have observed gender discrimination, coercion on clothing issues and cases of religiously motivated violence.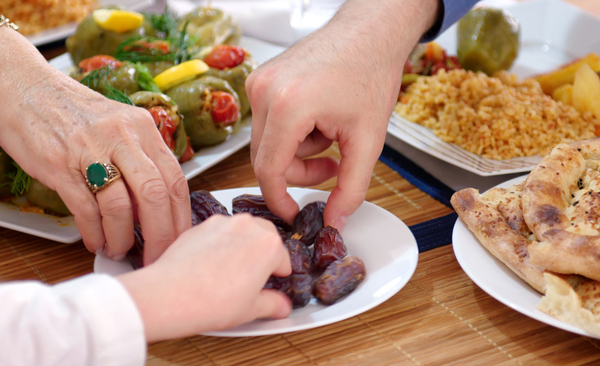 Teachers at the An der Glinder Au primary school say that some Muslim parents are being asked by other Muslims to ensure their daughters are dressing according to Islamic standards. (Image source: stayfriends.de)
Muslim students at the Bergedorf District School in southeastern Hamburg frequently provoke "aggressive verbal confrontations" that have a clear "Salafist orientation and influence," according to the report. Similar incidents have been reported at schools in the Hamm and Stellingen districts.
The latest allegations mirror those contained in a separate document—entitled "Religiously Colored Conflict Situations in Hamburg Schools" [Religiös gefärbte Konfliktlagen an Hamburger Schulen] and dated December 2013—that was leaked to a German newspaper in February 2014.
The document was produced by the Landesinstituts für Lehrerbildung, an official training institute for teachers. Although Hamburg officials are refusing to make the document available to the general public, excerpts of it were published by the Hamburger Morgenpost on February 17.
The document warns that increasing numbers of students in Hamburg are being influenced by Islamist propaganda and are embracing radical Islam and idolizing jihadist fighters in Syria. The report—which is said to paint a frightening picture of what is taking place in schools across the city—says that school principals are alarmed and confused and are seeking help from state authorities.
According to the Hamburger Morgenpost, Islamists are pressuring female students to wear headscarves and skip swimming lessons. Teachers are being subjected to religiously motivated threats of violence and constant trouble over "eating, physical education and prayer opportunities in schools," as well as the content of religious education.
Girls are "not allowed to dance or play" and are "prohibited from going on school trips." Teachers have found the notebooks of some students to be filled with "particularly radical Salafist propaganda." The report describes the case of an Alevi [a sect within Shia Islam] student who was bullied so much by Sunni classmates that his parents took him out of school.
Radicalized parents are "demanding prayer opportunities in classrooms," and youth are "organizing spontaneous group prayers at central locations within schools with the express intention of provoking confrontation." Efforts to halt such prayers are fruitless because Muslim students say they have a "constitutional right to religious freedom."
The document says that children from disadvantaged backgrounds are particularly vulnerable to radicalization, and that the war in Syria is fueling religious fervor in schools to such an extent that jihadists are being idolized. One school says the "tension and concern is palpable," and has asked German authorities for help.
An article published by another Hamburg newspaper, the Hamburger Abendblatt, provides an in-depth look at the pressure tactics used by Islamists in Hamburg schools. The article says there are many indications that the problem is much bigger than currently known, partly because many teachers and school administrators are afraid to report incidents of intimidation, harassment, threats and abuse.
At one school, a teacher wanted to organize a parent-teacher conference after he was threatened by radical Muslim students. But two colleagues who were also threatened backed out of the event at the last minute because they were afraid of the students. As a result, disciplinary actions were abandoned. The teacher was also told that the school board's Violence Prevention Unit was unable to help him. "The threat potential is large, the system is helpless," he said. "There must be clear rules and safeguards."
At another school located on the other side of Hamburg, a veteran teacher says that lately he has observed that many of the female students have adopted an Islamic dress code. "Their behavior has also changed" he says, "and they look similar to 'black widows' [female suicide bombers in the Caucasus]."
Hamburg authorities—who concluded a "historic treaty" with the city's 200,000-strong Muslim community in November 2012—have downplayed the problems, describing them as "isolated incidents." Hamburg Senator Ties Rabe, who is responsible for the city's schools, issued a statement on February 21 saying that Salafism is not welcome in the classroom and problem students could be expelled from school. But he also put the responsibility on teachers to "ensure a peaceful coexistence on the school grounds."
The problems in Hamburg are drawing renewed attention to the alarming growth of Salafism in Germany. Salafists, who trace their roots to Saudi Arabia, openly state that they want to replace democracy in Germany (and the rest of the world) with a Sunni Islamic government based on Sharia law.
According to German intelligence, the number of committed Salafists in Germany now exceeds 5,500, up from 4,500 in 2012 and 3,800 in 2011. Around 70% are Germans and 30% are non-Germans, coming from a variety of nations including Turkey, Morocco and Bosnia. About a quarter of the Salafists in Germany are Muslim converts.
Although Salafists make up only a fraction of the estimated 4.3 million Muslims in Germany, authorities are concerned that most of those attracted to Salafi ideology are impressionable young Muslims who are especially susceptible to committing suicide attacks in the name of Islam.
Germany has banned several Salafist Muslim groups—"DawaFFM," "Islamische Audios," "An-Nusrah," "Millatu Ibrahim," "Hizb ut-Tahrir"—that it says wants to "overturn democracy and install a system based on Islamic Sharia law."
"Salafism ... is incompatible with our free democratic order," former German Interior Minister Hans-Peter Friedrich said in March 2013. "The groups aim to change our society in an aggressive, belligerent way so that democracy would be replaced by a Salafist system, and the rule of law replaced by Sharia law."
Hans-Georg Maaßen, the head of Germany's domestic intelligence agency, the Bundesamt für Verfassungsschutz (BfV), says the Salafist threat to Germany is rising and warns that unless the government "takes decisive action against violent Islamists," the Salafist groups "will continue to grow and the threat of violence will increase."
A recent exposé by the Hamburger Abendblatt shows that Salafism is alive and well in Germany. The number of its adherents is swelling in all parts of the country, due in part to young Muslims who are becoming radicalized by the war in Syria. German Salafists are also raising considerable amounts of money for the more than 300 German jihadists currently fighting the Syrian government.
Soeren Kern is a Senior Fellow at the New York-based Gatestone Institute. He is also Senior Fellow for European Politics at the Madrid-based Grupo de Estudios Estratégicos / Strategic Studies Group. Follow him on Facebook and on Twitter.
Related Topics: Germany | Soeren Kern receive the latest by email: subscribe to the free gatestone institute mailing list
Reader comments on this item
Comment on this item
Subscribe To Mailing List
Tweets by @GatestoneInst
Latest Articles
by Louis René Beres
The Palestinian Liberation Organization [PLO], forerunner of today's Palestinian Authority, was founded in 1964, three years before Israel came into the unintended control of the West Bank and Gaza. What therefore was the PLO planning to "liberate"?
Why does no one expect the Palestinians to cease all deliberate and random violence against Israeli civilians before being considered for admission to statehood?
On June 30, 1922, a joint resolution of both Houses of Congress of the United States endorsed a "Mandate for Palestine," confirming the right of Jews to settle anywhere they chose between the Jordan River and the Mediterranean Sea. This is the core American legacy of support for a Jewish State that President Obama now somehow fails to recall.
A sovereign state of Palestine, as identified by the Arabs -- a Muslim land occupied by "Palestinian" Arabs -- has never existed; not before 1948, and not before 1967. From the start, it was, and continues to be, the Arab states -- not Israel -- that became the core impediment to Palestinian sovereignty.
by Timon Dias
It looks as if this new law is meant to serve as a severe roadblock to parties that would like to dismantle the EU in a democratic and peaceful way from within.
A rather dull semantic trick pro-EU figures usually apply, is calling their opponents "anti-Europe."
by Soeren Kern
Austria has emerged as a major base for radical Islam and as a central hub for European jihadists to fight in Syria.
The proposed revisions would, among other changes, regulate the training and hiring of Muslim clerics, prohibit the foreign funding of mosques, and establish an official German-language version of the Koran to prevent its "misinterpretation" by Islamic extremists.
Muslims would be prohibited from citing Islamic sharia law as legal justification for ignoring or disobeying Austrian civil laws.
Leaders of Austria's Muslim community counter that the contemplated new law amounts to "institutionalized Islamophobia."
Official statistics show that nearly 60% of the inhabitants of Vienna are immigrants or foreigners. The massive demographic and religious shift underway in Austria, traditionally a Roman Catholic country, appears irreversible.
by Samuel Westrop
Over 800 Iranians were executed during President Rouhani's first year in office.
Leading politicians, British government officials and businessmen nevertheless seemed happy to attend and speak at the Europe-Iran Forum.
Most Shared
Most Viewed