Islamic State: "We Will Take Spain Back"
Calls to reconquer al-Andalus are becoming more frequent and more strident.

"Clearly Spain forms part of the strategic objectives of global jihad. We are not the only ones but we are in their sights." — Spanish Interior Minister Jorge Fernández Díaz.
Radical Muslims in Spain have launched a social media campaign aimed at generating support for the jihadist group Islamic State [IS].
The campaign involves posters that include images of famous Spanish landmarks and monuments emblazoned with Arabic slogans such as, "We are all the Islamic State" and "Long Live the Islamic State."
One poster includes an image of the medieval Islamic Aljafería Palace in the Spanish city of Zaragoza and the black flag associated with the IS. Another uses an image of the famous La Concha beach in the Basque city of San Sebastián. Yet another includes an image of the statue of Jesus Christ on Monte Urgull in San Sebastián, with the Arabic words "Al-Andalus Country" instead of "Basque Country."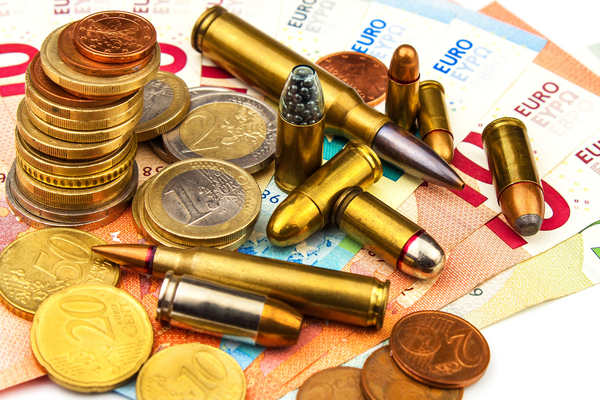 A tweeted photo of an Islamic State supporter holding the IS black flag of jihad in front of Aljafería Palace in Zaragoza.
Al-Andalus is the Arabic name given to those parts of Spain, Portugal and France that were occupied by Muslim conquerors (also known as the Moors) from 711 to 1492. As the Basque Country is surrounded by mountains, however, the Moors never succeeded in occupying it.
The poster campaign comes after IS jihadists produced a video in which they vow to liberate al-Andalus from non-Muslims and make it part of their new Islamic Caliphate.
The video shows a jihadist speaking in Spanish with a heavy North African accent. He says:
"I say to the entire world as a warning: We are living under the Islamic flag, the Islamic caliphate. We will die for it until we liberate those occupied lands, from Jakarta to Andalusia. And I declare: Spain is the land of our forefathers and we are going to take it back with the power of Allah."
Radical Muslims (and many moderate Muslims) believe that all territories Muslims lost during the Christian Reconquista of Spain still belong to the realm of Islam. They claim that Islamic law gives them the right to return there and re-establish Muslim rule.
In recent years, the return of "occupied" Al-Andalus to the fold of Islam has become an obsession for Muslims of all stripes, and calls to reconquer al-Andalus have become more frequent and more strident.
Commenting on the latest video, Spain's Secretary of State for Security, Francisco Martínez, said Spanish police were remaining "vigilant" in the face of a "grave" jihadist threat.
Meanwhile, Moroccan authorities have warned Spanish police that some of the more than 3,000 Moroccan jihadists fighting in Syria and Iraq are beginning to return home, and that many of them are likely to attempt to infiltrate the Spanish mainland via the North African Spanish exclaves of Ceuta and Melilla.
The Moroccan Interior Minister, Mohamed Hassad, recently identified 1,221 Moroccan citizens who have joined jihadists groups in Syria and Iraq, as well as another 2,000 ethnic Moroccans who are citizens of other countries, including Spain.
Spanish and Moroccan counter-terrorism forces have stepped-up efforts to break up jihadist cells that have been proliferating in both countries.
On August 14, nine members of a recruitment cell for the IS were arrested in northern Morocco, not far from the North African Spanish exclave of Ceuta.
The arrests were made in the Moroccan cities of Fez, Tétouan and Fnideq, in what the Spanish Interior Ministry said was a joint intelligence operation between Moroccan and Spanish counter-terrorism police.
All the detainees are Moroccan citizens, several of whom made repeated trips to Ceuta to recruit jihadists and raise financial support for the IS.
"The jihadists recruited by the cell received instruction in weapons handling, assembly and placement of explosive devices and car theft, in order to participate in suicide terrorist attacks or to fight in conflict zones," a statement by the Spanish Interior Ministry reported.
Some of those recruited by the cell are believed to have participated in beheadings in Syria and Iraq. Police say they are also examining computers and data storage devices to determine if there were plans to carry out a terror attack on Moroccan soil.
On August 4, a 19-year-old Spanish woman and a 14-year-old Spanish girl were arrested in Melilla just days before they were due to join the jihad in Syria. They are first Spanish females to be prevented from becoming jihadists.
"Both were trying to cross the border to Morocco with the aim of contacting the network that would move them immediately to a conflict zone between Syria and Iraq," the Spanish Interior Ministry said in a statement.
The 19-year-old was released after surrendering her passport. The 14-year-old—who police say appeared "completely convinced" that she was doing the right thing by becoming a jihadist—is currently being held in a juvenile detention center where she has no access to the Internet. The girl's parents said she had recently become radicalized after spending time perusing jihadist websites.
In June, Spanish police in Madrid arrested ten individuals (eight Moroccans, one Argentine and one Bulgarian) on allegations that they were members of an international network that recruited jihadists for the IS.
The ringleader was a 47-year-old Moroccan national named Lahcen Ikassrien, who was arrested in Afghanistan in 2001, and released after three-and-a-half years in Guantánamo. In July 2005, the U.S. government handed him over to Spain, where he faced charges of cooperating with al-Qaeda. In October 2006, the Spanish High Court acquitted him on the grounds that no firm evidence existed of his ties to the terrorist group.
Ikassrien, who lives in Madrid, was part of a cell led by Abu Dahdah, a Syrian-born Spaniard sentenced to a 27-year prison term in Spain for his part in the September 11, 2001 attacks, and for being one of the founders of al-Qaeda in Spain. In February 2006, the Spanish Supreme Court reduced the Abu Dahdah's penalty to 12 years because it said that his participation in the 9/11 conspiracy was not proven. He was released in May 2013.
In May, Spanish police broke up a cell in Melilla that allegedly recruited 26 jihadists (24 Moroccans and 2 Spaniards) for al-Qaeda groups fighting in Libya and Mali. All six members of the cell are Spanish citizens. One of them, Benaissa Laghmouchi Baghdadi, is the first Spanish jihadist known to have returned from the fighting in Mali. Police say the cell used social media platforms such as "Sharia4Spain" to recruit jihadists.
In March, police in Spain and Morocco arrested seven suspected jihadists who belonged to cell operating in the southern Spanish city of Málaga. Four of the suspects were arrested in Spain and the other three in Morocco. Spanish officials said the cell was one of the largest of its kind in Europe and responsible for recruiting more jihadists than any other network discovered in Spain so far.
The suspected ringleader of the cell is a wheelchair-bound Spanish convert to Islam named Mustafa Maya Amaya. Maya, 51, was born in Brussels after his Spanish parents moved to Belgium in the 1960s to look for work there. After converting to Islam, he changed his given name from Rafael to Mustafa.
Police say Maya—who maintained close ties to jihadist cells in Belgium, France, Indonesia, Libya, Mali, Morocco, Tunisia, Turkey and Syria—is suspected of recruiting dozens of volunteer jihadists on the Internet and, after a careful selection process, sending them to join terrorist organizations in the Middle East and North Africa.
The sting operation was conducted on March 14, just three days after Spain marked the 10th anniversary of the 2004 Madrid train bombings, which killed 191 people and wounded nearly 2,000. Since then, more than 470 suspected Islamic extremists have been arrested in Spain, according to Spanish Interior Minister Jorge Fernández Díaz.
"Clearly Spain forms part of the strategic objectives of global jihad," Fernández Díaz said on the eve of the anniversary. "We are not the only ones but we are in their sights."
Soeren Kern is a Senior Fellow at the New York-based Gatestone Institute. He is also Senior Fellow for European Politics at the Madrid-based Grupo de Estudios Estratégicos / Strategic Studies Group. Follow him on Facebook and on Twitter.
Related Topics: Spain | Soeren Kern receive the latest by email: subscribe to the free gatestone institute mailing list
Reader comments on this item
| | | |
| --- | --- | --- |
| Title | By | Date |
| Re: Isis and Islam [160 words] | Espe | Aug 21, 2014 22:31 |
| Expansionism of Radical Islamic Jihadists Globally [65 words] | Robert Arthur Gillis | Aug 18, 2014 21:13 |
| No, Spain will not fall! [69 words] | María | Aug 18, 2014 17:38 |
| forever Islamic soil [33 words] | Lee | Aug 18, 2014 16:48 |
| Plan of world Jihad in Hadith [33 words] | Chinni Kum | Aug 18, 2014 16:18 |
| Spain is here to stay [67 words] | A Spaniard | Aug 18, 2014 15:03 |
| ↔ Good luck [19 words] | Mr Reality | Aug 21, 2014 04:49 |
| Shiia/Sunni/Al Queda/Hamas/Fatah/Hezbollah/Islamic State: "Be the First kid on your block to Rule the World!" [165 words] | Holy Shirt | Aug 18, 2014 10:40 |
| We must combine our efforts [109 words] | Roger Bennett | Aug 18, 2014 06:51 |
| ↔ Amusing. [21 words] | girl | Aug 19, 2014 10:30 |
| Jakarta - huh??? [67 words] | jaytee | Aug 18, 2014 05:22 |
| The "reconquista" has started [56 words] | Michael512 | Aug 18, 2014 00:00 |
| "No Such Thing as Radical Islam" [21 words] | Rex Crouch | Aug 17, 2014 19:19 |
| Do not fear them [76 words] | Frank Luke | Aug 17, 2014 18:24 |
| Forewarned is forearmed [19 words] | David Walker | Aug 17, 2014 15:49 |
| WW III [75 words] | CB | Aug 17, 2014 14:21 |
| Islamic threat to Spain [116 words] | Tinu | Aug 17, 2014 13:30 |
| In Memory of Don Rodrigo de Bivar [85 words] | Dejael | Aug 17, 2014 12:48 |
| The twin killers of the mind [195 words] | Doug Mayfield | Aug 17, 2014 12:43 |
| Muslims are right to claim Al Andalus - Spanish ppl are sitting on occupied Muslim lands [24 words] | Andy | Aug 17, 2014 12:11 |
| ↔ Start Packing, Andy [37 words] | Marc Templer | Aug 21, 2014 13:10 |
| Battling the Ennui of Modernity [134 words] | David B. | Aug 17, 2014 10:13 |
| Bat Ye'Or's "Eurabia" features the Andalusian myth [59 words] | Clare Spark | Aug 17, 2014 10:01 |
| A jihad against Spain is good news [49 words] | Andy Gill | Aug 17, 2014 07:16 |
| ↔ Leave Spain alone. [59 words] | R.Carballada | Aug 17, 2014 15:13 |
| IS threatens Spain and world [147 words] | Darkanu | Aug 17, 2014 06:57 |
| ↔ Doomed [120 words] | Andrew H. | Aug 17, 2014 12:16 |
| Al-Andalus [57 words] | FatherJon | Aug 17, 2014 06:52 |
| ↔ ISIS and Spain [591 words] | Alice Maxwell | Aug 17, 2014 17:03 |
| who cries last when Boabdil returns? [58 words] | Richard Sherwin | Aug 17, 2014 06:29 |
| Arguments reversed [38 words] | Christer | Aug 17, 2014 06:27 |
| ↔ Christer, Why Saudi Arabia? [114 words] | JB Silver | Aug 17, 2014 07:54 |
| Muslim lands? [54 words] | Terence Curry | Aug 17, 2014 06:15 |
| Spain to fall? [75 words] | sylvie schapira | Aug 17, 2014 06:05 |
| ↔ But what about the debt? [20 words] | Gnarlodious | Aug 17, 2014 20:36 |
| ↔ No, not Spain [30 words] | Jeremy Alfsen | Aug 18, 2014 02:48 |
| The rise of Islamism. [227 words] | Peter Brown | Aug 17, 2014 05:46 |
Comment on this item
Subscribe To Mailing List
Tweets by @GatestoneInst
Latest Articles
by Samuel Westrop
British politicians seem to be trapped in an endless debate over how to curb both violent and non-violent extremism within the Muslim community.
A truly useful measure might be to end the provision of state funding and legitimacy to terror-linked extremist charities
by Soeren Kern
"My son and I love life with the beheaders." — British jihadist Sally Jones.
Mujahidah Bint Usama published pictures of herself on Twitter holding a severed head while wearing a white doctor's jacket; alongside it, the message: "Dream job, a terrorist doc."
British female jihadists are now in charge of guarding as many as 3,000 non-Muslim Iraqi women and girls held captive as sex slaves.
"The British women are some of the most zealous in imposing the IS laws in the region. I believe that's why at least four of them have been chosen to join the women police force." — British terrorism analyst Melanie Smith.
by Khaled Abu Toameh
"Armed robbery in broad daylight." — Palestinians, after Hamas "seized" $750,000 from Gaza bank.
Fatah accused Hamas of "squandering" $700 million of financial aid earmarked for the Palestinian victims of war. Fatah wants to ensure that the millions of dollars intended for the Gaza Strip will pass through its hands and not end up in Hamas's bank accounts. Relying on Fatah in this regard is like asking a cat to guard the milk.
The head of the Palestinian Authority's Anti-Corruption Commission revealed that his group has retrieved $70 million of public funds fund embezzled by Palestinian officials. Arab and Western donors need to make sure that their money does not end up (once again) in the wrong hands. Without a proper mechanism of accountability and transparency, hundreds of millions of dollars are likely to find their way into the bank accounts of both Hamas and Fatah leaders.
by Mudar Zahran
"If Hamas does not like you for any reason all they have to do now is say you are a Mossad agent and kill you." — A., a Fatah member in Gaza.
"Hamas wanted us butchered so it could win the media war against Israel showing our dead children on TV and then get money from Qatar." — T., former Hamas Ministry officer.
"They would fire rockets and then run away quickly, leaving us to face Israeli bombs for what they did." — D., Gazan journalist.
"Hamas imposed a curfew: anyone walking out in the street was shot. That way people had to stay in their homes, even if they were about to get bombed. Hamas held the whole Gazan population as a human shield." — K., graduate student
"The Israeli army allows supplies to come in and Hamas steals them. It seems even the Israelis care for us more than Hamas." — E., first-aid volunteer.
"We are under Hamas occupation, and if you ask most of us, we would rather be under Israeli occupation… We miss the days when we were able to work inside Israel and make good money. We miss the security and calm Israel provided when it was here." — S., graduate of an American university, former Hamas sympathizer.
by Ben Cohen
Now, with the Islamic State's self-proclaimed caliphate having captured key oil wells in the Middle East this year, foreign oil has become an even more lethal financial weapon-of-choice for those seeking to destroy democracy and further escalate the War on Terror.
That President Barack Obama failed even to mention oil as a critical factor in the war against IS during his speech to the nation on September 10, is an omission both revealing and dangerous in terms of how his administration wants to depict the stakes involved in this latest confrontation with the jihadis.
Most Shared
Most Viewed