The latest "reconciliation" deal between the Palestinian Authority (PA) and Hamas brings the Palestinians closer to creating a state-within-a-state in the Gaza Strip. The PA and Hamas will now have two separate mini-states of their own in the Gaza Strip.
This arrangement is similar to the situation in Lebanon, where Hezbollah maintains a separate mini-state of its own there.
In state-like fashion, Hezbollah in Lebanon has its own army and territory. This situation, which has gone on for decades, has enraged many Lebanese politicians.
Earlier this year, when dozens of masked Hezbollah militiamen launched a nighttime raid to arrest drug dealers in Beirut, Lebanese politicians accused their government of giving up its authority in favor of Hezbollah's "tiny state." The militiamen belonged to Hezbollah's "social security department," a police force that operates independently of the Lebanese security authorities.
"This is what a country that has given up its authority in favor of the 'tiny state' (of Hezbollah) looks like," said Ashraf Rifi, Lebanon's former justice minister. Rifi said that the pictures of the Hezbollah militiamen conducting the raid testify for the umpteenth time how the very existence of Hezbollah goes against the state and its institutions.
Hamas and Mahmoud Abbas's Palestinian Authority are now headed, willingly or unwillingly, towards plunging the Palestinians into a similar scenario as in Lebanon. The "reconciliation" accord they reached in Cairo paves the way for creating a mini-state within a mini-state in the Gaza Strip. These two "states" will be added to the mini-Palestinian Authority "state" that already exists in parts of the West Bank.
The Egyptian-sponsored deal does not require Hamas to dismantle its security forces and armed wing, Ezaddin Al-Qassam. Nor does the agreement require Hamas to lay down its weapons or stop amassing weapons or preparing for war.
All that is known thus far is that the agreement allows Abbas and his Palestinian Authority to resume civilian control over the Gaza Strip, while security remains in the hands of Hamas.
This is a very comfortable situation for Hamas, which has effectively been absolved of any responsibility toward the civilian population. Hamas could not have hoped for a better deal.
Like Hezbollah in Lebanon, Hamas in the Gaza Strip will be permitted to maintain its own security establishment and security force in the Gaza Strip, while Abbas's government oversees civilian affairs and pays salaries to civil servants. It would be difficult in the extreme to imagine Hamas agreeing to relinquish security control or permit Abbas's security forces to return to the Gaza Strip.
The Lebanon case seems better than the one shaping up in Gaza for several reasons. There, the government at least has its own army and police force. In the Gaza Strip, however, Hamas is unlikely to return to the pre-2007 era, when the Palestinian Authority had multiple security forces that maintained a tight grip and kept Hamas on the defensive by regularly arresting its leaders and members.
And, despite the hugging and kissing on display during the visit of PA Prime Minister Rami Hamdallah and his delegation to the Gaza Strip on October 2 -- the first of its kind since the violent and bloody Hamas takeover in 2007 -- much bad blood remains between the two sides.
Hamas leaders and officials -- who have repeatedly charged Abbas and his leadership with being part of a US and Israeli "conspiracy" to strangle and punish the Palestinians of the Gaza Strip -- are approaching the "reconciliation" deal with utmost caution. Hamas is prepared to give the Palestinian Authority control over various government institutions and ministries -- but that is where things end, at this point. Security matters are a whole different ballgame.
The past decade of cut-throat rivalry between the two sides has seen Hamas and the PA arrest hundreds of each other's members and followers. The quest for revenge remains as strong as ever.
Abbas's recent sanctions against the Gaza Strip, which included cutting off salaries to thousands of civil servants, thereby forcing many of them into early retirement, and his refusal to pay for Israeli-supplied electricity as well as suspending medication shipments, only aggravated pre-existing tensions between the two sides. Things came to a head last April, when a Hamas official, Marwan Abu Ras, in a public square in the Gaza Strip, openly called for the execution of Abbas for high treason. Such fury between Hamas officials and Abbas can hardly have been assuaged in four months.
For now, however, Hamas seems prepared to swallow the bitter pill -- because the name of the game for Hamas is survival. Isolated and cash-stripped, Hamas will collude with anyone who offers it "oxygen".
Abbas, for his part, has agreed to serve as the savior of Hamas. Why? One simple reason: he does not wish to see a concord between Mohammed Dahlan and Hamas. In Abbas's view, the "reconciliation" deal is a victory not because Hamas has surrendered or relinquished security control over the Gaza Strip, but because he managed to foil Dahlan's return to Gaza and the political arena. Backed by the United Arab Emirates, Egypt and other Arab countries, Dahlan's return and rendezvous with Hamas would have been a severe blow to Abbas and his Palestinian Authority.
A Dahlan-Hamas alliance would have undermined Abbas's claim to be the president of all Palestinians, including those in the Gaza Strip. Moreover, such an alliance would have emboldened Dahlan, who lives in exile in the United Arab Emirates, and would have enhanced his prospects of succeeding Abbas as president of the PA.
Hamas has every reason to be satisfied with the "reconciliation" deal with Abbas. Its only concession was to dismantle its "administrative committee," which served as a shadow government in the Gaza Strip. Hamas shed no tears in this move, which absolved it from managing civilian affairs and paying salaries. Offloading this responsibility frees up Hamas to fortify its military capabilities.
Notably, the Egyptian-engineered deal does not require Hamas to make any political concessions. This in itself is a huge achievement for Hamas. Hamas is not being asked to recognize Israel's right to exist or accept any peace process.
The Gaza Strip is now headed toward a new era where it will be divided between the Palestinian Authority and Hamas – one in charge of civilian issues while the second has full security control.
This situation, if it remains unresolved, will most likely lead to the renewal of tensions between the two sides. The Gaza Strip is headed towards a situation of a state within a state. As of now, it is safe to call their arrangement a three-state solution: one Palestinian state in the West Bank and two in the Gaza Strip. Hezbollah and Hamas must be laughing their heads off as, under weak and impotent governments, they see their power grow.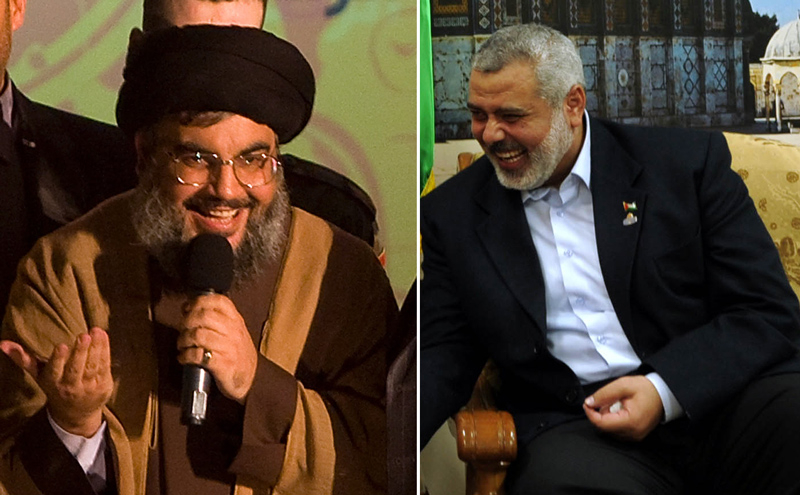 Hezbollah and Hamas must be laughing their heads off as, under weak and impotent governments, they see their power grow. Left: Hezbollah leader Hassan Nasrallah (Paula Bronstein/Getty Images). Right: Hamas leader Ismail Haniyeh (Muhammad Alostaz/PPM via Getty Images).
Khaled Abu Toameh, an award-winning journalist, is based in Jerusalem.