Turkey's announcement over the summer that it had signed a deal with Russia's State Atomic Energy Corporation (ROSATOM) -- of Hillary Clinton's Uranium One stardom -- to begin building three nuclear power plants in the near future is cause for concern. The $20 billion deal, which has been in the works since 2010, involves the construction in Mersin of the Akkuyu nuclear power plant -- Turkey's first-ever such plant -- will be operational in 2023.
ROSATOM already has nuclear cooperation deals with Iran, Jordan and Saudi Arabia, among others. Turkey is just the latest to benefit -- possibly along with Iran and North Korea, both of which have been openly threatening to destroy America -- from Moscow's play for power in the Middle East and the Mediterranean. It is also a source of desperately-needed revenue for Russia, hurt by sanctions imposed on Moscow following its invasion of Ukraine.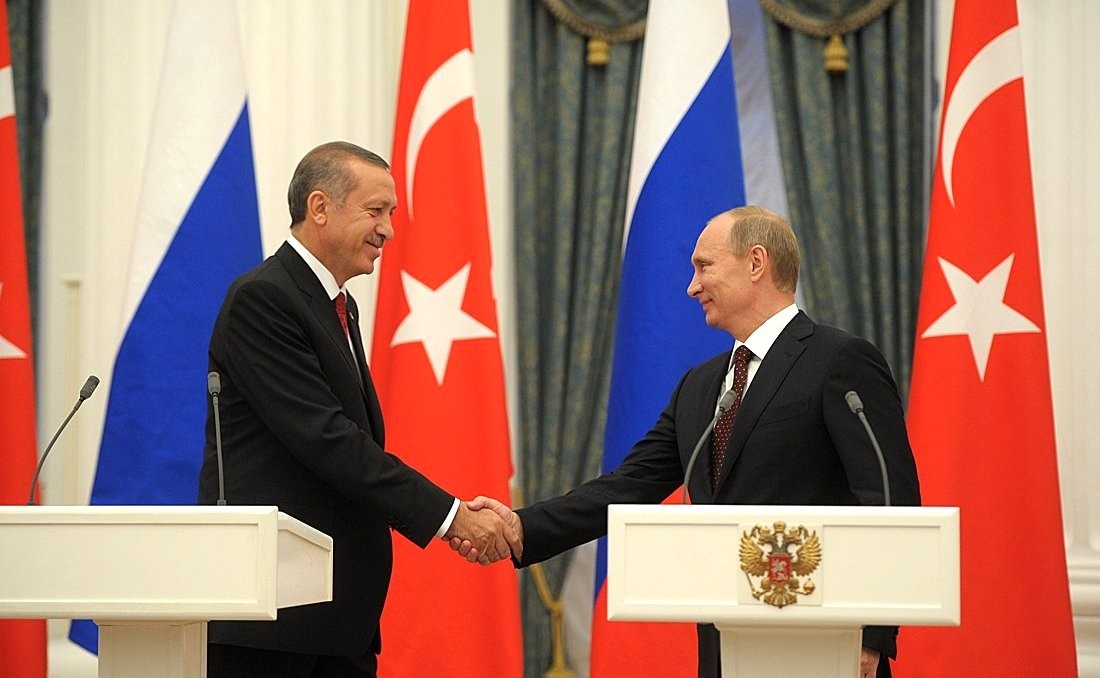 Turkish President Recep Tayyip Erdogan (then Prime Minister) meets with Russian President Vladimir Putin on July 18, 2012. Their meeting focused on nuclear cooperation, among other things. (Image source: kremlin.ru)
Like Iran, Turkey claims that its budding nuclear program is for civilian purposes only. Ankara's interest in nuclear energy dates back to the 1960s, when it conducted a study on the feasibility of building a 300-400 megawatt nuclear power plant, three decades before the rise of President (formerly Prime Minister) Recep Tayyip Erdogan and his AKP party.
Although it is true is that Ankara is currently incapable of meeting the country's electricity demands, and relies heavily on imported natural gas even to manage that, it would be wishful thinking to assume this is Turkey's only goal. Even though its state-controlled conventional power plants are dilapidated, since 2001, no public companies in Turkey have been allowed to invest in them.
Before international sanctions were imposed on Iran -- prior to the 2015 never-signed Joint Comprehensive Plan of Action (JCPOA) -- Tehran and Moscow were Turkey's main suppliers of fossil fuels for the operation of the conventional plants. Ironically, it was the hindrance to commerce with Iran that led Turkey to consider nuclear energy a viable option to supplement the natural gas imports on which it relies heavily.
Russia is not the only country to strive to profit from Turkey's nuclear energy ambitions. China, too, evidently wants a share. Last year, Beijing ratified the nuclear agreement it reached with Turkey in 2012. In 2015, China's arch-rival, Japan, also signed a deal with Turkey: $20 billion for the construction of four nuclear power plants at Sinop, along the Black Sea.
In 2008, Turkey reached an "Agreement for Peaceful Nuclear Cooperation" with the United States. Two years later, it signed a memorandum of understanding on nuclear cooperation with South Korea.
Let us not be lulled by Ankara's touting of the need to accommodate what it claims is the "highest rate of growing energy demand among OECD countries over the last 15 years." The West would also do well not to feel secure in the knowledge that Turkey is a party to the Non-Proliferation Treaty (NPT). The ever-radicalizing Erdogan regime, which exploited the opportunity created by the failed coup in 2016 to imprison thousands of judges, journalists, academic, generals and anyone else suspected of being critical of the ruling party and its policies, has made no secret of its hegemonic ambitions in an already volatile and war-torn region. Nuclear reactors in the hands of a repressive Islamist authoritarian such as Erdogan could be turned into weapons factories with little effort. This potential for disaster must be taken into account and monitored.
Debalina Ghoshal, based in India, is an independent consultant specializing in nuclear and missile and missile defense related issues.