Recently, in the middle of a speech at a conference in Europe about the threats of radical jihadist groups, a young imam stood up and vehemently voiced his objection to my remarks. At the end of the conference, the imam and several of his followers came forward. The imam insisted that Americans should be educated about Sharia law.
One of the imam's followers spoke up, his voice filled with excitement as he described how they had just entered Europe and their next destination was the US. When asked what their experience was like traveling to Europe, the man responded with a tone of gloating in his voice.
"It was very easy," he said. "We came here on a student visa, and we will be in the US on another student visa!"
What the man claimed was tragically true. Many Islamists have become adept at manipulating the flaws in the immigration system and have found ways of taking advantage of any legal loopholes.
The breach should concern everyone: any prospective jihadists can easily abuse the immigration system by coming to the US on a student visa. All he needs to do is apply to some US universities, receive a letter of admission, then take it to the closest US embassy as a credible document for obtaining an F-1 student visa.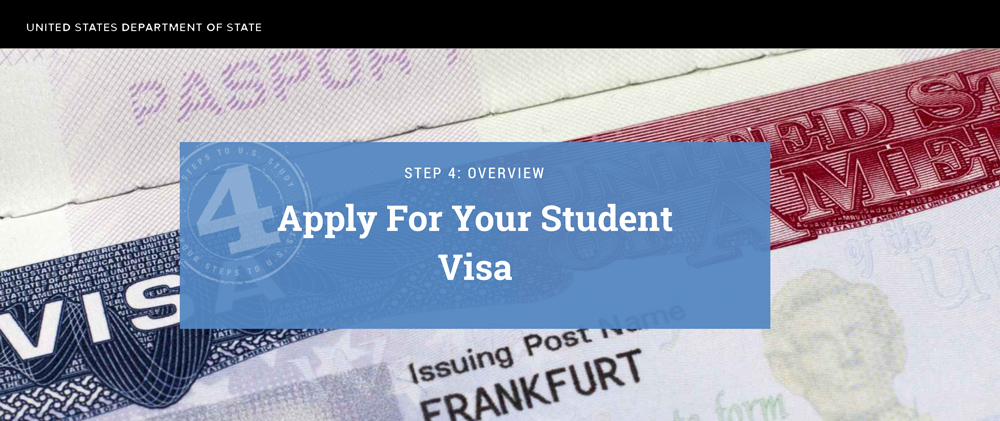 (Image source: US State Department)
Those jihadists who desire to hide their origins or find it more difficult to get into the US universities, simply get a student visa from a European country; then, after they are in Europe, it is easier to obtain a student visa to move to the US. Unfortunately, some intelligence and immigration officials believe that since these people have already entered Europe, then they are less of a risk because they have "passed" some security screening.
When students from countries that harbor jihadists and Islamists attempt to get a student visa, they are not fully vetted for whether they sympathize and support jihadist extremist groups. The background screening of these jihadists is at best inadequate, and at worst pathetic. It is extremely difficult, if not impossible, to obtain any genuine information on their background. A few minutes of an interview in the embassy, a quick review of the applications, and an ineffective check of the names against the normally outdated database of people of concern, are totally insufficient tools to detect whoever wants to come to the US to support Islamist groups, commit terrorism, or harm Americans.
The Immigration and Naturalization Service (INS; an agency of the U.S. Department of Justice until 2003) admitted that there are so many visas granted each year across the world that it is impossible to check the background of every single applicant.
Recall that some of the September 11 attackers entered the United States using student visas. Not long ago, according the Department of Justice, four university students from Ohio and Illinois were indicted for providing support to Al Qaeda.
Worse, jihadists do not even need to obtain a university admission to set foot in the US. They can get a student visa by obtaining admission from a school to learn English.
Once these jihadists set foot in the country, they move around as they wish: there is no mechanism to check whether they are attending their schools or not. No one is adequately monitoring their actions or whereabouts.
In addition, many of these Islamists can alter their area of study once they set foot in the US. An agent of the Iranian regime, for instance, may get a visa to study English in the US, but once he arrives, he can switch that major to study nuclear physics, to help his regime obtain nuclear weapons.
Considering the risk posed to all Americans, it seems perfectly reasonable to ask, why should the US give visas to people who hate America and support Islamist regimes?
Moreover, both terrorist groups such as ISIS and anti-American regimes such as Iran actively target Muslim students who are already in the US. They may attempt to recruit them, or use them to glean information about the US. Many students are also radicalized through social media and the internet.
Finally, once these Islamists enter the US with student visas, many can overstay their visa in the knowledge that it is extremely unlikely that they will be deported.
Again, the terrorists responsible for the 1993 World Trade Center bombing were living in the US with expired student visas for years before the attack.
According to the US Department of Homeland Security, there were approximately 739,000 immigrants who overstayed their visas last year. Roughly 80,000 of those were foreign students.
According to the director of policy studies for the Center for Immigration Studies, Jessica M. Vaughan:
"Foreign students have one of the highest rates of overstaying visas of any category -- much higher even than tourist visas. It's one of the favorite visas for terrorists to try to obtain, because it offers a longer duration of stay."
Why should those who come from places that breed and encourage terrorism, anti-Americanism and anti-Semitism be able to obtain student visas with such ease? Closing the loopholes and stopping the mismanagement of issuing student visas should be one of the highest priorities of the American national security agencies -- before another terrorist attack takes the lives of innocent citizens and upends the entire nation again.
Dr. Majid Rafizadeh, is a business strategist and advisor, Harvard-educated scholar, political scientist, board member of Harvard International Review, and president of the International American Council on the Middle East. He has authored books on Islam and US Foreign Policy. He can be reached at Dr.Rafizadeh@Post.Harvard.Edu.