President Emmanuel Macron has substantially scaled back plans to rehabilitate France's banlieues — poverty-ridden and crime-infested neighborhoods with large Muslim populations — and has instead called on local mayors and civil society groups to find solutions at the grassroots level.
The policy reversal follows weeks of internal debate about whether a top-down or bottom-up approach is the best way to improve life in the troubled banlieues, which are breeding grounds for Islamic fundamentalism and are often referred to as no-go zones because of the dangerous conditions there for police and other representatives of state authority.
In a much-anticipated speech at the Élysée Palace on May 22, Macron announced only modest, non-budgeted, initiatives for the banlieues, including a plan to hire more police officers, a crackdown on drug trafficking and a corporate internship program for underprivileged youths.
Addressing 600 guests, including lawmakers, entrepreneurs, community leaders and residents, Macron said that he would not be announcing yet another "Marshall Plan for the suburbs," as a 2008 plan for urban renewal was called, because at least ten previous such strategies all have failed:
"I will not announce a city plan or a suburban plan because this strategy is as old as me. The first plan was presented by [former French prime minister] Raymond Barre about the time I was born... we are at the end of what this method is able to produce."
Macron called for "a general mobilization" to lay the foundations for "a policy of emancipation and dignity" based on "a philosophy of action" and "a change of method" to get residents of poor neighborhoods out of "house arrest." In terms of security, Macron called for "a vigilance society" built with prefects, elected officials and residents where "everyone is an actor of collective security."
Macron also called on the top 120 companies in France to "do their part" in the fight against discrimination against Africans, Arabs and Muslims: "We are going to expand testing to check behaviors and make sure that there is no discrimination in hiring practices."
Macron's proposals are a far cry from an ambitious plan announced less than a month ago by former cabinet minister Jean-Louis Borloo, who had been tasked by Macron to devise a grand strategy for the banlieues.
The 164-page report — "Living Together, Living Well: Toward a National Reconciliation" ("Vivre ensemble, vivre en grand: Pour une réconciliation nationale") — unveiled on April 26 after nine months of work, listed 19 proposals aimed at bringing about "radical change." They included a focus on education, employment and renovation of decaying buildings and infrastructure. The plan would cost €38 billion ($45 billion) to implement.
"I want the face of our neighborhoods changed by the end of my five-year term, not because we have invested a certain amount of money, but because we will have changed our methods," Macron said. "It makes no sense that two white males who do not live in these districts exchanged one report. That no longer works."
Initial reaction to Macron's speech was one of nearly unanimous disappointment over a missed opportunity. "We were expecting concrete policies," said the mayor of Aulnay-sous-Bois, Bruno Beschizza. "For now, there is nothing practical. I came out empty-handed."
Stéphanie Daumin, mayor of Chevilly-Larue, a commune in the southern suburbs of Paris, tweeted:
"We expected strong acts and commitments and we were only treated to words. Cold shower for those who worked on #RapportBorloo and who want to rebalance the territories and the return of Republican equality."
The leader of the center-right Republicans, Laurent Wauquiez, described Macron's speech a "talk-and-do-nothing political show" and a "photo opportunity."
Éric Coquerel, MP for the far-left party La France Insoumise, accused Macron of "burying" the Borloo report and "humiliating" those who worked on it. He added that Macron had "proposed a series of measures without funding, investment or novelty."
Stéphane Le Foll, a former spokesman for the Socialist government of President François Hollande, tweeted: "We are witnessing the liquidation of the Borloo plan."
Marine Le Pen, President of the National Front, noted that Macron had failed to address the issues of immigration and Islamism:
"Barely a word on immigration, barely a word on Islamic fundamentalism. We know perfectly well that these problems are partly the source of the difficulties in the suburbs. Refusing to see the reality is to condemn oneself to failure."
An estimated six million people — around one-tenth of France's population — live in 1,500 neighborhoods classified by the government as Sensitive Urban Zones (zones urbaines sensibles, ZUS), priority targets for urban renewal.
In October 2011, a landmark 2,200-page report, "Suburbs of the Republic" ("Banlieue de la République") found that many French suburbs are becoming "separate Islamic societies" cut off from the French state, and where Islamic law is rapidly displacing French civil law. The report said that Muslim immigrants are increasingly rejecting French values and instead are immersing themselves in radical Islam.
The report, commissioned by the influential French think tank, L'Institut Montaigne, was directed by Gilles Kepel, a respected political scientist and specialist in Islam, together with five other French researchers.
The authors of the report showed that France — which now has 6.5 million Muslims (the largest Muslim population in European Union) — is on the brink of a major social explosion because of the failure of Muslims to integrate into French society.
The report also showed how the problem is being exacerbated by radical Muslim preachers, who are promoting the social marginalization of Muslim immigrants in order to create a parallel Muslim society in France that is ruled by Sharia law.
The research was primarily carried out in the Seine-Saint-Denis townships of Clichy-sous-Bois and Montfermeil, two suburbs that were ground zero for Muslim riots in the fall of 2005, when Muslim mobs torched more than 9,000 cars.
The report described Seine-Saint-Denis as a "wasteland of de-industrialization" and said that in some areas, "a third of the population of the town does not hold French nationality, and many residents are drawn to an Islamic identity."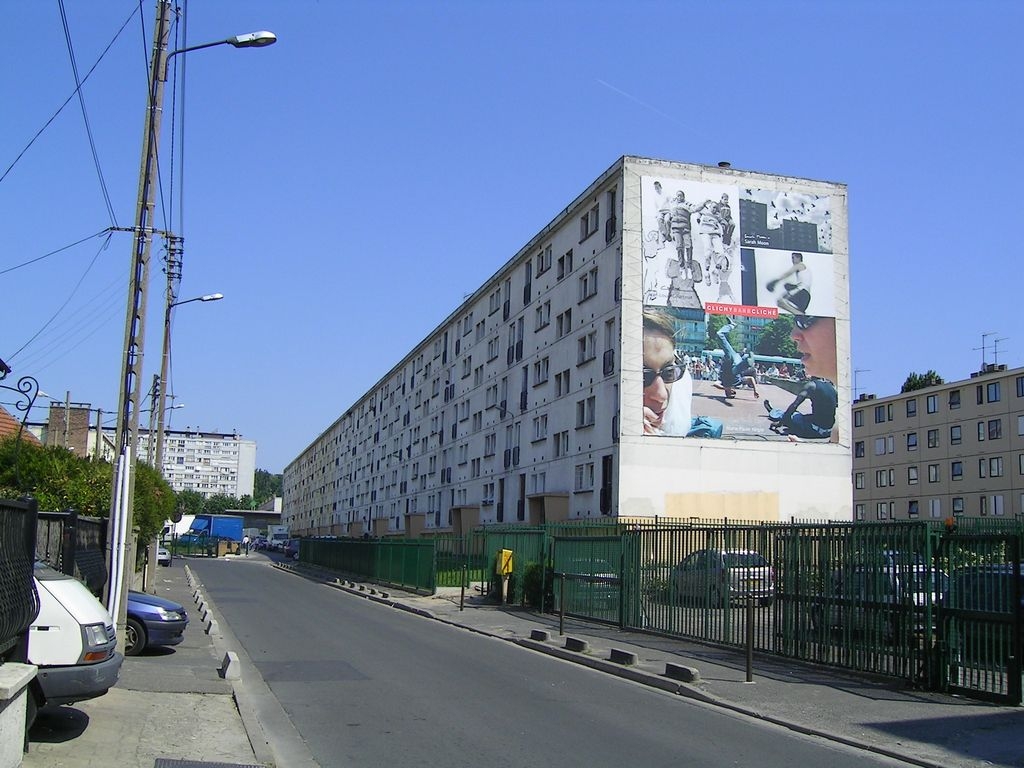 Pictured: A residential street in the French township of Clichy-sous-Bois, part of the Paris suburb of Seine-Saint-Denis, which was described in a recent report as a "wasteland of de-industrialization" where "a third of the population of the town does not hold French nationality, and many residents are drawn to an Islamic identity." (Image source: Marianna/Wikimedia Commons)
Another township of Seine-Saint-Denis is Aubervilliers. Sometimes referred to as one of the "lost territories of the French Republic," it's population is more than 70% Muslim. Three quarters of young people under 18 in the township are foreign or French of foreign origin, mainly from the Maghreb or sub-Saharan Africa. French police are said to rarely venture into some of the most dangerous parts of the township.
A day before Macron's speech, French television channels broadcast images of masked gunmen opening fire in broad daylight in the southern port city of Marseille. The assailants, dressed in black and carrying Kalashnikov assault rifles, kidnapped one individual, placed him in a car and drove away while police helplessly stood by. The gangsters, who are thought to be involved in a turf war for control of the drug trade in the city, "fear neither the police nor justice," according to an officer, who said that the police "had no chance" because they were outgunned and outmaneuvered.
Back in Paris, Macron admitted that France has "lost the battle over drug trafficking in many cities." He promised to announce a new plan to combat drug trafficking "by July."
Soeren Kern is a Senior Fellow at the New York-based Gatestone Institute.