It is more than a year since the UK suffered three Islamist terrorist attacks in quick succession. It is also more than a year since the Prime Minister, Theresa May, stood on the steps of Downing Street and announced that 'enough is enough'.
Yet the striking aspect of the last year has been how little has changed.
Consider, for instance, the lax controls on extremist preachers that the UK had in place in 2016. As reported here at the time, in the summer of that year, two Pakistani clerics performed a tour of the UK. Their seven-week roadshow took in numerous UK hotspots including Rochdale, Rotherham, Oldham and the Prime Minister's own constituency of Maidenhead. The two clerics -- Muhammad Naqib ur Rehman and Hassan Haseeb ur Rehman -- began their tour by visiting the Archbishop of Canterbury, Justin Welby, at Lambeth Palace for a meeting on 'interfaith relations'.
How expert are these two clerics at 'interfaith relations'? Well, they are so good that their main credential is their enthusiastic support for the murderer of somebody accused of 'blasphemy'. Yes -- these two preachers are famed in Pakistan for having supported Mumtaz Qadri, the murderer of the progressive Punjab Governor Salman Taseer. Because Taseer believed in a relaxation of Pakistan's barbaric blasphemy codes (specifically he opposed the execution of a Christian woman -- Asia Bibi -- who was falsely accused of blaspheming the Muslim god), Qadri -- who was meant to be guarding the governor -- instead murdered Taseer in 2011. Qadri himself was subsequently tried, sentenced to death and executed by the state. After Qadri's funeral in Rawalpindi, Hassan Haseeb ur Rehman whipped up the crowds of the murderer's mourners. Rehman acclaimed the murderer Qadri as a 'shaeed' (martyr). The crowd subsequently chanted slogans such as 'Qadri, your blood will bring revolution' and 'the punishment for a blasphemer is beheading'.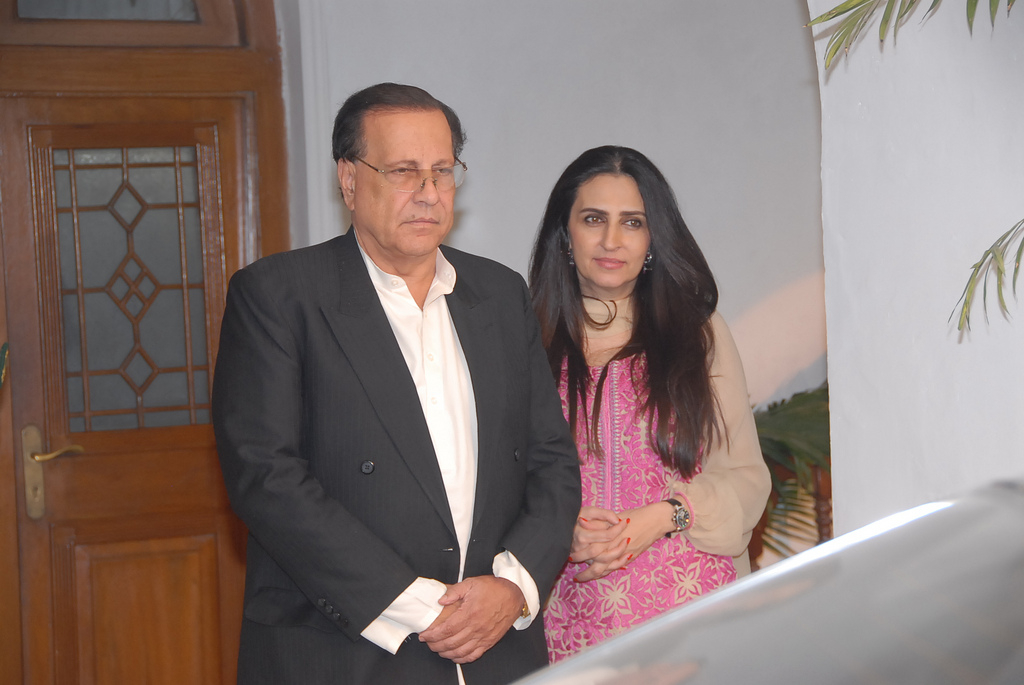 Pictured: Salman Taseer, the late Governor of Punjab, Pakistan, accompanied by his wife Aamna, prepares to meet the US Ambassador to Pakistan on November 6, 2010. (Image source: Salman Taseer/Flickr)
Despite criticism from Shahbaz Taseer (the son of the man whom Qadri had murdered), the UK government had no problem allowing into the UK these two men who, as Shahbaz Taseer said, 'teach murder and hate'. On their tour of the UK in 2016, these two preachers were reported to have spoken to mosques packed with worshipers.
A forgiving person might point out that the Archbishop of Canterbury does not know what he is talking about when he claims that Rehman and Rehman are interfaith experts, and that until 2016 the UK border agencies and other authorities could not have known that the two men are preachers of incitement in their home country. A forgiving person might even have thought all these authorities were naïve but would not be so naïve again.
In 2017, however, it did happen again. In July of last year the clerics were back, ostensibly speaking at a conference on 'counter-terrorism'. The idea that either man would know how to counter terrorism when the only expertise that either man has is in encouraging terrorism makes their presence at such an event insulting to anyone involved in countering terrorism. Even more so given that their main facilitator in the UK would appear to be the head of the one-man organisation calling itself the 'Ramadan Foundation', run by Mohammed Shafiq, a man with his own dark history of extremism and incitement.
A cynical person might assume that the UK authorities had let these radical preachers in the first time because they were ignorant, and the second time perhaps because they were slow. But how to account for events just last month? In July of this year, Hassan Haseeb ur Rehman was in the UK yet again -- and again in Oldham. Also again, his visit appears to have been facilitated by the one-man-band, Mohammed Shafiq. The latest bogus 'counter-terrorism conference' at which he was speaking also involved not only local MP (and Shadow Home Office Minister) Afzal Khan, but also the father and grandmother of one of the victims of last year's Islamist suicide bomb attack at the Manchester Arena.
Hassan Haseeb ur Rehman, in his address at the conference, reportedly said:
"I stand before you to say we as Muslims stand against terrorism, these vile people are enemies of Islam and the whole of humanity.

"My mission in life is to promote tolerance and peace, you can see from the thousands who attend my events in Pakistan there is a yearning for the true message of Islam which is Peace and tolerance.

"I am honoured to visit Manchester to remember the victims and their families of the Manchester Arena attack and say we stand with you always".
Of course the thousands who attended his events in Pakistan did not always hear this message of 'peace and tolerance'. As the evidence of the aftermath of Qadri's funeral showed, they heard a message of vengeance, blasphemy, medievalism and violence.
But that is Hassan Haseeb ur Rehman.
The bigger question is for the UK -- and specifically for the Prime Minister, Theresa May.
In the past year, the UK has banned a fair number of people from entering the country. It has, for example, barred the Canadian activist and blogger Lauren Southern. It has also banned the Austrian activist and 'identitarian' Martin Sellner. Whatever anyone's thoughts on either of these individuals, it is not possible to claim that either has ever addressed a rally of thousands of people which they have used to extol a murderer. If either of them had done so, a ban from the UK might be explicable. Yet Hassan Haseeb ur Rehman has done these things -- and yet has been allowed into the UK three years in a row. Even in the year after Theresa May pretended that 'enough is enough.'
Perhaps the British government thinks that people do not notice such things. Perhaps the organisers of the 'counter-terrorism conference' in Manchester think that people are taken in by such pretences. Perhaps they think that the people of Britain do not mind. But the people of Britain do notice and I rather suspect that they do mind. Very much, in fact.
Douglas Murray, British author, commentator and public affairs analyst, is based in London, England. His latest book, an international best-seller, is "The Strange Death of Europe: Immigration, Identity, Islam."