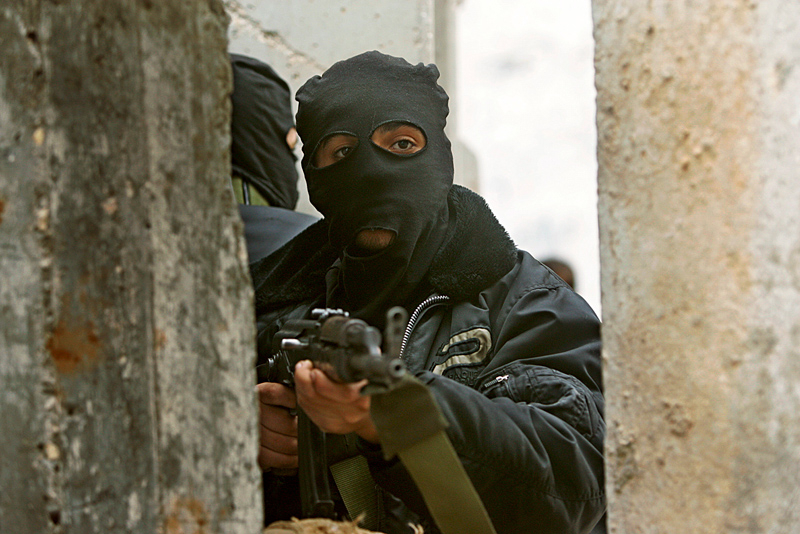 The "peace process" that the Middle East is crying out for is one between Palestinians and Palestinians, one that would end their bloody, internecine war. Palestinian Authority President Mahmoud Abbas and his senior aides and advisers have yet to overcome the deep humiliation they suffered in 2007 when Hamas militiamen overthrew their regime in the Gaza Strip and killed several PA and Fatah men. Pictured: Fatah gunmen guard the home of a senior Fatah official in the Gaza Strip on January 30, 2007, during the violent Hamas takeover of the Gaza Strip. (Photo by Abid Katib/Getty Images)
The Palestinians' major ruling groups, Fatah and Hamas, are now saying they are done with each other: that the divorce is final.
Recent days and weeks have witnessed the two groups maligning each other beyond anything previously seen. Fatah and Hamas have reached a new level of mutual loathing. At times, it even seems as if Fatah and Hamas hate each other more than they hate Israel.
Many in the West say they would like to see Israel and the Palestinians return to the negotiating table. They want Israelis and Palestinians to resume the so-called peace process. They are hoping that Israel and the Palestinians will manage to reach a historic agreement that would end the Israeli-Arab conflict and bring real peace to the Middle East.
The region, however, does not need a "peace process" between Israel and the Palestinians. It needs one of a different type. The "peace process" that the Middle East is crying out for is one between Palestinians and Palestinians, one that would end their bloody, internecine war.
Before pushing "peace" upon Israel and the Palestinians, it would be helpful if the international community first tried to help the Palestinians stop torturing each other. The Palestinians cannot make peace with Israel while they are busy killing their own people. The Palestinians cannot make peace with Israel when their leaders lead only themselves -- to money and power.
The political struggle between Fatah and Hamas is not a normal dispute between two rival parties in parliament. Rather, it is a rivalry between two large groups and governments that have tens of thousands of armed men at their disposal and massive arsenals of weapons.
The biggest losers from this internal bloodletting are the Palestinians living under these leaders in the Palestinian Authority (PA) and Hamas-ruled Gaza.
Fatah, the largest faction of the Palestine Liberation Organization (PLO), is the dominant party that controls the PA. The PA has tens of thousands of policemen and security officers (in the West Bank) who are funded and trained by various Western countries, including the US and UK.
Similarly, Hamas has thousands of security officers and militiamen who help it maintain a tight grip on the Gaza Strip.
In 2007, two years after the Israeli withdrawal from the Gaza Strip, Hamas overthrew the PA regime in Gaza. Since then, Hamas has been the unchallenged ruler of the Gaza Strip, home to nearly two million Palestinians. It took Hamas less than a week to remove Abbas's government from power and seize control of the entire coastal territory.
The dispute between Hamas and Fatah is not over who will bring democracy and a better economy to the Palestinians. Let us make this clear: they are not fighting over who will improve the living conditions of the Palestinians in the West Bank and Gaza Strip by building new schools and hospitals. They are not fighting over who will introduce major reforms to the Palestinian government and end financial and administrative corruption. They are not fighting over the need for freedom of expression and a free media.
Instead, this is a struggle over money, power and ego.
The Palestinian Authority and its president, Mahmoud Abbas, are furious with Hamas because it forced them out of the Gaza Strip 11 years ago. Abbas and his senior aides and advisers have yet to overcome the deep humiliation they suffered when Hamas militiamen overthrew their regime in the Gaza Strip and killed several PA and Fatah men. Abbas seeks to shame his rivals in Hamas. He seems to want Hamas to pay a steep price for expelling him and his regime from the Gaza Strip.
Abbas is also apparently disturbed because Hamas defeated his Fatah loyalists in the 2006 Palestinian parliamentary elections. The result of that vote, too, was humiliating for Abbas and his regime.
Last year, in the context of his hitherto unsuccessful effort to undermine Hamas and end its rule over the Gaza Strip, Abbas imposed a series of sanctions that included the suspension of salaries to thousands of civil servants living there. Abbas also stopped paying Israel for the fuel and electricity it had been supplying to the residents of the Gaza Strip.
These punitive measures, however, have backfired, further undermining Abbas's credibility among his people. He is now being accused by many Palestinians of being fully responsible for the suffering and misery of his people in the Gaza Strip. He is being accused of imposing a blockade on his own people and of being an Israeli "collaborator" for conducting security coordination with the Israeli security forces in the West Bank.
Hamas leaders have also called for bringing Abbas to trial on charges of "high treason" -- a crime, according to Palestinian laws and traditions, punishable by death.
Hamas says that Abbas is a dictator and traitor because of his refusal to share power with anyone and his "close relations" with Israel. Hamas leaders never fail to broadcast that Abbas's four-year term in office expired in January 2009. Abbas, the Hamas leaders correctly argue, is not a rightful or legitimate president. If Abbas were to sign a deal with Israel, people could come along later and say that he lacked the legal authority to do so; they would be right.
Recently, Hamas has been condemning Abbas for his decision to dissolve the Palestinian parliament, which, in any event, has been inoperative since Hamas's violent takeover of the Gaza Strip. This decision, according to Hamas, proves that Abbas is an autocrat and dictator, who presides over an authoritarian regime.
Hamas also claims that Abbas is a traitor because his security forces conduct security coordination with Israel and continue to arrest scores of Hamas supporters in the West Bank.
Abbas, for his part, has made similar charges against Hamas. He recently hinted that Hamas was working for Israel. Abbas, in a speech, referred to Hamas as "spies" (he used the Arabic word jasous) -- the word Palestinians use to label Palestinians accused or suspected of collaborating with Israel.
Hamas officials have responded by likening Abbas to Hamid Karzai, the former president of Afghanistan who came to power with the help of the US and Western countries. What they are saying is that Abbas is a puppet in the hands of Israel and the US.
Abbas was expressing outrage over the recent detention of some 500 of his loyalists in the Gaza Strip at the hands of Hamas. The men were reportedly rounded up by Hamas because they were planning to hold a big rally to celebrate the 54th anniversary of the launching of Fatah's first armed attack against Israel.
Abbas and his advisers have, in turn, repeatedly accused Hamas of being in collusion with the US and Israel to create a separate Palestinian state in the Gaza Strip. According to Abbas and his representatives, US President Donald Trump's administration and Israel are working to establish a small and isolated Palestinian state there, thus permanently detaching it from the West Bank.
Fatah leaders are now saying that they have cut off contact with Hamas -- permanently. Hamas leaders, similarly, are saying that as long as Abbas remains in power, the dispute with Fatah will continue.
The leaders of Hamas and Fatah are making their mutual distrust unmistakably clear. They probably have good reason to believe that their suspicions are not misplaced; after all, they know each other better than anyone else does. If they are right, what is the point of presenting any peace plan between Israel and the Palestinians? Who is Israel supposed to make peace with? With the discredited 83-year-old Abbas, who will never be able to win the backing of a majority of his people for any peace agreement with Israel? Or with Hamas, which forever informs the world that it will never make peace with Israel because it cannot accept the presence of non-Muslims on what it perceives to be Muslim-owned land?
In order for any peace process to move forward, the Palestinians first need to stop attacking each other. Then, they need to come up with new leaders who actually give a damn about their people. As these two conditions seem rather unrealistic at this point, any talk about the resumption of an Israeli-Palestinian "peace process" sounds like nothing so much as a big joke.
Khaled Abu Toameh, an award-winning journalist based in Jerusalem, is a Shillman Journalism Fellow at Gatestone Institute.