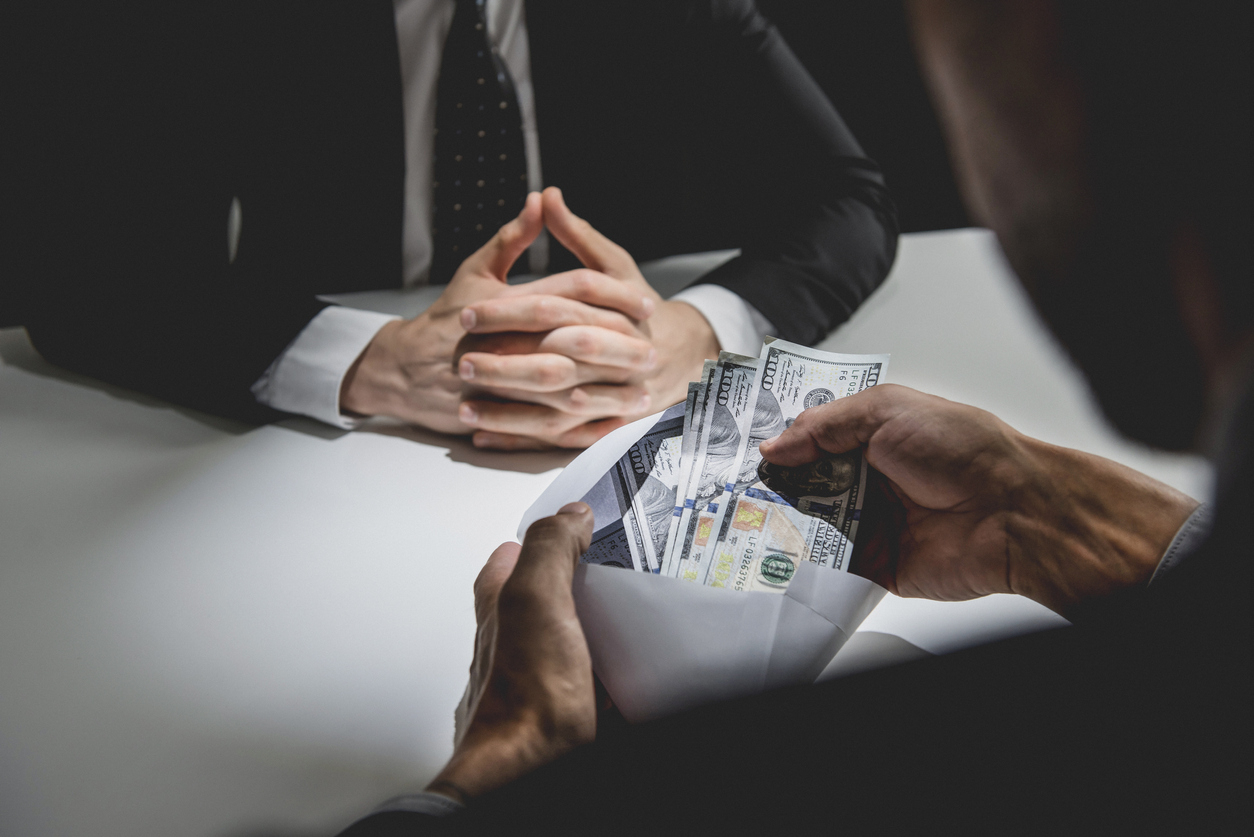 Palestinian leaders fear that reports about corruption could contribute to a drying up of international funding of the Palestinian Authority. If donor countries got whiff of the fact that their taxpayers' money is being squandered and stolen by senior PA officials, the cash cow might just kick over the PA bucket. (Image source: iStock)
Palestinian Authority leaders are upset: a survey published on December 11 by Transparency International, a global organization that "gives voice to the victims and witnesses of corruption," found that corruption is increasing in the PA and in five Arab countries.
Transparency International said that its survey, called "Global Corruption Barometer (GCB) – Middle East and North Africa," revealed that "almost two-thirds of all people (65%) in six countries surveyed think that corruption is getting worse in their country, and that their governments are not doing enough to end corruption."
The GCB report, one of the largest, most detailed surveys of citizens' views on corruption and experiences of bribery, incorporates the views of more than 6,600 citizens from Jordan, Lebanon, Morocco, Palestine, Sudan and Tunisia, according to Transparency International.
"For the first time, the GCB also measures the prevalence of wasta, or the use of personal connections, to access public services, in three countries: Jordan, Lebanon and Palestine," it said in a statement. "Despite the relatively low bribery rates in countries like Jordan and Palestine, citizens often resort to wasta in order to get public services they need."
According to the survey, more than one in three Jordanians, Palestinians and Lebanese who accessed pubic services used wasta in the previous 12 months. "This is equivalent to approximately 3.6 million people," Transparency International noted.
The survey also found that "in Lebanon, Palestine and Jordan, one in five people experiences sexual extortion -- or sextortion -- when accessing a government service, or knows someone who has."
In addition, the survey revealed that one in five Arabs, including Palestinians, paid a bribe to access public services, such as health care and education.
Majdi Abu Zaid, Executive Director of the Palestinian Coalition for Accountability and Integrity (AMAN), said that the findings of Transparency International were consistent with a recent poll his group conducted among Palestinians.
The AMAN opinion poll represented the views of 1,025 respondents in the West Bank, east Jerusalem and Gaza Strip.
Abu Zaid said that 62% of surveyed Palestinians believe that corruption has increased during the past year, while 51% said that the PA government performance in combating corruption was inadequate. "The results showed that the bribery rate in Palestine was 17%," Abu Zaid added.
Embarrassed by the results, the Palestinian Authority government was quick to cast doubt about the credibility of the two surveys. In a statement, the PA government expressed "reservations about the errors" in the surveys and urged AMAN to be accurate and to rely on scientific methods in obtaining information, and not on impressions that are far from the criteria of accuracy and the values of integrity and transparency." The PA government claimed that AMAN later withdrew its poll and "apologized for the lack of accuracy in its reports."
It did not take the directors of AMAN long, apparently, to grasp the thinly veiled threat by the PA government. The PA leadership was far from pleased about AMAN's exposure of the Palestinians public's discontent with corruption.
Palestinian leaders fear that reports about corruption could contribute to a drying up of international funding of the PA. If donor countries got whiff of the fact that their taxpayers' money is being squandered and stolen by senior PA officials, the cash cow might just kick over the PA bucket.
For now, the PA government seems to have won this round of the nascent attempts at corruption-busting. Last week, AMAN issued a statement distancing itself from the Transparency International survey.
Shortly after the PA lashed out at the surveys, AMAN representatives held an urgent meeting with the PA's "Anti-Corruption Commission" in the West Bank city of Ramallah. In a joint statement after the meeting, the two groups claimed that the Transparency International survey "does not provide certain and documented facts." The statement said that "contrary to some media reports, AMAN asserted that Transparency International has not presented any written or verbal positions stating that Palestine ranks second after Lebanon in terms of the most corrupt countries."
Transparency International, for its part, responded in a December 12 statement by attacking the PA government and accusing it of harassing AMAN staff:
"In light of recent criticism by the Palestinian government, Transparency International affirms the validity of its Global Corruption Barometer methodology and stands by the results of its research into the views and experiences of corruption among Palestinian citizens.

"Statements published by the Palestinian government contain factual errors and misrepresent the survey methodology...

"Transparency International further affirms that AMAN: Coalition for Integrity is the official national chapter of Transparency International in Palestine. Its staff are highly respected members of the global anti-corruption coalition."
Delia Ferreira Rubio, Chair of Transparency International, said:
"It is sad and disappointing to see a government attack one of our chapters over the results of a scientific and methodologically sound corruption survey, rather than engage constructively with the findings to improve the lives of citizens."
Transparency International urged PA President Mahmoud Abbas and Palestinian security services to "fulfill their obligation to guarantee the security and safety of civil society." It said that "[o]nline harassment and incitement against AMAN is completely unacceptable" and demanded "fast and thorough investigation and action by the authorities."
The statement by Transparency International is a clear indication of the campaign of threats and intimidation its representatives have been facing since the release of the corruption survey. The statement implies that AMAN was forced to withdraw its public opinion poll after its staff received threats from the PA leadership.
Abbas and his government seem to be worried that renewed talk about financial and administrative corruption would also harm their chances of winning in new elections for the PA presidency and parliament.
In September, Abbas announced his intention to hold long overdue elections, but has still not set a date for the vote. Abbas's ruling Fatah faction lost in the 2006 parliamentary election, mainly because of its corruption. Hamas ran in that election under the banner of change and reform, and that is one of the reasons it won the vote.
Abbas now seems determined to prevent another Hamas victory, if and when the elections take place. That seems why he is prepared to do his utmost to prevent groups such as AMAN from publishing polls that show that Palestinians are unhappy with corruption. Abbas also apparently wants to make sure that donor countries continue to channel funds to his government without noticing that a majority of Palestinians are complaining about corruption.
Khaled Abu Toameh, an award-winning journalist based in Jerusalem, is a Shillman Journalism Fellow at Gatestone Institute.