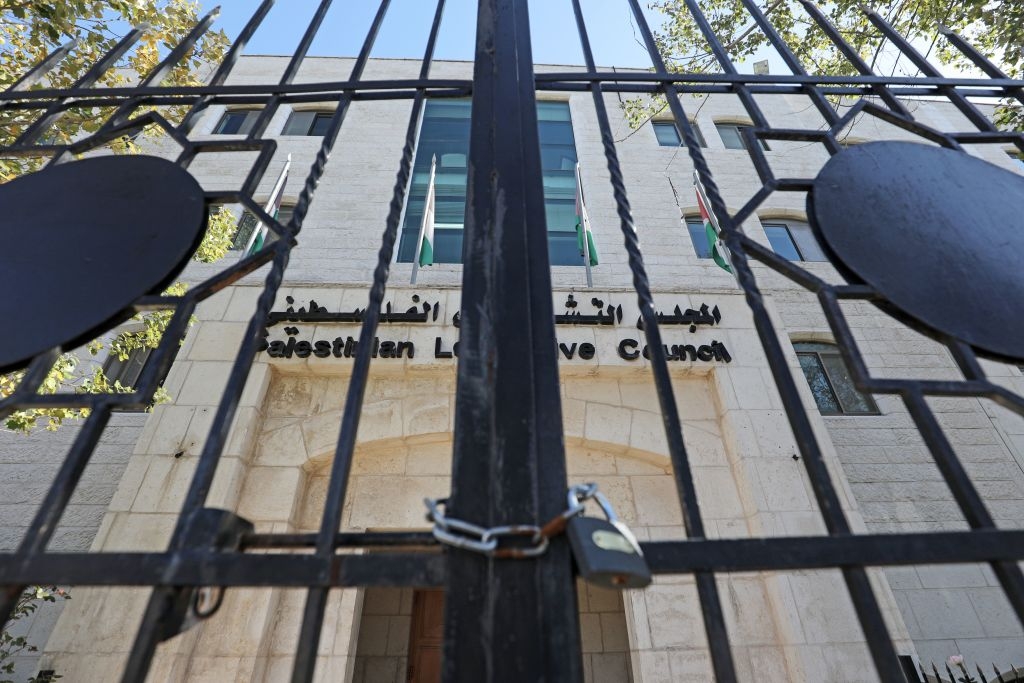 The Palestinians have been without a functioning parliament since Hamas's violent takeover of the Gaza Strip in 2007. The parliament building is still standing, dusty and unused, in Ramallah, and Palestinian parliament members have continued receiving salaries although they have been doing nothing. (Photo by Abbas Momani/AFP via Getty Images)
This month, Palestinian Authority President Mahmoud Abbas entered the 16th year of his four-year-term in office. Abbas, who was elected to succeed Yasser Arafat in January 2005, has since avoided holding a Palestinian presidential election, each time using a different excuse. While in the past he used to blame his rivals in Hamas for the failure to hold a new election, Abbas is now trying to hold Israel responsible. His attempt seems to be supported by some Europeans.
Abbas's four-year tenure ended in January 2009. Two years earlier, Hamas had violently seized control of the Gaza Strip, by ousting Abbas's Palestinian Authority (PA) regime and throwing some of his loyalists from the top floors of tall buildings.
Back then, Abbas's excuse may have sounded convincing: he and his senior PA officials argued that there was no chance Hamas would allow a free election in the Gaza Strip.
Abbas at first claimed that he was eager to hold the presidential election on time. In October 2009, Abbas announced that he would issue a presidential decree to hold the election before January 25, 2010. After meeting then Egyptian President Hosni Mubarak in Cairo, Abbas told reporters that the door has not yet been closed to reconciliation between his ruling Fatah faction and Hamas.
Abbas, however, has used his dispute with Hamas to avoid holding an election for the Palestinian parliament -- the Palestinian Legislative Council (PLC). The last parliamentary election, in 2006, resulted in a huge Hamas victory. When a PLC election was supposed to take place after that, in January 2010, the rivalry between Abbas and Hamas prevented the vote.
The Palestinians have, in fact, been without a functioning parliament since Hamas's violent takeover of the Gaza Strip in 2007. The parliament building is still standing, dusty and unused, in Ramallah, and Palestinian parliament members have continued receiving salaries although they have been doing nothing.
Since 2007, Abbas has been doing his utmost to discredit his rivals in Hamas, whom he has sometimes even accused of working with Israel and the US. Abbas's goal seems to be to depict Hamas leaders as hypocrites, liars and traitors.
In 2009, for instance, Abbas accused Hamas of conducting secret negotiations with Israel through an American mediator, with the goal of establishing a separate Palestinian state in the Hamas-ruled Gaza strip, home to some two million Palestinians.
It was by making that allegation and others against Hamas that Abbas managed to avoid holding presidential and parliamentary elections.
Abbas has since been playing the Hamas card as an excuse not to hold a vote. His message to world leaders and Palestinians who asked him why Palestinians were not being provided with a chance to vote was usually, "Hamas is not interested in any election. Hamas is conspiring with the Israelis and Americans against me and the Palestinian people. Hamas wants to have its own state in the Gaza Strip."
In September 2019, during a speech before the United Nations General Assembly, Abbas finally announced his intention to hold long overdue elections for the PA presidency and parliament. Notably, however, Abbas has yet to set a date for the planned elections.
It did not take long for Palestinians to realize that Abbas's announcement was the outcome of pressure from European Union members rather than any interest in seeing Palestinians cast their ballots in a free electoral process. Nor, presumably, did Abbas make his announcement because he felt that the time had come for Palestinians to elect new leaders.
In all likelihood, Abbas was hoping Hamas would reject his call for new elections, thereby giving him a good excuse to circumvent holding new elections and again blaming Hamas for obstructing the vote.
Hamas, nonetheless, surprised Abbas and other Palestinians when it agreed. Hamas leader Ismail Haniyeh announced in November 2019 that his movement has "positively" responded to Abbas's initiative.
Hamas's agreement to participate in the elections, if and when they take place, seems to have placed Abbas in an embarrassing situation. That problem is probably why he and his top aides in the West Bank have now come up with yet another excuse not to hold elections.
First, Abbas warned that there would be no elections unless Israel allows Arab residents of Jerusalem to participate in the vote.
Later, Abbas came up with a new demand: that Israel allow the elections to take place inside Jerusalem (under Israeli sovereignty) and not in West Bank areas surrounding the city (and which are not under Israeli sovereignty). Although Israel has not yet responded to Abbas's demand, the Palestinian leaders have turned the issue of the participation of the Jerusalem Arab residents into a point of contention. Now, as they tell the story, it is Israel's fault that Abbas does not hold elections.
It is worth noting that the majority of Arabs in Jerusalem, who are permanent residents of Israel, boycotted the previous Palestinian elections in 2005 and 2006 although Israel did not object to their participation. Why? These residents either do not care about the PA or fear that if they voted for a non-Israeli entity, they might lose their rights and privileges in Israel. That is a choice that speaks volumes about Palestinian electoral preferences.
In the past, Abbas weaseled out of elections by pointing the finger of blame at Hamas. Now that Hamas's acceptance of his initiative has sidelined that excuse, he is seeking to shift the blame to Israel.
The fact that Abbas did not even wait for Israel's response concerning the participation of Jerusalem Arabs in the vote demonstrates his continued lack of seriousness about holding elections in the first place. The last time there were Palestinian elections, Hamas won in a landslide. Even if Israel does agree to allow Arab residents of Jerusalem to take part in the Palestinian elections, Abbas will undoubtedly find another excuse to continue his policy of foot-dragging.
If Abbas was serious about elections, he had 16 full years to work towards allowing Palestinians to vote for a new president and parliament members. Abbas, however, has wasted the past 16 years condemning Israel, Hamas and anyone who dares to disagree with his policies.
The Europeans are either naïve or stupid to think that, at the age of 84, Abbas would allow Palestinians to replace him in a free presidential election. Or perhaps the Europeans are seeking to exonerate Abbas by telling the world that it is Israel, and not the PA president, that is hindering the elections.
In 2018, Abbas dissolved the dysfunctional Palestinian parliament and promised to work towards holding new elections although he did nothing to promote them. Palestinian legal experts strongly criticized as "unconstitutional" Abbas's decision to dissolve the parliament and warned that his true intention was not to pave the way for new elections, but to concentrate as much power as possible in his own hands. In other words, the Palestinian legal experts were saying that Abbas had blindsided everyone by acting as though the dissolution of the parliament was designed to advance democracy and free elections.
Abbas and his senior officials in Ramallah have, in fact, turned the PA into a private fiefdom. They have no functioning parliament, no free media, and no open debate. The only people Abbas consults with are his "yes-men" who appear to agree with every word he says. This is how Abbas likes matters, and he obviously sees no reason why Palestinians should waste money and energy on new elections as long as they have him as president for life.
As long as Abbas can use the issue of the elections to denounce Israel, why not do so? His friends in the European Union would be more than happy to join him in skewering Israel for not allowing Palestinian elections (if that turned out to be the case). Many EU representatives are Abbas's useful idiots, gladly parroting his every anti-Israel pronouncement.
Khaled Abu Toameh, an award-winning journalist based in Jerusalem, is a Shillman Journalism Fellow at Gatestone Institute.