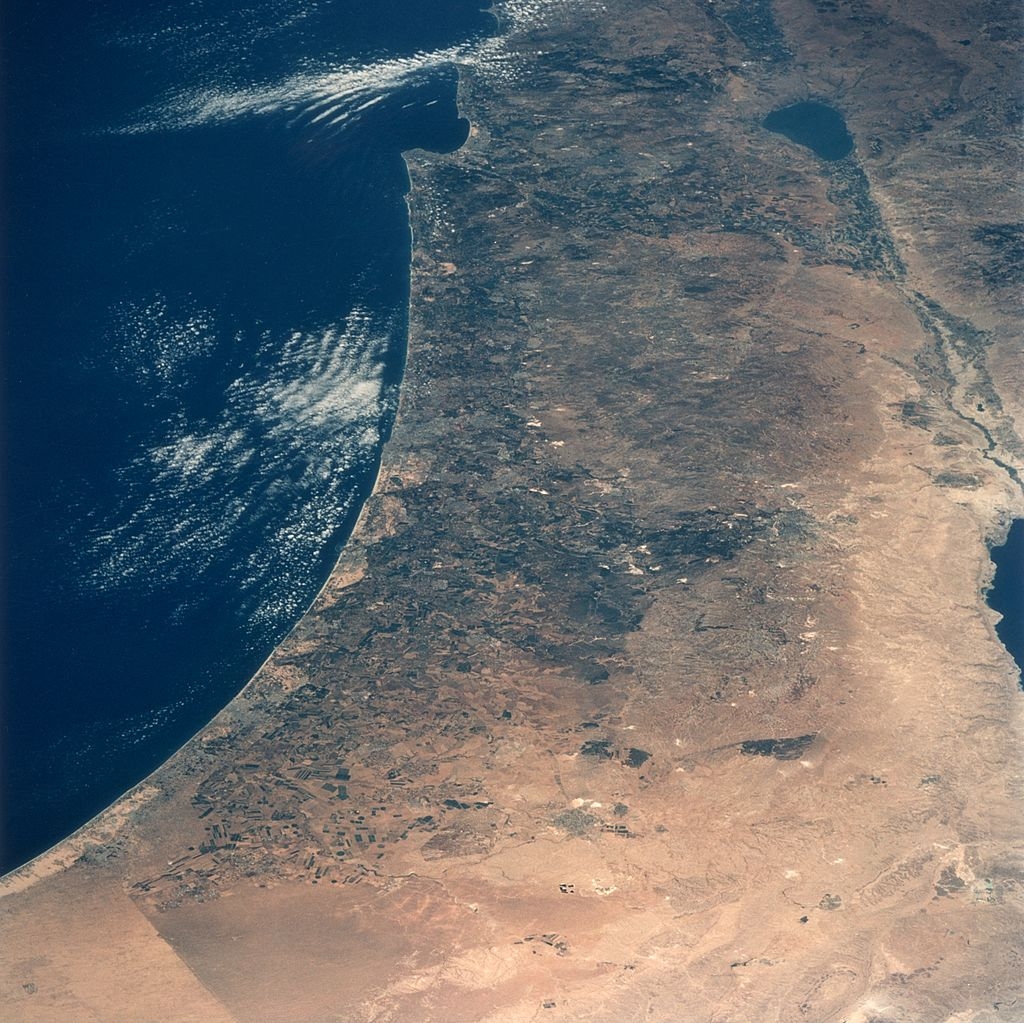 The Palestinians are doing their absolute utmost to ensure that Israeli Prime Minister Benjamin Netanyahu and his Likud Party do not win in Israel's general election on Monday, March 2. Pictured: Central and northern Israel, seen from space. (Photo by Space Frontiers/Getty Images)
The Palestinians are doing their absolute utmost to ensure that Israeli Prime Minister Benjamin Netanyahu and his Likud Party do not win in Israel's general election on Monday, March 2.
The Palestinian Authority (PA) in the West Bank, and Hamas in the Gaza Strip, seem to have endorsed the banner of Netanyahu's political rivals in Israel: "Anyone but Bibi (Netanyahu's nickname)." The two Palestinian groups perceive Netanyahu as a major threat to their dream of destroying Israel and as someone who has further strengthened Israel's standing in the international arena.
In a last-minute, apparently desperate attempt to undermine the current Israeli prime minister's chances of winning another election, the PA has launched a public relations campaign to explain to the Israeli public why they should not vote for Netanyahu.
The campaign, orchestrated personally by PA President Mahmoud Abbas, aims to scare Israeli voters by warning them that casting their ballots for Netanyahu would mean the end of the Middle East "peace process" -- a euphemism for Palestinians retaking territory "from the [Jordan] River to the [Mediterranean] Sea " -- or, in other words, all of Israel, as set forth in the 1974 Palestine Liberation Organization (PLO) Phased Plan, which advocates accepting any land one can and then using that as a base from which to acquire the rest.
Abbas's latest attempt to scare the Israeli public began earlier this month, when he dispatched 20 Palestinian officials to a meeting with Israeli "peace activists" in Tel Aviv. Organized by a left-wing anti-Netanyahu group called the Israeli Peace Parliament, the meeting was held under the banner: "Two States for Two People" and "No to Annexation." (The "annexation" refers to Netanyahu's plan to apply Israeli law to some parts of the West Bank, particularly the Jordan Valley and several Jewish communities).
Abbas sent his officials to Tel Aviv for the meeting not to promote peace with Israel, but evidently to convince Israelis not to vote for Netanyahu. That is what one concludes by listening to the statements of the Palestinians who attended the "peace" gathering. These officials included former Palestinian cabinet ministers and parliament members, as well as senior officials of Abbas's ruling Fatah faction.
Although the meeting in Tel Aviv was also held under the banner, "Yes to Peace," the Palestinian (and Israeli) speakers devoted most of their speeches to condemning US President Donald Trump's recently unveiled plan for Middle East peace.
The speakers also spent much of their time bad-mouthing Netanyahu and depicting him as a "threat" to peace and stability in the region. The Palestinians who attended the meeting did not offer an alternative to the peace plan. The only "plan" they came with to Tel Aviv is one that sees Israel submit unconditionally to all of Abbas's demands: for the present, a full Israeli withdrawal to the armistice lines of 1949, the establishment of an independent Palestinian state with east Jerusalem as its capital.
The message the Palestinians were hoping to send to Israeli voters through the meeting seemed to be: "Vote for a candidate who will accept all of our demands and dictates, or else we, the Palestinians, will make you sorry that you didn't."
In yet another attempt to influence the upcoming Israeli election, Abbas ordered his so-called Palestinian Committee for Interaction with Israeli Society, a group consisting of several PLO and Fatah officials and pundits, to invite prominent Israeli (Jewish) journalists to Ramallah, the present de facto Palestinian capital in the West Bank, for a tour of the city and meetings with senior Palestinian officials.
Abbas and his associates went out of their way to pamper the journalists and make sure they felt happy and comfortable in Ramallah, to a point where religiously observant journalists were even offered kosher food ordered from a nearby Jewish village.
Why did Abbas invite the journalists to Ramallah? To inform them that Palestinians want peace -- and are even ready to sign a peace agreement with Israel within the next two weeks! Ready, that is, if -- and only if -- the Israeli government agrees to Abbas's demands and retreats to the pre-1967 lines, where in 1949, fighting had stopped. Abbas and his officials, in short, are telling the Israelis: "Look, we have a problem here. This man, Netanyahu, will not surrender to us -- and that is why you need to elect a new leader."
Although Palestinian officials have not said so openly, they have made it clear that they would prefer to see Netanyahu's rivals in the Blue and White Party in power.

The Palestinians are apparently convinced that it would be easier to extort concessions from inexperienced politicians such as Benny Gantz, Moshe Ya'alon and Gabi Ashkenazi.
For the Palestinians, Netanyahu is a hard nut to crack. His strong stance against their tactics of intimidation have been a source of concern.
Abbas and his officials have made it clear that they want nothing to do with any Israeli leader who calls them out for their lies and double-talk.
Abbas, not surprisingly, would doubtless prefer Israelis to replace Netanyahu with a weak leader who would comply with all his demands and take Israel back to the indefensible pre-1967 armistice lines -- a move that would most likely result in Hamas, Islamic Jihad and Iran sitting on the West Bank hilltops overlooking Israel's Ben Gurion International Airport.
The Palestinians appear to want an Israeli leader who will also not call them out for paying salaries and stipends to Palestinian terrorists and their families for murdering Jews, and who will not call them out for their continued hostile incitement against Israel. They also appear to want an Israeli leader who will not have such strong and close relations with the US.
The Palestinians, in addition, seem to be hoping for an Israeli leader who will not be able to promote normalization between Israel and diverse Arab states -- as Netanyahu has successfully managed to do in the past few years, and who will not boost Israel's standing in the international community or hold close ties with world leaders such as Russian President Vladimir Putin and US President Donald Trump, as Israel's current prime minister does.
Similarly, Iran and its Palestinian proxies, Hamas and Palestinian Islamic Jihad, appear desperate to see Netanyahu voted out of office. For them, Netanyahu is a nightmare: he actively and effectively blocks their ongoing attempts to extend their control over the region, in Syria, Yemen, Lebanon and Iraq. The Iranians are angry about Israeli airstrikes on their bases and those of their Hezbollah and Palestinian Islamic Jihad allies in Syria. Netanyahu has been doing his utmost to prevent Iran from taking over Syria and bringing its threat against Israel closer to Israel's border.
Iran, it seems, has ordered Hamas and Palestinian Islamic Jihad to resume their terror attacks against Israel from the Gaza Strip one week before the election. The terrorist groups in the Gaza Strip and their masters in Tehran seem persuaded that upgrading their attacks against Israel will terrorize Israelis into voting Netanyahu out of office.
By firing dozens of rockets at Israel this week, the Palestinian terrorists apparently sought to send a message to Israeli voters that they need to elect a new leader because Netanyahu cannot provide them with security and calm.
Iran and its Palestinian and Lebanese allies in the Middle East appear to think that if a weak leader replaces Netanyahu, they can continue to amass weapons and complete their scheme of expanding their control over Syria, Lebanon and the Gaza Strip. They seem to view Netanyahu as an obstacle to achieving these objectives.
Like many Arabs, Palestinians clearly consider Netanyahu a tough leader who stands up to terrorists' threats and attacks, but they dislike that he has managed to garner a great deal of respect in the international community -- even the President of the Sovereignty Council of Sudan, Abdel Fattah al-Burhan, openly met with him in public.
The terrorists of the Middle East have always despised Netanyahu. They pray for the day that he is ousted from office -- whether by the ballot box or by the courts, for accepting cigars and champagne from his friends. If that happens, Iran, Hamas, Palestinian Islamic Jihad and Hezbollah will no doubt celebrate -- publicly passing out candies, as they often do each time a Jew is killed or injured in a terrorist attack.
The Palestinians' attempt to influence Israeli voters is not only a bid at meddling in the internal affairs of Israel, but also a dangerous attempt to persuade Israelis to choose a weak and inexperienced leader whom they believe they can play for a fool and control through terrorism and threats.
It is up to Israel's voters which way they will go.

Bassam Tawil is based in the Middle East