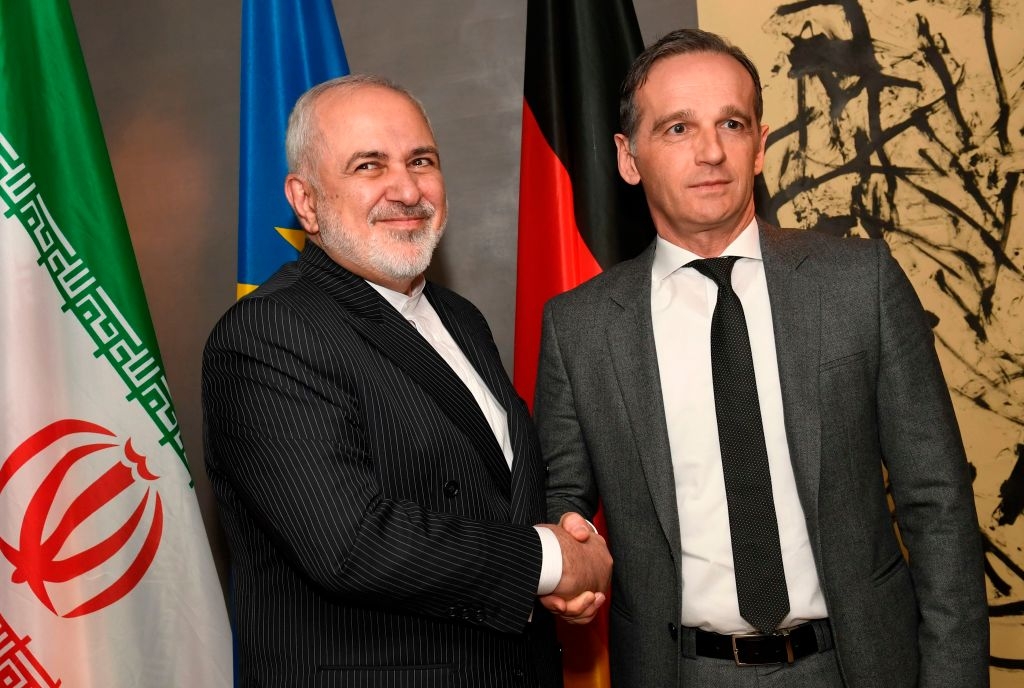 German Foreign Minister Heiko Maas (right) shakes hands with Iran's Foreign Minister Mohammad Javad Zarif in Munich on February 15, 2020. (Photo by Thomas Kienzle/POOL/AFP via Getty Images)
While the attention of the international community has been directed towards the battle against the coronavirus pandemic, German Chancellor Angela Merkel's government appears to be allowing Iran's sanctioned banks to operate freely in Germany.
According to a recent report published by United Against Nuclear Iran:
"Siemens, Volkswagen and the big multinationals have pulled back due to U.S. sanctions, but many of Germany's 3.5 million small-and-medium enterprises (SMEs) are still prepared to do business with Iran. And they still can. From Hamburg in the north to Munich in the south, the 'Mittelstand' firms can obtain Letters of Credit, bank guarantees, insurance and all the other trade finance products they need from their Iranian facilitators. "
In a bid to curb Iran's nuclear ambitions, the US Department of Treasury has so far added to its list of sanctions 50 Iranian banks and their foreign and domestic subsidiaries. According to the US Treasury Department, November 5, 2018 was the largest single-day action by the Office of Foreign Assets Control (OFAC) "targeting the Iranian regime's abuse of Iran's banking sector to fund its destabilizing activities. For example, the Iranian regime has funneled the equivalent of billions of dollars for the Islamic Revolutionary Guard Corps-Qods Force (IRGC-QF) through the banking sector".
According to the report by United Against Nuclear Iran:
"Germany was again Europe's largest trading partner with Iran by far, exporting $1.64 billion worth of goods in 2019. While German banks have been largely reluctant to finance Iran trade, there are at least five banks – all owned/operated by Iran and all operating inside Germany – that are more than happy to step in."
One of the sanctioned banks freely doing business in Hamburg, Germany, is Bank Melli. It is the largest bank owned by the Iranian regime, and when it comes to revenues, it ranks first, followed by Bank Mellat.
Bank Melli, all the same, has been implicated in several major covert and illicit activities in foreign nations. When, for instance, a jury in the US federal court concluded that prosecutors could confiscate a skyscraper in Manhattan to pay the families of victims of 9/11 terrorist attacks, the Khobar Towers bombing in Saudi Arabia in 1996, and the bombing of a US Marine Corps barracks in Lebanon in 1983, it was revealed that sixty percent of the skyscraper is owned by the Alavi Foundation and 40 percent by Assa Corp., which is controlled by and operates on behalf of Iran's Bank Melli, according to the US government. After going through a "massive amount of evidence," the judge said she was "firmly convinced" that the Alavi Foundation "takes directives from Iranian government officials, and its day-to-day operators have been appointed by Iranian officials to ensure conformity with the interests of the government of Iran." The foundation has also made donations to various institutions in the US, including Iranian programs and universities, such as Columbia.
Another major Iranian bank also still conducting business in Hamburg, Germany is Bank Sepah. Bank Sepah, also owned by the Iranian regime, has been sanctioned by the US Treasury Department and has links to the regime's ballistic missile program. According to United Against Nuclear Iran:
"Bank Sepah has provided 'direct and extensive financial services' to Iran's key ballistic missiles procurement and development agencies, including Aerospace Industries Organization (AIO) and its subsidiary, Shahid Hemmat Industrial Group (SHIG)."
Another key joint bank is the Europäisch-Iranische Handelsbank AG (EIH), which has also been linked to carrying more than a billion dollars of transactions for Iran's Islamic Revolutionary Guard Corps (IRGC), Defense Industries Organization (DIO), and Aerospace Industries Organization (AIO).
The Iranian regime seems to have become a master at charting illicit paths and exploiting other nations' financial systems. In Bahrain in 2018, for example, Foreign Minister Khalid bin Ahmed Al-Khalifa pointed out that the government had detected that the Iranian-linked Future Bank was operating a covert corruption scheme in Bahrain. It was later revealed that Iran's Bank Melli had instructed Future Bank officials on what specifically to do when routing money through the US in order to conceal the origins of the funds.
By trading with the Iranian regime and allowing Iran's sanctioned banks freely to operate in Germany, Chancellor Angela Merkel's government is empowering the ruling mullahs and their regime. They are not only the world's leading state sponsor of terrorism; they are also racing to develop clandestine nuclear weapons and the missiles to deliver them.
Dr. Majid Rafizadeh is a business strategist and advisor, Harvard-educated scholar, political scientist, board member of Harvard International Review, and president of the International American Council on the Middle East. He has authored several books on Islam and US foreign policy. He can be reached at Dr.Rafizadeh@Post.Harvard.Edu