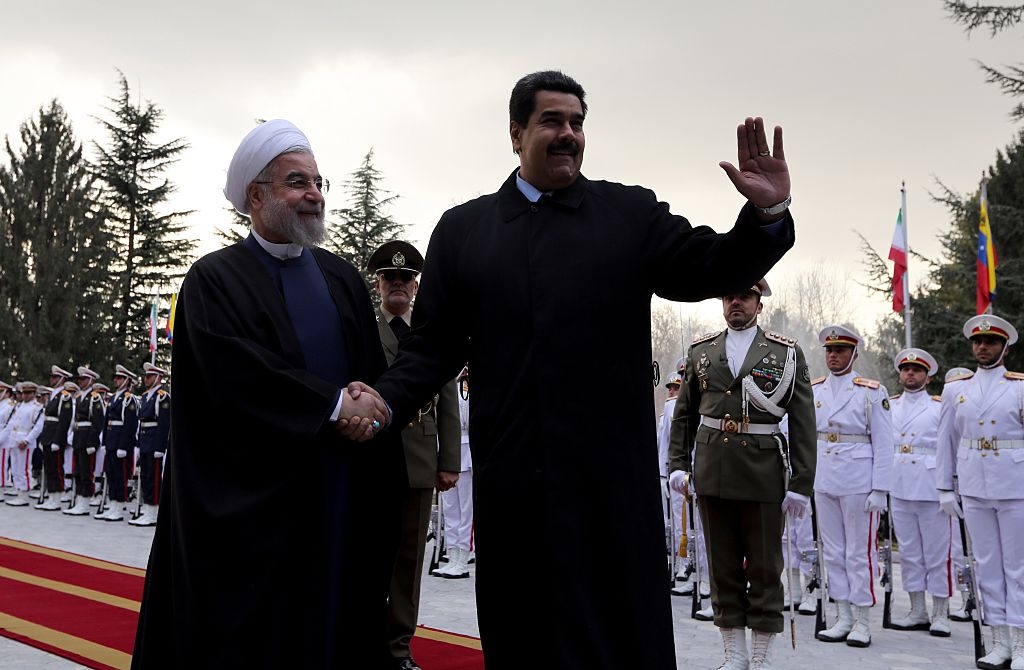 Iran has been bypassing US sanctions amid the coronavirus crisis, and strengthening its ties with Venezuela. Pictured: Iranian President Hassan Rouhani (left) reviews the honor guard at the Saadabad Palace in Tehran with Venezuelan President Nicolas Maduro on January 10, 2015. (Photo by Atta Kenare/AFP via Getty Images)
Iran has been bypassing US sanctions amid the coronavirus crisis, and strengthening its ties with Venezuela.
Reports recently revealed that in the last week of April alone, the sanctioned Iranian airline, Mahan Air, with ties to Iran's Islamic Revolutionary Guard Corps (IRGC), made several flights to the South American nation. Reportedly, the Iranian regime delivered "parts, technicians, and gasoline additives to fix a major refinery in Venezuela," and received nine tons of gold bars in return.
Iran is apparently desperate for revenue, after US sanctions, the coronavirus outbreak and plunging oil prices crippled its economy. According to Kpler, a data intelligence company that tracks commodity markets and shipments, in February alone, Iran's crude oil exports dropped to 250,000 barrels per day. Before the US re-introduced sanctions on Iran's energy sector, the Islamic Republic was exporting roughly 2.5 million barrels of oil per day.
In December 2019, the US sanctioned Mahan Air for its links to the proliferation of weapons of mass destruction (WMD) and smuggling weapons. The US State Department said:
"The United States is taking action against three Iranian entities linked to the proliferation of weapons of mass destruction (WMD) and sanctioning eight other entities that helped smuggle weapons from Iran to Yemen. The State Department is announcing the designation of the Islamic Republic of Iran Shipping Lines (IRISL), its China-based subsidiary, E-Sail Shipping Company Ltd, and the Iranian airline Mahan Air under Executive Order 13382, which targets proliferators of WMD and their delivery systems, as well as their supporters. The Iranian regime has continued to procure proliferation-sensitive items in violation of UN Security Council Resolution 2231."
The United Nations, as usual in regards to every country other than Israel, remained silent as Mahan Air reportedly violated the Security Council Resolution 2231, which calls upon Iran "not to undertake any activity related to ballistic missiles designed to be capable of delivering nuclear weapons, including launches using such ballistic missile technology."
Germany, in early 2019, also agreed to sanction Mahan Air. A spokesman for the German foreign ministry pointed out:
"It is in Germany's diplomatic interest that there are no flights to Germany by companies that support the military conflict in Syria and contribute to the repression of people in war zones."
Tehran has not only been using Venezuela for military cooperation, but also, it seems, to advance its nuclear program. Venezuela has been accused of covertly assisting Iran with the production of raw material for nuclear weapons as well as ballistic missiles. In recent years, Iran and Venezuela have also signed several military and industrial agreements.
The ruling mullahs in Iran appear have been using Venezuela as part of a larger agenda for increasing Iran's influence and the presence of its proxies in Latin and North America.
The US, in fact, has evidently become increasingly concerned about Hezbollah's presence in Venezuela. Ambassador Nathan Sales, Coordinator for Counterterrorism at the State Department, said recently:
"We're concerned that Maduro has extended safe harbor to a number of terrorist groups, the ELN [National Liberation Army] in particular, but also FARC [the Revolutionary Armed Forces of Colombia] dissidents who rejected the peace accord, as well as supporters and sympathizers of Hezbollah."
It is worth recalling that as early as 1992, Hezbollah, under Iranian control, was reportedly behind the bombing of the Israeli embassy in Argentina. Twenty-three people were killed and nearly 250 injured. Again, in 1994, Hezbollah, under the direction of Iran, bombed the headquarters of the Asociación Mutual Israelita Argentina (AMIA). That attack killed 85 people and injured hundreds more.
In addition, Venezuela has granted more than 173 passports to radical Islamists, according to the Washington-based Center for a Secure Free Society (SFS), in a report entitled, "Canada on Guard: Assessing the Threat of Iran, Venezuela, and Cuba to Immigration Security." The passports are able to be used for travel to North America and Europe.
Iran, from perspective of its regime, can more effectively damage US national interests as well as undermine the West on the global stage by partnering with other anti-Western states. Iran's former President Mahmoud Ahmadinejad pointed out:
"We [non-Western governments] have to develop a proper cooperation among the developing nations in order to wriggle ourselves from the domination of the western powers. And this effort is going on among the independent developing nations today. We have to establish a collective effort with a view to create [sic] a new international independent economic system that should be on the basis of justice."
In conclusion, the coronavirus crisis must not distract us from the ruling mullahs' activities in Venezuela. They are alarming and a serious threat to America's national interests.
Dr. Majid Rafizadeh is a business strategist and advisor, Harvard-educated scholar, political scientist, board member of Harvard International Review, and president of the International American Council on the Middle East. He has authored several books on Islam and US foreign policy. He can be reached at Dr.Rafizadeh@Post.Harvard.Edu