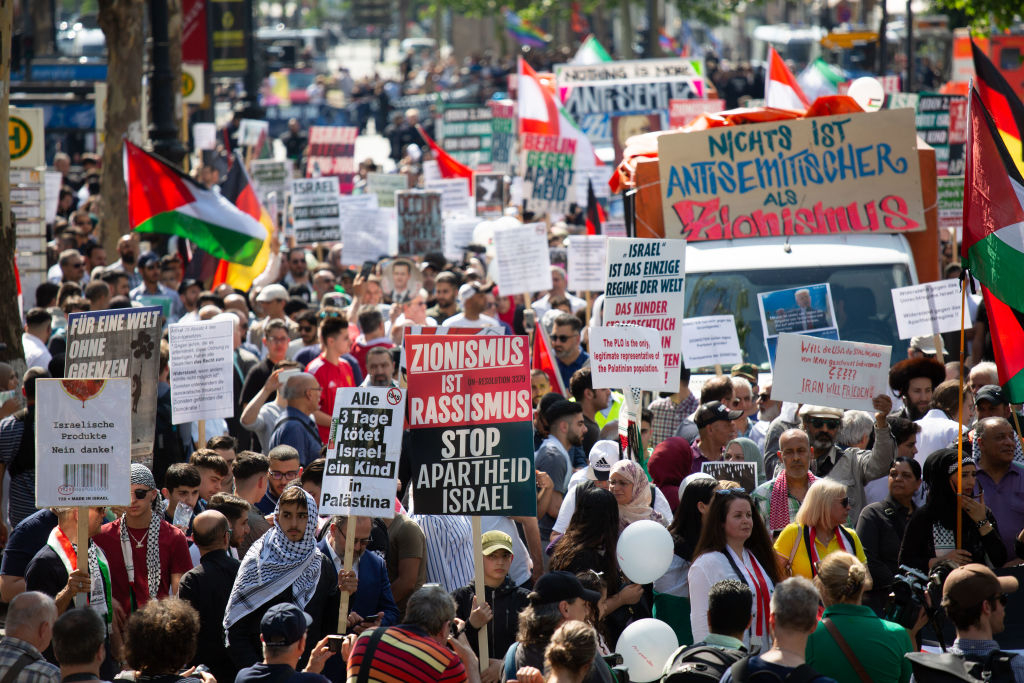 Anti-Semitism keeps escalating in Germany, and despite problematic evidence and flawed statistics, Interior Minister Horst Seehofer is still claiming that virtually all anti-Semitism comes from the far-right. Pictured: Anti-Israel protesters take part in the annual Al-Quds Day march on June 1, 2019 in Berlin. (Photo by Omer Messinger/Getty Images)
Almost all anti-Semitic crimes in Germany in 2019 were committed by right-wing extremists, according to a recently published government report, "Politically Motivated Crime in 2019." In the report, "politically motivated crimes" are divided into right-wing crimes, left-wing crimes, crimes motivated by foreign ideology, crimes motivated by religious ideology and unassigned crimes.
According to the report, anti-Semitic crimes were 13% higher in 2019 than in 2018, with 2,032 anti-Semitic crimes committed in 2019, the highest number in Germany since 2001. According to the report, 93.4% of those crimes were committed by right-wing extremists.
"The biggest threat is still the threat from the right," Interior Minister Horst Seehofer said following the release of the crime report. "We must remain alert and tackle it. It is an order of magnitude that accompanies us with concern, with great concern."
The German government's new report flies in the face of major EU reports: In November 2018, the EU's Agency for Fundamental Rights (FRA) published a report, "Antisemitism - Overview of data available in the European Union 2007–2017," which quoted the European Commission against Racism and Intolerance (ECRI) as stating that in 2017:
"The main perpetrators of antisemitic incidents are 'Islamists' and radicalised young Muslims, including schoolchildren, as well as neo-Nazis and sympathisers of extreme-right and, in some cases, extreme-left groups".
Germany was among the countries surveyed.
In another major survey conducted by the FRA and published in December 2018, "Second survey on discrimination and hate crime against Jews in the EU", it was concluded that:
"With respect to the most serious incident of anti-Semitic harassment, on average, across the 12 Member States surveyed, the most frequently mentioned categories for perpetrators were: 'someone else I cannot describe' (31%); 'someone with an extremist Muslim view' (30%); 'someone with a left-wing political view' (21%); 'work or school/college colleague' (16%); 'teenager or group of teenagers' (15%); 'an acquaintance or friend' (15%); 'someone with a right-wing political view' (13%)".
Germany was among the 12 member states surveyed.
In 2017, the Interior Ministry of Germany published a report by the Independent Expert Group on Antisemitism -- a group constituted in September 2009 based on a decision of the German Bundestag -- about antisemitism in Germany. According to the report:
"[In] the survey conducted for the [Independent Expert Group on Antisemitism in] 2016 among Jews in Germany ... 'a Muslim person/group' is mentioned by far the most frequently regarding... verbal insult/harassment, physical attack... followed by 'a person unknown to me'... only then follow in equal numbers left-extremist and far-right persons/groups. For this difference between the classification of the recorded crimes in the PMK... [the annual report about politically motivated crime] and the perception on the part of the persons concerned, there is currently no plausible explanation."
In June 2019, Germany's domestic intelligence service, Bundesamt für Verfassungsschutz (BfV), published a report on "Anti-Semitism in Islamism," the purpose of which was "to raise public awareness of Islamist anti-Semitism". The report states:
"The record of these events shows that anti-Semitic incidents with an Islamist background are not uncommon in Germany. For the period from January to December 2017 alone, more than 100 incidents were recorded, ranging from anti-Zionist sermons to anti-Semitic graffiti to verbal and physical attacks against individuals. Probably this is just the proverbial 'tip of the iceberg'".
Which surveys should be believed? Did all Islamist anti-Semitism just disappear overnight?
Presumably not. German statistics on anti-Semitism, however, have been the object of criticism for quite some time. Die Welt wrote in May 2019:
"The majority of [antisemitism] cases in Berlin are attributed to right-wing extremists -- without evidence... For a long time, experts have criticized the attribution of the majority of cases to far-right perpetrators... and that too little attention is paid to other groups of perpetrators, such as those from Islamist and other Muslim circles".
According to a May 2019 article in the German Jewish news outlet Jüdische Allgemeine:
"In surveys of Jews in Germany who were victims of anti-Semitic acts, 62 percent of [victims of verbal] insults and 81 percent of [victims of] physical attacks identified Muslims as suspected perpetrators. Nevertheless, 'Sieg Heil' calls at an anti-Semitic Al-Quds demonstration in Berlin in July 2014 were registered as a politically motivated crime with right-wing extremist motives in the police statistics."
The newspaper also quoted Felix Klein, the Federal Government Commissioner for Jewish Life in Germany and the Fight against Anti-Semitism, as saying:
"I hear from the Jewish communities that the subjective perception of the threat posed by Muslim anti-Semitism is greater than is reflected in the crime statistics."
The Independent Expert Group on Antisemitism, mentioned above, also criticized Germany's statistics in its 2017 report, "Anti-Semitism in Germany - current developments":
"In the police, the old concept of extremism continues to act as a guiding factor, which makes it more difficult to identify prejudice-motivated crimes that go beyond 'the classic pattern of far-right crime'. In particular, this concerns the attribution as 'right'-[wing] as soon as references to National Socialism can be seen. This does not take into account that while Nazi symbols are a general, anti-Jewish means, they are also generally defamatory... [and] used by perpetrators who are not far right-wing politically. Xenophobic and anti-Semitic crimes are basically always attributed to the... right when no further specifics are recognizable (e.g. only the words 'Jews out') and where no suspects are known. This may create... a distorted picture of the motivation behind the crime and the group of perpetrators."
Yet, despite problematic evidence and flawed statistics, Interior Minister Horst Seehofer is still claiming that virtually all anti-Semitism comes from the far-right. Why?
The rise in anti-Semitism to the highest level in nearly two decades also raises a different issue: Germany has some of the strictest hate speech laws in Europe. In October 2017, Germany adopted a new censorship law, the NetzDG law. It is a draconian measure that requires social media platforms, such as Facebook, Twitter and YouTube, to censor their users on behalf of the German state. Social media companies are obliged to delete or block any online "criminal offenses" such as libel, slander, defamation or incitement, within 24 hours of receipt of a user complaint. Social media companies are permitted seven days for more complicated cases. If they fail to do so, the German government can fine them up to 50 million euros for failing to comply. The law served as inspiration for France's recently passed Avia Law.
In addition, German law enforcement agencies have completed no fewer than five "Action Day against Hate Postings" specifically to crack down on internet "hate speech".
Despite all these measures, anti-Semitic crime in Germany is the highest it has been in the past two decades. This news alone should raise concerns in Germany that hate-speech laws such as the NetzDG, while severely limiting free speech, are not working. It should also concern other EU countries, such as France, that are looking to Germany as an example to follow.
That, however, is not happening. In January, Germany announced new crackdowns on free speech, ostensibly to fight antisemitism, as previously reported by Gatestone. In March, the European Commission against Racism and Intolerance -- the human rights monitoring body of the Council of Europe -- published a report that found that Germany, despite its repressive laws, was still not doing enough about hate speech and that:
"... action is required in several areas to effectively prevent and combat hate speech. These encompass awareness-raising, prevention and counter speech, support to victims, self-regulation, the use of regulatory powers and, as a last resort, criminal investigation and punishment".
Germany seems unable to change course. In the meantime, anti-Semitism keeps escalating.
John Richardson is a researcher based in the United States.