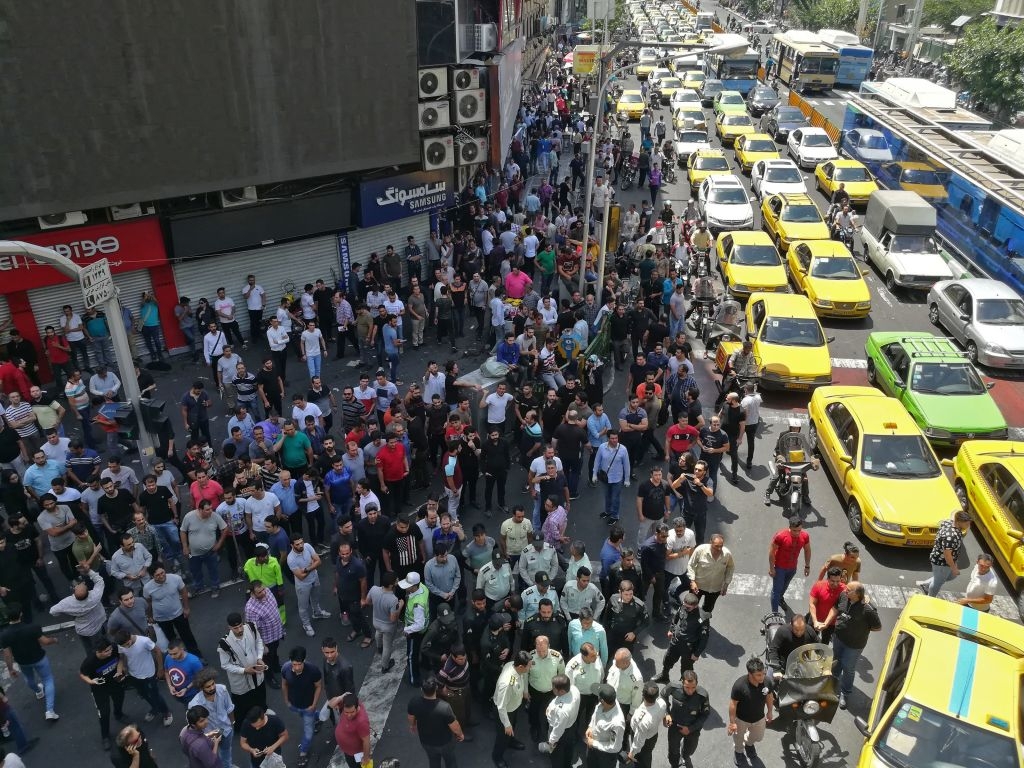 The Iranian regime is facing an unprecedented level of pressure, which, if it continues, can threaten the ruling mullahs' hold on power. Iran's currency, the rial, which has been in free fall in the last few weeks, has plunged to a record low. Pictured: Traders from Tehran's Grand Bazaar gather on June 25, 2018 to protest the collapse of rial's value, shortly after the Trump administration started its "maximum pressure" policy against Tehran. (Photo by Atta Kenare/AFP via Getty Images)
The Iranian regime is facing an unprecedented level of pressure, which, if it continues, can threaten the ruling mullahs' hold on power. Iran's currency, the rial, which has been in free fall in the last few weeks, has plunged to a record low. As of July 18, 2020, a US dollar is now worth approximately 250,000 rials. Before the current US administration imposed a "maximum pressure" policy against Tehran, a US dollar had equaled nearly 30,000 rials.
People, as they see the value of their money depreciating by almost ten-fold, have been rushing to get foreign currency. Last month, Iran's oil exports also sank to a record low. Three years ago, Iran was exporting roughly 2.5 million barrels of oil a day. According to the latest reports, Iran's oil export is now around 70,000 barrels a day -- a reduction of nearly 97%. The country's budget heavily relies on selling oil.
The political deputy of the province of Bushehr, Governor Majid Khorshidi, told a gathering on July 14 that they should not ignore US sanctions: "We used to see this approach [of ignoring US sanctions] from the previous administration [Ahmadinejad] and unfortunately it still continues," he added. "But I have to say that sanctions have broken the economy's back".
While the US "maximum pressure" policy has played a crucial role in putting economic pressure on the regime, the mullahs' widespread financial and political corruption and their chronic economic mismanagement are also key factors in the country's dire financial situation.
For almost four decades, the regime has been squandering the nation's resources on terror and militia groups as well as its nuclear program. It is also estimated that the regime has spent more than $100 billion on its nuclear program. According to a report released by the Federation of American Scientists:
"Iran's quest for the development of nuclear program has been marked by enormous financial costs and risks. It is estimated that the program's cost is well over $100 billion, with the construction of the Bushehr reactor costing over $11 billion, making it one of the most expensive reactors in the world."
Iran is rich in resources; it has the fourth-largest oil reserves in the world, and the second-largest natural gas reserves that account for approximately 16% of the world's gas reserves. With a GDP (purchasing-power parity) estimated at $1.2 trillion, and with a population of nearly 84 million, Iran could be one of the largest economies in the Middle East and North Africa (MENA).
Now, however, the regime is finding it extremely difficult to acquire enough revenue to pay its employees. Many employees of the government, including coal workers and railroad workers, have been protesting unpaid wages and salaries. One protester told Iran News Wire:
"I wish I would get COVID-19. Many of us do. Committing suicide is hard but we wish for death every day. What we have is not a life. Do you think this is living?!"
According to the Statistical Centre of Iran, in late October 2019, the Consumer Price Index (CPI) 12-month rate of inflation for households was 42%.
The government has also cut important subsidies to consumer products, such as petrol. Because of the regime's reluctance to make economic reforms, international organizations are hesitant to lend money to Tehran. Out of desperation, the ruling mullahs of Iran doubled down on requests to the International Monetary Fund (IMF), headquartered in Washington DC, to give Tehran an emergency loan of $5 billion. Iranian President Hassan Rouhani stated that his government wanted to use the $5 billion fund to fight the coronavirus pandemic. "I urge international organizations to fulfill their duties..." he stressed. "We are a member of the IMF."
Some of Iran's authorities have publicly announced that they also do not have money to pay their mercenaries abroad. In a recent interview with the state-run Ofogh Television Network, for instance, Parviz Fattah, the current head of the Foundation for the Underprivileged (Mostazafan Foundation) stated:
"I was at the IRGC Cooperative Foundation. Haj Qassem [Soleimani, the commander of the IRGC Quds Force who was killed by a US drone strike] came and told me he did not have money to pay the salaries of the Fatemiyoun [Afghan mercenaries]. He said that these are our Afghan brothers, and he asked for help from people like us."
The Mostazafan Foundation owns and manages many subsidiary and affiliate companies in fields such as industry, commerce, agriculture, transportation and tourism.
Iran's mullahs have no one to blame but themselves for the country's drastic economic situation. They simply need to start prioritizing their own people over hemorrhaging billions of dollars on the nuclear program and sponsoring and funding terror and militia groups across the region.
Dr. Majid Rafizadeh is a business strategist and advisor, Harvard-educated scholar, political scientist, board member of Harvard International Review, and president of the International American Council on the Middle East. He has authored several books on Islam and US foreign policy. He can be reached at Dr.Rafizadeh@Post.Harvard.Edu