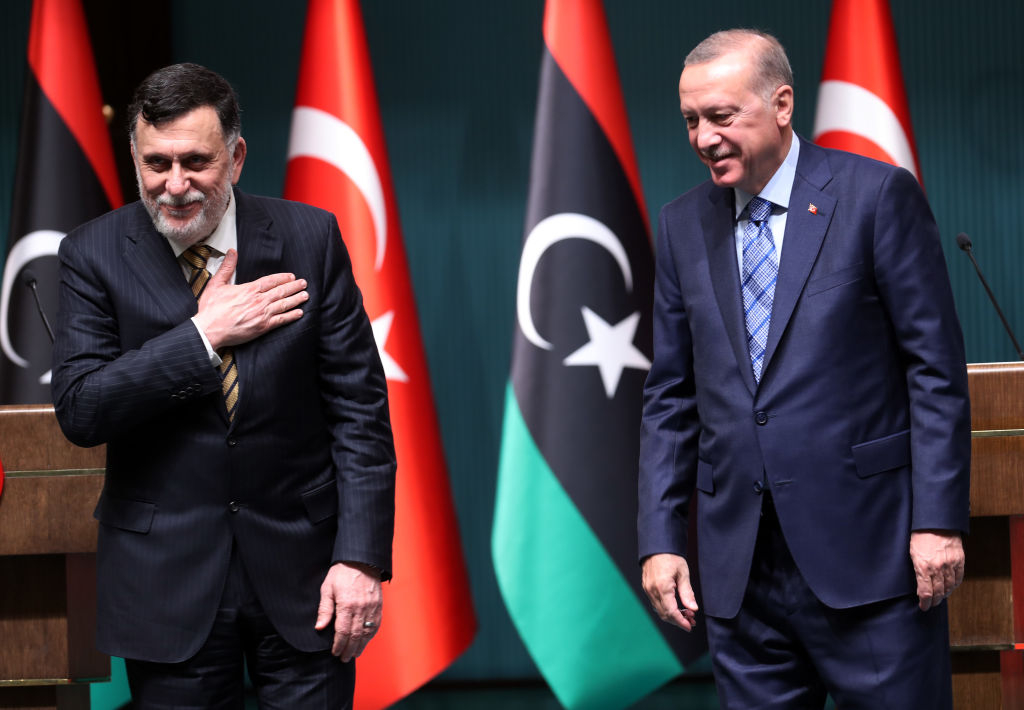 Turkey is currently involved in quite a few international military conflicts -- both against its own neighbors such as Greece, Armenia, Iraq, Syria and Cyprus, and against other nations such as Libya and Yemen. Pictured: Turkish President Recep Tayyip Erdogan (right) meets with Fayez al-Sarraj, the leader of one the two rival governments that control Libya, on June 4, 2020 in Ankara, Turkey. (Photo by Adem Altan/AFP via Getty Images)
Turkey is currently involved in quite a few international military conflicts -- both against its own neighbors such as Greece, Armenia, Iraq, Syria and Cyprus, and against other nations such as Libya and Yemen. These actions by Turkey suggest that Turkey's foreign policy is increasingly destabilizing not only several nations, but the region as well.
In addition, the Erdogan regime has been militarily targeting Syria and Iraq, sending its Syrian mercenaries to Libya to seize Libyan oil and continuing, as usual, to bully Greece. Turkey's regime is also now provoking ongoing violence between Armenia and Azerbaijan.
Since July 12, Azerbaijan has launched a series of cross-border attacks against Armenia's northern Tavush region in skirmishes that have resulted in the deaths of at least four Armenian soldiers and 12 Azerbaijani ones. After Azerbaijan threatened to launch missile attacks on Armenia's Metsamor nuclear plant on July 16, Turkey offered military assistance to Azerbaijan.
"Our armed unmanned aerial vehicles, ammunition and missiles with our experience, technology and capabilities are at Azerbaijan's service," said İsmail Demir, the head of Presidency of Defense Industries, an affiliate of the Turkish Presidency.
One of Turkey's main targets also seems to be Greece. The Turkish military is targeting Greek territorial waters yet again. The Greek newspaper Kathimerini reported:
"There have been concerns over a possible Turkish intervention in the East Med in a bid to prevent an agreement on the delineation of an exclusive economic zone (EEZ) between Greece and Egypt which is currently being discussed between officials of the two countries."
Turkey's choice of names for its gas exploration ships are also a giveaway. The name of the main ship that Turkey is using for seismic "surveys" of the Greek continental shelf is Oruç Reis, (1474-1518), an admiral of the Ottoman Empire who often raided the coasts of Italy and the islands of the Mediterranean that were still controlled by Christian powers. Other exploration and drilling vessels Turkey uses or is planning to use in Greece's territorial waters are named after Ottoman sultans who targeted Cyprus and Greece in bloody military invasions. These include the drilling ship Fatih "the conqueror" or Ottoman Sultan Mehmed II, who invaded Constantinople in 1453; the drilling ship Yavuz, "the resolute", or Sultan Selim I, who headed the Ottoman Empire during the invasion of Cyprus in 1571; and Kanuni, "the lawgiver" or Sultan Suleiman, who invaded parts of eastern Europe as well as the Greek island of Rhodes.
Turkey's move in the Eastern Mediterranean came in early July, shortly after the country had turned Hagia Sophia, once the world's greatest Greek Cathedral, into a mosque. Turkish President Recep Tayyip Erdogan then linked Hagia Sophia's conversion to a pledge to "liberate the Al-Aqsa Mosque" in Jerusalem.
On July 21, the tensions arose again following Turkey's announcement that it plans to conduct seismic research in parts of the Greek continental shelf in an area of sea between Cyprus and Crete in the Aegean and Eastern Mediterranean.
"Turkey's plan is seen in Athens as a dangerous escalation in the Eastern Mediterranean, prompting Prime Minister Kyriakos Mitsotakis to warn that European Union sanctions could follow if Ankara continues to challenge Greek sovereignty," Kathimerini reported on July 21.
Here is a short list of other countries where Turkey is also militarily involved:
In Libya, Turkey has been increasingly involved in the country's civil war. Associated Press reported on July 18:
"Turkey sent between 3,500 and 3,800 paid Syrian fighters to Libya over the first three months of the year, the U.S. Defense Department's inspector general concluded in a new report, its first to detail Turkish deployments that helped change the course of Libya's war.

"The report comes as the conflict in oil-rich Libya has escalated into a regional proxy war fueled by foreign powers pouring weapons and mercenaries into the country."
Libya has been in turmoil since 2011, when an armed revolt during the "Arab Spring" led to the ouster and murder of dictator Muammar Gaddafi. Political power in the country, the current population of which is around 6.5 million, has been split between two rival governments. The UN-backed Government of National Accord (GNA), has been led by Prime Minister Fayez al Sarraj. Its rival, the Libyan National Army (LNA), has been led by Libyan military officer, Khalifa Haftar.
Backed by Turkey, the GNA said on July 18 that it would recapture Sirte, a gateway to Libya's main oil terminals, as well as an LNA airbase at Jufra.
Egypt, which backs the LNA, announced, however, that if the GNA and Turkish forces tried to seize Sirte, it would send troops into Libya. On July 20, the Egyptian parliament gave approval to a possible deployment of troops beyond its borders "to defend Egyptian national security against criminal armed militias and foreign terrorist elements."
Yemen is another country on which Turkey has apparently set its sights. In a recent video, Turkey-backed Syrian mercenaries fighting on behalf of the GNA in Libya, and aided by local Islamist groups, are seen saying, "We are just getting started. The target is going to be Gaza." They also state that they want to take on Egyptian President Sisi and to go to Yemen.
"Turkey's growing presence in Yemen," The Arab Weekly reported on May 9, "especially in the restive southern region, is fuelling concern across the region over security in the Gulf of Aden and the Bab al-Mandeb.
"These concerns are further heightened by reports indicating that Turkey's agenda in Yemen is being financed and supported by Qatar via some Yemeni political and tribal figures affiliated with the Muslim Brotherhood."
In Syria, Turkey-backed jihadists continue occupying the northern parts of the country. On July 21, Erdogan announced that Turkey's military presence in Syria would continue. "Nowadays they are holding an election, a so-called election," Erdogan said of a parliamentary election on July 19 in Syria's government-controlled regions, after nearly a decade of civil war. "Until the Syrian people are free, peaceful and safe, we will remain in this country."
Additionally, Turkey's incursion into the Syrian city of Afrin, created a particularly grim situation for the local Yazidi population:
"As a result of the Turkish incursion to Afrin," the Yazda organization reported on May 29, "thousands of Yazidis have fled from 22 villages they inhabited prior to the conflict into other parts of Syria, or have migrated to Lebanon, Europe, or the Kurdistan Region of Iraq... "
"Due to their religious identity, Yazidis in Afrin are suffering from targeted harassment and persecution by Turkish-backed militant groups. Crimes committed against Yazidis include forced conversion to Islam, rape of women and girls, humiliation and torture, arbitrary incarceration, and forced displacement. The United States Commission on International Religious Freedom (USCIRF) in its 2020 annual report confirmed that Yazidis and Christians face persecution and marginalization in Afrin.

"Additionally, nearly 80 percent of Yazidi religious sites in Syria have been looted, desecrated, or destroyed, and Yazidi cemeteries have been defiled and bulldozed."
In Iraq, Turkey has been carrying out military operations for years. The last one was started in mid-June. Turkey's Defense Ministry announced on June 17 that the country had "launched a military operation against the PKK" (Kurdistan Workers' Party) in northern Iraq after carrying out a series of airstrikes. Turkey has named its assaults "Operation Claw-Eagle" and "Operation Claw-Tiger".
The Yazidi, Assyrian Christian and Kurdish civilians have been terrorized by the bombings. At least five civilians have been killed in the air raids, according to media reports. Human Rights Watch has also issued a report, noting that a Turkish airstrike in Iraq "disregards civilian loss."
Given Turkey's military aggression in Syria, Iraq, Libya, and Armenia, among others, and its continued occupation of northern Cyprus, further aggression, especially against Greece, would not be unrealistic. Turkey's desire to invade Greece is not exactly a secret. Since at least 2018, both the Turkish government and opposition parties have openly been calling for capturing the Greek islands in the Aegean, which they falsely claim belong to Turkey.
If such an attack took place, would the West abandon Greece?
Uzay Bulut, a Turkish journalist, is a Distinguished Senior Fellow at the Gatestone Institute.