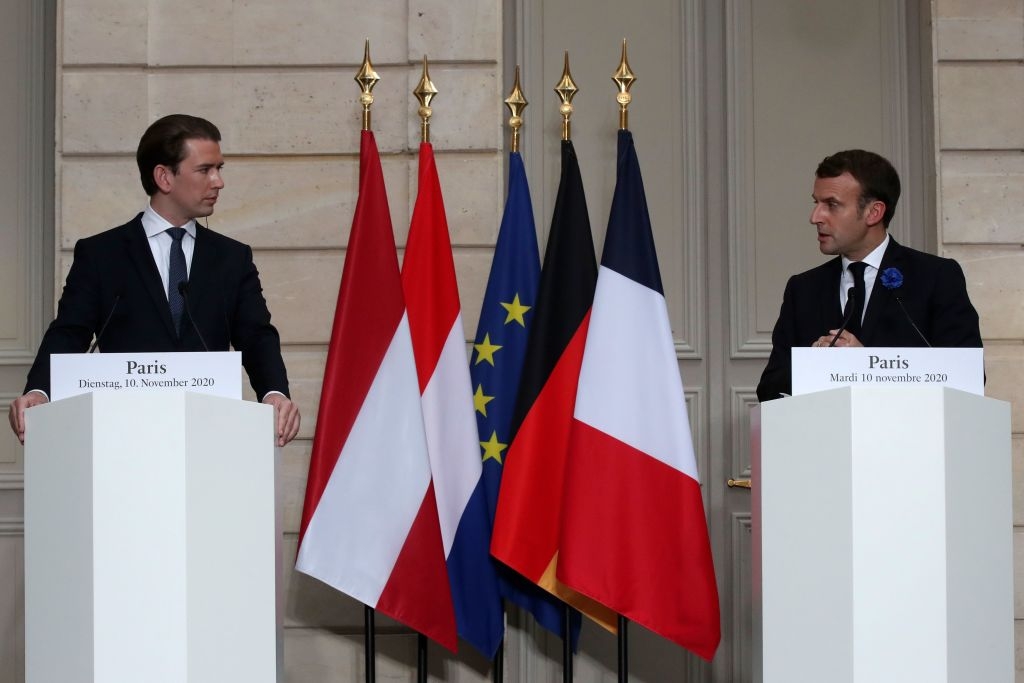 The belated realisation by Europe's leaders about the inadequacies of their ability to defend the continent from further acts of Islamist-inspired terrorism is as welcome as it is long overdue. Pictured: Austrian Chancellor Sebastian Kurz (left) and French President Emmanuel Macron attend a summit addressing an EU-wide response to recent terror attacks. (Photo by Michel Euler/Pool/AFP via Getty Images)
The latest wave of Islamist-inspired terror attacks to strike Europe has yet again exposed lamentable flaws in the ability of European security agencies to provide adequate protection for their citizens.
In all three instances -- the attacks in Paris, Nice and Vienna -- it has emerged that those held responsible for carrying out the attacks had links to global jihadi networks that went undetected by European security officials.
Moreover, the ease with which some of those involved in the attacks were able to travel freely across the continent has once more raised concerns about Europe's lax border controls as defined by the European Union's Schengen Agreement, and the ability of radicalised jihadis to exploit them.
In the most recent attack in the Austrian capital Vienna on November 2, it transpires that the 20-year-old gunman who killed four people and wounded 22 others before he was himself shot dead by police had travelled to neighbouring Slovakia in July to buy ammunition.
This was after the terrorist responsible for the atrocity, Kujtim Fejzulai, had been released early from prison in December after serving two-thirds of a 22-month term for trying to join ISIS in Syria.
And while the Austrian interior ministry still contends that the gunman acted alone, there are suspicions that he may have been in contact with extremists in other parts of Austria and neighbouring Switzerland. And even though Fejzulai was on a watch list by Austria's BVT counter-terrorism agency, this did not prevent him from travelling to Slovakia to purchase ammunition.
Similar questions about the effectiveness of Europe's security forces have been raised by the attack in Nice, France, where it now transpires that the terrorist suspected of carrying out the murders had arrived by train from Italy, which he had reached from Tunisia after being picked up by a humanitarian organisation in the Mediterranean.
Reports have also surfaced in France that the Chechen terrorist responsible for murdering schoolteacher Samuel Paty, who was decapitated outside his school in a Paris suburb last month after showing his class two cartoons of the Islamic prophet Muhammad and discussing freedom of expression, had been in contact with an Islamist fighter in Syria prior to carrying out the attack.
France's Le Parisien newspaper has reported that, prior to the murder, Abdullakh Anzorov made contact with an as yet unidentified Russian-speaking jihadist in Syria, who was located through an IP address that had been traced back to Idlib, a jihadist holdout in north-western Syria.
A French television station also reported that the killer, who arrived in France aged six with his Chechen parents and had been granted asylum and a residence permit until 2030, had first established contact with the jihadist in September this year via Instagram.
In an audio message in Russian, Anzorov said after the killing he had "avenged the prophet", whom Paty had portrayed "in an insulting way". Amid references to the Qur'an and Islamic State, he added: "Brothers, pray that Allah accepts me as a martyr."
French security officials have subsequently embarked on a nationwide round-up of suspected Muslim extremists, with French President Emmanuel Macron ordering the closure of a Paris mosque said to have links with the Palestinian terror group Hamas. Mr Macron said French security officials believed that the Cheikh Yassine Collective, named after a slain Hamas leader, was to be dissolved because the French authorities had information that the group was "directly implicated" in the attack.
For once, the sudden upsurge in terror attacks appears to have prompted European leaders to acknowledge the glaring deficiencies in their ability to protect Europe against Islamist-inspired acts of terrorism.
In Austria, Chancellor Sebastian Kurz has called on Europe to form a common front in what he calls a "war on Islamism", and says he will push for such an alliance against political Islam when European Leaders meet for a summit later this month.
Speaking to the German newspaper Die Welt, Mr Kurz commented:
"I expect an end to the misconceived tolerance, and for all the nations of Europe to finally realise how dangerous the ideology of political Islam is for our freedom and the European way of life."
In France, Mr Macron has responded to the attacks on French soil by calling for a "deep overhaul" of the Schengen agreement. Appearing alongside his Europe and Interior Ministers this week, the French President committed France to double the number of guards at its national borders from 2,400 to 4,800 due to the rampant terror threat. "We see very clearly that terrorist actions can actually be led by some people who use migratory flows to threaten our territory," he said.
The belated realisation by Europe's leaders about the inadequacies of their ability to defend the continent from further acts of Islamist-inspired terrorism is as welcome as it is long overdue. For, without tighter controls and monitoring, security officials will struggle to prevent further acts of Islamist-inspired carnage from taking place on the streets of Europe.
Con Coughlin is the Telegraph's Defence and Foreign Affairs Editor and a Distinguished Senior Fellow at Gatestone Institute.