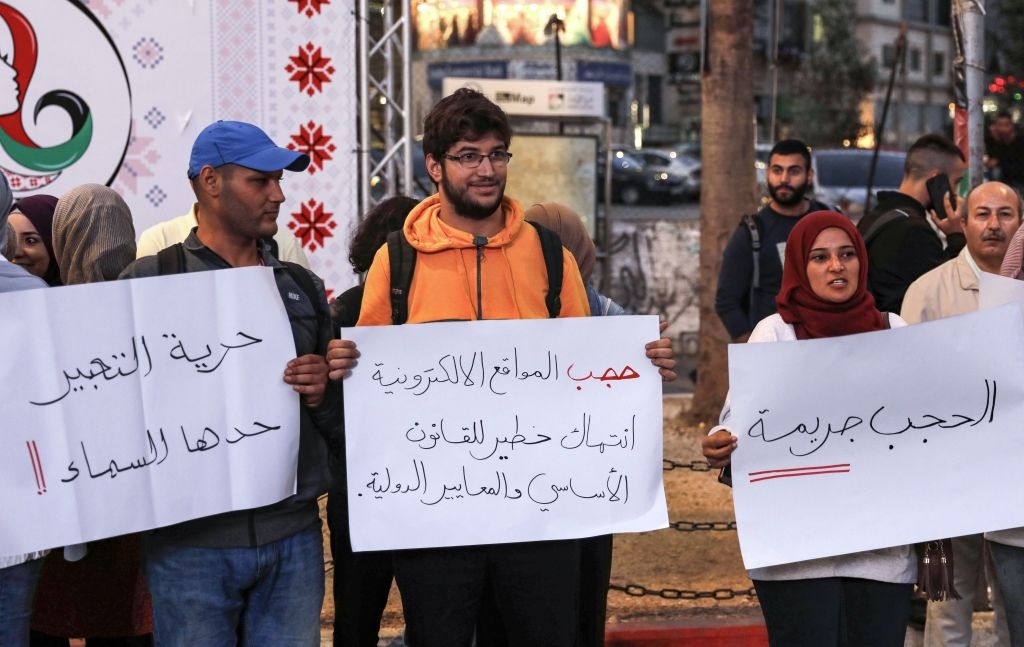 Why are Americans and Europeans propping up an authoritarian regime, to the tune of millions upon millions per year, that muzzles free speech and spies on reporters and political opponents? Pictured: Palestinian journalists protest a Palestinian Authority court ruling to block access to 59 websites and social media pages, on the grounds that they "threaten national security and civic peace," in Ramallah on October 23, 2019. (Photo by Ahmad Gharabli/AFP via Getty Images)
Palestinians have long been accusing the Palestinian Authority (PA) of spying on them by monitoring their activities on various social media platforms, including Facebook. The espionage has resulted in the arrest and persecution of dozens of Palestinians, especially those who dared to criticize PA President Mahmoud Abbas and senior Palestinian officials.
The Palestinians' accusations have now been confirmed by Facebook. This week, it revealed that it had uncovered the hacking activities of the Palestinian Preventive Security Service (PSS), who report to Abbas.
According to Facebook, the PSS "used fake and compromised accounts to create fictitious personas." Posing as young women, journalists and political activists, Abbas's security agency then sought "to build trust with people they targeted and trick them into installing malicious software."
The malware, disguised as chat applications, would give the PSS access to targets' phones, including contacts, text messages, locations and even keystrokes, Facebook said. The hacking operation targeted Palestinian journalists, political activists and dissidents.
Mike Dvilyanski, Facebook's head of cyber espionage investigations, told Reuters that the campaign's methods were crude, "but we do see them as persistent."
The Facebook revelation came two weeks after US Secretary of State Antony Blinken announced that the Biden administration decided to resume financial aid to the Palestinians, including "vital security assistance programs," a reference to support for the PA security forces.
"US foreign assistance for the Palestinian people serves important US interests and values," Blinken said. "It provides critical relief to those in great need, fosters economic development, and supports Israeli-Palestinian understanding, security coordination and stability. The US is committed to advancing prosperity, security, and freedom for both Israelis and Palestinians."
US taxpayer money, in other words, is going to support a Palestinian security service whose main task is to spy on journalists, political activists and critics of Abbas and the Palestinian leadership. The same, of course, applies to European taxpayer money.
This is certainly not a way to advance prosperity, security, and freedom for Palestinians. On the contrary; by funding the Palestinian security forces, the Biden administration is actually assisting Abbas in his continuous efforts to silence his critics and intimidate journalists and human rights and political activists.
Alarmed by the Facebook allegations, the Palestinian Independent Commission for Human Rights (ICHR) called on the Palestinian Authority government and attorney general to launch an investigation into the internet hacking.
"The ICHR looks with great concern at the Facebook statement, given what it poses as a serious threat to the citizens' natural right to privacy and inviolability of their private lives, which are guaranteed by the Palestinian Basic Law," the organization said in a statement. "Violating these rights constitutes a crime."
As part of his effort to repress his dissidents and critics, Abbas has blocked access to dozens of websites affiliated with his opponents, including Hamas, Palestinian Islamic Jihad and Mohammed Dahlan, an exiled leader of the ruling Fatah faction. Dahlan, an archrival of Abbas, was forced to flee the West Bank in 2011 after a fallout with Abbas.
Abbas's decision to block more than 50 websites has been upheld a PA court, which ruled in 2019 that the published articles and photos "threaten national security and civic peace." The court accepted the PA attorney general's argument that the websites have attacked and insulted "symbols of the Palestinian Authority," a reference to Abbas and senior Palestinian officials.
"By censoring websites, the Palestinian authorities are not only muzzling critical voices, but also denying Palestinians their right to receive information from a variety of sources," said Ignacio Miguel Delgado, Middle East and North Africa Representative at Committee to Protect Journalists, an organization that promotes press freedoms worldwide.
The decision to block the websites was take in accordance with the controversial Palestinian Cybercrime Law, approved by Abbas in 2017. The law allows the Palestinian security forces to crack down on anyone who publishes news that would "endanger the integrity of the Palestinian state, the public order or the internal or external security of the State."
Ironically, in the wake of the revelation by Facebook, if anyone has violated this law it is the Palestinian leadership and Abbas.
By spying on journalists and political opponents, the Palestinian security forces have violated Article 4 of their own law, which states:
"Any person who has intentionally and unlawfully accessed any electronic system or network, has abused any information technology or part thereof, or has exceeded the authorized entry shall be liable to either imprisonment, a fine, or a combination of the two."
In the past decade, the PA security forces have arrested or interrogated dozens of Palestinians over critical remarks they posted on Facebook. This crackdown has been largely ignored by the international community, specifically US and European Union donors to the PA. The donors have further turned a blind eye to Palestinian charges that the PA security forces are spying on them through social media. This indifference has allowed the Palestinian leadership to enforce an atmosphere of menacing intimidation on the Palestinians living under its rule in the West Bank.
Now that Facebook has confirmed the PA's responsibility for hacking the accounts of journalists and political activists, the Biden administration and Western donors are morally obligated to emend their policy of providing financial aid to Abbas's security services.
The donors must make it clear to the Palestinian leadership that the PA security forces are tasked with enforcing law and order and combating terrorism, not misappropriating American and European money to crush their own people.
There is good reason for Abbas to feel free to spy on journalists and political activists: the international community has long stuffed his pockets with no questions asked, failing to hold him to account for incessantly violating public freedoms, especially a free media. Now, Abbas has been caught, red-handed. The time has come to answer the basic question: Why are Americans and Europeans propping up an authoritarian regime, to the tune of millions upon millions per year, that muzzles free speech and spies on reporters and political opponents?
Khaled Abu Toameh is an award-winning journalist based in Jerusalem.