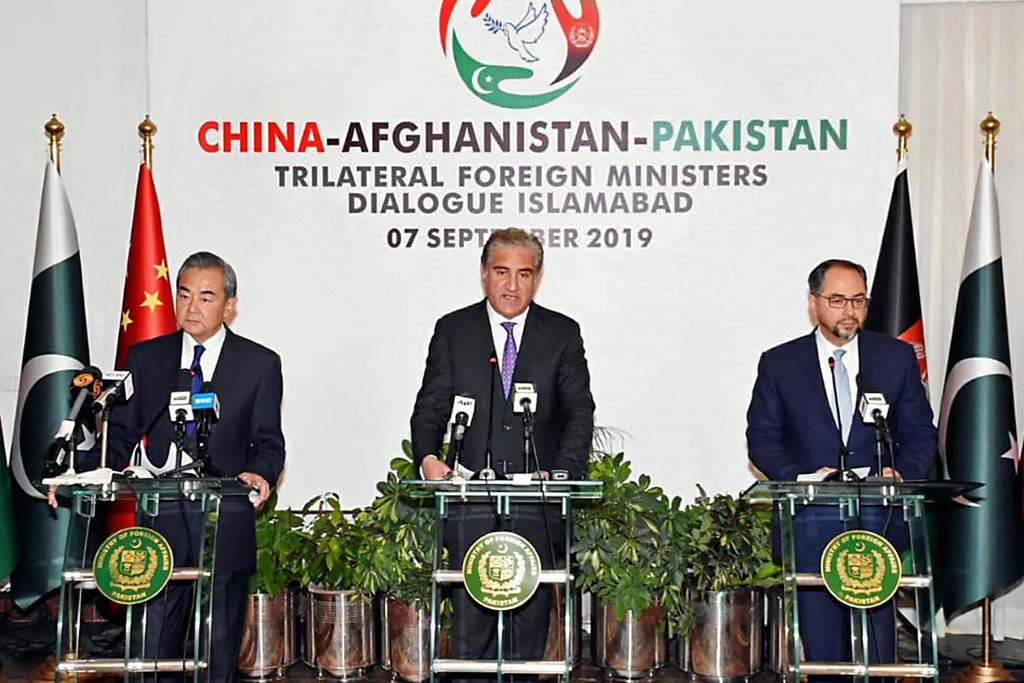 China, which shares a tiny 47-mile-long border with Afghanistan, has long coveted developing closer ties with Kabul, not least because of the large, untapped reserves of mineral wealth that Afghanistan possesses. Pictured: China's Foreign Minister Wang Yi (left), Pakistan's Foreign Minister Shah Mahmood Qureshi (center) and Afghanistan's then Foreign Minister Salahuddin Rabbani at the China-Afghanistan-Pakistan Trilateral Foreign Ministers Dialogue in Islamabad, on September 7, 2019. (Photo credit by AFP via Getty Images)
The indecent haste with which the Biden administration has undertaken its military withdrawal from Afghanistan not only raises the prospect of handing control of the country over to the hardline Islamist Taliban movement. It also presents China with a golden opportunity to extend its influence over this strategically important Central Asian country.
China, which shares a tiny 47-mile-long border with Afghanistan, has long coveted developing closer ties with Kabul, not least because of the large, untapped reserves of mineral wealth that Afghanistan possesses.
Rich in copper, lithium, marble, gold and uranium, Afghanistan's mineral wealth has been estimated to exceed in excess of $1 trillion, resources that could easily make the country economically self-sufficient if ever they were to be fully developed.
From China's perspective, access to Afghanistan's mineral riches would provide it with a ready supply of valuable minerals that are deemed vital to the ruling Communist party's long-term aim of becoming the world's pre-eminent economic power.
Decades of incessant conflict in Afghanistan, dating back to the Soviet Union's invasion in 1979, has meant that, to date, little progress has been made in developing the country's natural riches. Endemic corruption among the country's ruling elite is another reason for the slow rate of progress, with the result that the Afghan government is estimated to lose around $300 million from mining each year.
Former US President Donald J. Trump at one point considered developing Afghanistan's mineral wealth to help pay for the cost of the US-led military coalition, which is estimated to have cost American taxpayers between $1-2 trillion during the past two decades.
Now, following US President Joe Biden's decision to accelerate the pace of the withdrawal of US forces from Afghanistan, there are mounting concerns that China will move quickly to replace the US as the dominant power in this benighted country, with all the implications that could have for Western security as a number of Islamist terror groups, such as ISIS, look to use the country as a safe haven from which to plot attacks against the West.
The manner of the Americans' departure, where they clearly did not trust their Afghan allies sufficiently enough to give them prior notice of their departure, demonstrates a worrying lack of faith between the US and its allies despite the fact the two sides have been close allies for nearly two decades.
The US and other Nato allies, such as Britain, have invested billions of dollars in training and equipping the Afghan security forces to defend the country against the Taliban threat.
Nonetheless, the situation on the ground has reached the point where, without backing from Western forces, the Afghan forces will struggle to prevail against a determined and resourceful adversary such as the Taliban.
The inability of the Afghan forces to protect the country's democratically-elected government is reflected in recent figures which show that the Taliban controls one third of all 421 districts in the country, with the Taliban itself claiming it controls 85 percent of the country.
Even if the Taliban claims are grossly exaggerated, as Western observers claim, it is clear the Afghan government of President Ashraf Ghani is under enormous pressure as a result of Mr Biden's decision to speed up the withdrawal, with US combat operations ending a full two months ahead of the September deadline originally set by the American president.
As Pentagon spokesman John Kirby told the "Fox News Sunday" show at the weekend, Washington is "watching with deep concern" as Taliban insurgents take control of more and more territory.
With little realistic prospect of a negotiated settlement being reached between Kabul and the Taliban at the peace talks currently taking place in the Gulf state of Qatar, the stage is set for Beijing to step in and exert its influence in a country which has fallen within Washington's sphere of influence since the late 1980s.
Beijing already enjoys good relations with neighbouring Pakistan, where the country's charismatic prime minister, Imran Khan, was once dubbed "Taliban Khan" for supporting the Islamist movement.
The Pakistani leader has also been criticised for declaring al-Qaeda leader Osama bin Laden a "martyr" after he was killed by US special forces as his Pakistan hideaway in 2011.
As part of Beijing's efforts to deepen and broaden its ties in Central Asia, Beijing is also concentrating its efforts on expanding its influence in Afghanistan, a policy it expects will bear fruit if the Taliban achieve their goal of seizing control of the entire country.
Previous attempts by Beijing to build ties in Afghanistan have been hampered by China's appalling treatment of its minority Muslim Uyghur population in Xinjiang province in north-western China. The Uyghurs have historically enjoyed close links with the Taliban -- a number of Uyghur fighters were sent to the US Guantanamo Bay detention facility in Cuba after they were detained by US forces in Afghanistan during the initial American military intervention in 2001 after the September 11 attacks.
In an attempt to improve relations with Beijing, the Taliban have refused to condemn China's persecution of Muslims in Xinjiang, and have declared that they will no longer harbour Uyghur militants in the territory they control.
In addition, Chinese officials have opened unofficial channels with the Taliban, aimed at ending the country's long-running civil war.
Mr Biden, judging by his spirited defence of his decision to withdraw US forces from Afghanistan, clearly believes that it is in America's interests to end its two-decade-long involvement in the country. But if the US withdrawal simply opens the way for China to become the new dominant power in Afghanistan, then Mr Biden will be responsible for causing, so far as the West is concerned, a strategic disaster of epic proportions.
Con Coughlin is the Telegraph's Defence and Foreign Affairs Editor and a Distinguished Senior Fellow at Gatestone Institute.