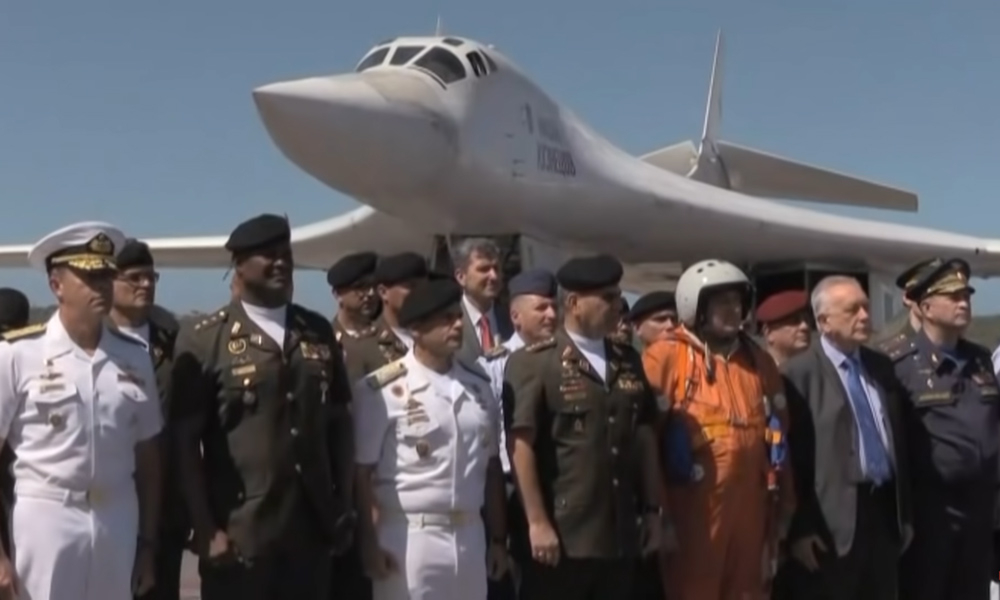 Russia has been seeking to expand its influence in Latin America, especially since Russian President Vladimir Putin's decision to invade Ukraine and Russia's subsequent international isolation.
Russia's way of enlarging its influence in Latin America is comparable to its tactics in Africa, where it has primarily sought influence through arms deals, the use of its mercenaries, election interference, and disinformation.
As early as March 2015, General John Kelly, U.S. Marine Corps Commander, testified before the Senate Armed Services Committee, saying:
"Periodically since 2008, Russia has pursued an increased presence in Latin America through propaganda, military arms and equipment sales, counterdrug agreements, and trade. Under President [Vladimir] Putin, however, we have seen a clear return to Cold War-tactics. As part of its global strategy, Russia is using power projection in an attempt to erode U.S. leadership and challenge U.S. influence in the Western Hemisphere."
While Russia's engagement in Latin America is not comparable in volume to that of China, Russia has, in recent years, nevertheless been significantly deepening its influence in Latin America. Of particular concern is that Russia has not only been strengthening its relations with old Latin American partners -- such as Cuba and Nicaragua, hailing back to the Cold War, and with Venezuela -- but that it is now forging new and stronger relationships with countries that were traditionally oriented towards the US, such as Brazil and Argentina.
Putin, just before he invaded Ukraine, met with the presidents of both Brazil and Argentina, while signing a security cooperation agreement with Venezuela.
Ryan C. Berg, director of the Americas Program at the Center for Strategic and International Studies (CSIS) wrote in March:
"All of this is reminiscent of when Russia's then-president Dmitri Medvedev made an improvised visit to the region during the 2008 crisis in Georgia—all intended to demonstrate that Russia was not isolated internationally. Russian aggression in Europe is usually followed by military escalation in Latin America, as when it sent Tu-160 (nuclear-capable) military bombers to Venezuela for exercises in 2008, 2013, and 2018."
Dr. Evan Ellis, research professor of Latin American studies at the U.S. Army War College Strategic Studies Institute and senior associate at the Americas Program at CSIS, testified before the House Foreign Affairs Subcommittee on Western Hemisphere in July:
"Recent demonstrations of Russia's hostile intent toward the U.S. and our partners in the Western Hemisphere include Deputy Foreign Minister Sergey Ryabkov's January 2022 suggestion that Russia might deploy military forces to Venezuela or Cuba, Deputy Prime Minister Yuri Borisov's February 2022 signing of a pact to increase military cooperation with Venezuela, and Nicaragua's June 2022 re-authorization for limited numbers of Russian troops and equipment to enter the country for training missions and other forms of support....

"Finally, while the hosting of Russian military activities has been exclusive to anti-U.S. authoritarian regimes, the willingness of some others to support and engage with Russia has been troubling. The primary examples include the symbolic and rhetorical support that the governments of Alberto Fernandez in Argentina and Jair Bolsonaro in Brazil gave to Vladimir Putin, each while visiting him as his military stood poised to invade the Ukraine. Alberto Fernandez went so far as to offer his Argentine government as the 'gateway' for Russia's entry into Latin America. Mexico's Andres Manuel Lopez Obrador (AMLO) has called NATO's military aid to help Ukraine fight Russian aggression 'immoral.'"
In February, Argentina's President Alberto Fernandez made it clear that his country would be happy to exchange its orientation towards the US for Russian cooperation. He told Putin:
"We could be a venue for the development of your cooperation with Latin American nations... Since the 1990s, Argentina has been strongly oriented towards the United States. Argentina and its economy are largely dependent on the US and our relations with it. In fact, our debt to the IMF also emerged because of this relationship... I am consistently working to rid Argentina of this dependence on the IMF and the US. I want Argentina to open up new opportunities. Cooperation with Russia is vital for us. I would like to assure you, and I hope that you will accept my assurances that we do want to develop cooperation with Russia."
In June, Putin and Brazilian President Jair Bolsonaro confirmed their intention to strengthen their strategic partnership.
In March, General Laura J. Richardson, Commander of U.S. Southern Command, testified before the Senate Armed Services Committee that Russia's actions in Latin America have been significantly deteriorating the security situation there, as well as enabling China to gain influence:
"Russia intensifies instability through its ties with Venezuela, entrenchment in Cuba and Nicaragua, and extensive disinformation operations. Transnational criminal organizations (TCOs), which operate nearly uncontested, and blaze a trail of corruption and violence that create conditions that allow the PRC [People's Republic of China] and Russia to exploit, threaten citizen security, and undermine public confidence in government institutions."
Richardson went on to say that Russia is a significantly destabilizing factor in Latin America:
"Russia continues to destabilize the region and undermine democracy by flooding the region with disinformation, to include hundreds of articles distorting U.S. security actions. In 2020, Russia Today (RT)'s Spanish-language media outlets more than doubled their social media followers from 7 million to over 18 million. These disinformation campaigns are just one part of Russia's broader efforts to influence national elections throughout the region this year. Russia's relationship with its key regional partners— Venezuela, Cuba, and Nicaragua—allow Moscow to expand its air and sea access to project military power throughout the region. Agreements with Venezuela, Nicaragua, and Brazil allow Russian warships to make port calls on short notice. Russia doubled its naval deployments in this region, increasing from five (2008-2014), to 11 (2015- 2020). Russia seeks inroads in the hemisphere by providing security training through $2.3 billion in weapons and military equipment sales in the last 10 years, to include direct sales to Venezuela."
Russia's growing influence in Latin America must be seen in conjunction with China's immense influence in the region, where it is already the largest trade partner, except for Mexico, as well as the largest investor. While 21 Latin American and Caribbean countries have signed onto China's Belt and Road Initiative (BRI), Biden's Build Back Better World, which was launched in June 2021 as a means of countering China, has not even taken off yet. Unlike the BRI, which is financed by the People's Republic of China, Build Back Better mainly has to rely on private investors' willingness to take risks.
According to research scientist Ammar A. Malik, who heads AidData's Chinese Development Finance Program:
"This is not the first time that expectation has been built, but it's going to be quite challenging to get private companies to finance (projects) because at the end of the day, they're accountable to their shareholders and they want projects that are bankable,"
The combination of Chinese and Russian influence operations in Latin America amount to a considerable threat against US interests in the region.
The safety of the United States is "directly linked to resilience, stability, and security of our Latin American and Caribbean partners," according to General Richardson.
Despite this, "the United States has deprioritized and underinvested in the Western Hemisphere for decades," according to Ryan Berg from the Center for Strategic and International Studies.
"China and Russia support illiberal regimes throughout the hemisphere, such as Venezuela, that compound regional security challenges and hold back political transitions toward democracy."
Biden, while campaigning for the presidency in March 2020, in response to the question of whether China's growing influence in Latin America is a threat to U.S. national security, pledged to restore American leadership to the region.
"It is the current absence of American leadership in the Western Hemisphere that is the primary threat to U.S. national security. Russia and China can't match our extraordinary ties and common history with the people of Latin America and the Caribbean."
So far, Biden has nothing to show for those words, while Russia and China continue to consolidate their gains.
John Richardson is a researcher based in the United States.