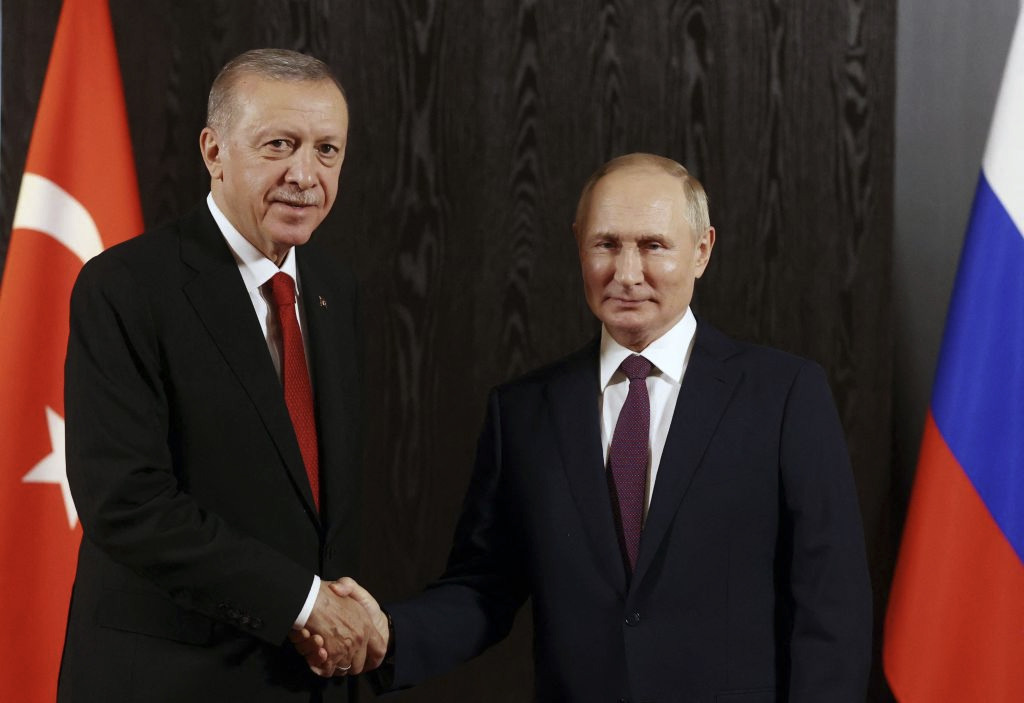 Turkey's Islamist President, Recep Tayyip Erdoğan, has been militarily threatening a fellow NATO ally, Greece, using increasingly threatening language. He also proudly announced that Russian President Vladimir Putin has promised him to make Turkey an international natural gas hub, therefore selling his gas via Turkey, avoiding Western sanctions. What does Erdoğan get in return? Huge American (and other Western) pats on the back.
"The most dangerous period for Greece," Steven Cook from the Council on Foreign Relations wrote in the Greek daily Kathimerini, "is the period leading up to the elections, which Turkey is absolutely adamant on winning as he wants to be president for the 100th anniversary of Turkey's democracy in 2023. He will use any means at his disposal and Greece is an issue that arises naturally in his planning. But the Aegean is very close to Turkey and the fighter jets of the two countries fly in very close proximity, so we cannot rule out an accident or a misunderstanding or a mistake."
In September, Greek Defense Minister Nikos Panagiotopoulos visited the eastern Aegean island of Kastellorizo, some two kilometers off Turkey's southern coast. This visit, according to Turkish Defense Minister Hulusi Akar was a "provocation."
"Seeing [the Greeks'] provocative behavior lately, we forgot that they know how to swim. If they cling to this mindset, knowing how to swim will come in handy," Akar said. This logic needs an explanation. Why should the visit to a part of a sovereign state be a provocation against a neighboring country? Especially within the borders of NATO?
On October 6, President Erdoğan said that Greece should take his warnings seriously. He was resorting to the menacing rhetoric he had used in recent months, the same that had prompted the U.S. to urge the two NATO allies to negotiate. A month earlier, Erdoğan had fueled tensions in the Aegean Sea by saying that "we might come suddenly one night" – implying a military invasion of Greece.
Further unnerving Greece, Turkey on October 18 test-fired a locally made, medium-range ballistic missile over the Black Sea.
A mobile platform was used to fire the missile from an airport near Turkey's eastern Black Sea port city of Rize at around 7 a.m. local time. The projectile flew 561 kilometers (350 miles) before falling off the coast of the port of Sinop, the furthest any such weapon developed in the country has travelled. The secretive missile, the Tayfun (Typhoon in Turkish), was developed and built by Roketsan, a state-controlled missile manufacturer.
On October 21 Erdoğan admitted the program, saying, "Now that we have our Tayfun... This is a message to certain countries." Erdogan did not name these countries but Turkish state broadcaster showed a map that depicted Greece as being within range of the Tayfun missile.
The message reached the relevant audience. Major Greek newspapers Kathimerini, Ta Nea, To Vima and television channel Skai extensively covered the launch of the Tayfun.
Erdoğan, while explicitly threatening a NATO ally, has a plan to seriously undermine Western sanctions on Russia. On October 19, Erdoğan said that he had agreed with Putin to build a natural gas hub in Turkey. The project will enable Turkey to store Russian gas in Thrace and sell it to willing European buyers. This will effectively kill Western sanctions on Russia. Turkey will earn transit fees from every cubic meter of Russian gas sold to European buyers. A win-win for two autocrats.
What was the U.S. administration's response to all that? Approval for fighter jet sales! On October 11, the Senate removed two amendments to a bill designed to prevent the F-16 fighter jet sales to Turkey from the 2023 National Defense Authorization Act (NDAA). An earlier version of the bill had linked the sale to the condition that Turkey would not use the aircraft against Greece.
Erdoğan is now hopeful that Congress should give the green light to the F-16 deal before the end of the year. "Turkey and the U.S. have so far held four meetings on the F-16 issue. In New York [UN General Assembly meeting in September] I met with U.S. senators who were very positive. Talks are ongoing. The [U.S.] administration is taking the necessary positive steps [to enable the sale]," Erdoğan told reporters on October 21.
What other insane, anti-Western moves should Erdoğan make before U.S. President Joe Biden understands that Turkey's Islamist autocrat is a Putin pawn inside the NATO alliance?
Or is Biden a Putin pawn as well?
Burak Bekdil, one of Turkey's leading journalists, was recently fired from the country's most noted newspaper after 29 years, for writing in Gatestone what is taking place in Turkey. He is a Fellow at the Middle East Forum.