In an interview this week with the New York Times, Palestinian Authority President Mahmoud Abbas once again expressed his opposition to an armed struggle against Israel.
"In my life, and if I have any more life in the future, I will never return to the armed struggle," Abbas declared.
But while in English Abbas was voicing his opposition to an armed struggle, in Arabic Palestinian officials were issuing statements in support of "armed resistance" against Israel. The officials who favor "armed resistance" are not low-level bureaucrats working in the Palestinian Authority [PA]. Rather, they are senior representatives of Abbas's ruling Fatah faction. Moreover, their names are often mentioned as potential successors to Abbas, who last month entered his 10th year of his four-year term in office.
In the past, Abbas has explained his opposition to the use of violence against Israel by arguing that this has proven to be "ineffective" and could bring more "destruction" to the Palestinians.
The good news is that the Fatah leadership recently repeated its support for a "popular struggle" against Israel. The announcement was made during Fatah's celebrations marking its 49th anniversary.
The bad news is that Fatah is not united when it comes to the issue of resorting to terrorism against Israel. Fatah has many "rebels" and armed groups that continue openly to call for an "armed struggle" against Israel as a way of achieving Palestinian goals.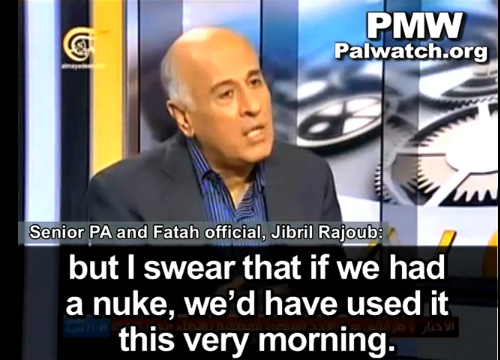 Jibril Rajoub, a member of the Fatah Central Committee and former commander of the Palestinian security forces. (Image source: Palestinian Media Watch)
In recent months, a growing number of top Fatah officials such as Jibril Rajoub, Tawfik Tirawi and Mahmoud al-Aloul - all members of the Fatah Central Committee - have publicly come out in favor of a return to an "armed struggle" against Israel. Rajoub and Tirawi are former commanders of the Palestinian security forces in the West Bank and are considered close allies of Abbas. Al-Aloul, who is also closely associated with Abbas, is a former governor of the West Bank's largest city, Nablus.
In addition, various armed groups belonging to Fatah, such as the Aqsa Martyrs Brigades, continue to maintain a presence not only in the West Bank, but the Gaza Strip as well. The group's militiamen never miss an opportunity to issue all kinds of threats against Israel, including turning Tel Aviv into a "mass of flame."
Abbas has chosen not to comment on the calls by his top loyalists for an "armed struggle" against Israel. There could be three reasons for Abbas's decision to sit on the fence. First, he may be afraid of alienating these officials and other Fatah members who are eager to resort to terrorism against Israel. Second, perhaps Abbas, deep inside, does not completely oppose the idea. Third, Abbas probably wants to use these threats as a means of extracting concessions from Israel and scaring the international community into forcing Israel to accept Palestinian demands.
The statements in favor of an "armed struggle" are aimed at preparing the Palestinian public for another round of violence with Israel if and when the US-sponsored Israeli-Palestinian negotiations fail.
Abbas may be ignoring these statements, but many Palestinians listen very carefully to the messages coming out of their top representatives.
When senior figures of the Fatah such as Rajoub and Tirawi urge Palestinians to be prepared for the possibility of an "armed struggle" against Israel, they are actually instructing Fatah militiamen and supporters to be prepared to launch terrorist attacks.
Just last week, Rajoub told the Iranian TV station Al-Alam that, "The option of resistance, including armed resistance, remains on the table."
Tirawi, for his part, sent the following message to the Palestinians: "This who think that the negotiations [with Israel] will bring us anything are mistaken. We must return to the cycle of action. This means resistance in all forms. Fatah has not abandoned the option of armed struggle."
Al Aloul, in a similar message, emphasized, "Fatah has not abandoned the armed struggle as a legitimate right. Fatah's sixth conference, which was held in Bethlehem in the summer of 2009, reaffirmed this point."
It is almost unheard-of for Hamas to say a good word about Fatah. But the increased talk about resorting to terrorism against Israel has prompted Hamas to heap praise on Fatah's leaders. Referring to the Fatah calls for renewed violence against Israel, Hamas leader Musa Abu Marzouk commented, "These are positive statements, especially in light of the fact that the three officials are members of Fatah's central Committee."
Obviously, there are some in Fatah who still believe in suicide bombings and rocket attacks as a way of forcing Israel to make concessions. These Fatah officials have forgotten that Palestinians paid a heavy price for "militarizing" the Second Intifada, and are now willing to send young men and women once again to "sacrifice" themselves for the Palestinian cause.
It is nice to read Abbas's calming and moderate statements in the New York Times. But one should also not ignore the other voices coming out of his inner circle.