Even before Palestinian Authority President Mahmoud Abbas left Washington on his way back to Ramallah, Palestinian Authority [PA] officials rushed to announce that their president's talks with President Barack Obama over the future of the peace process were "unsuccessful."
The officials said that Abbas rejected most of the proposals made by Obama during their meeting at the White House, including the idea of recognizing Israel as a Jewish state and maintaining an Israeli military presence in the Jordan Valley. Abbas, according to the officials, also dismissed as "immature" Obama's proposal concerning the status of Jerusalem because it did not call for a full Israeli withdrawal from the eastern part of the city.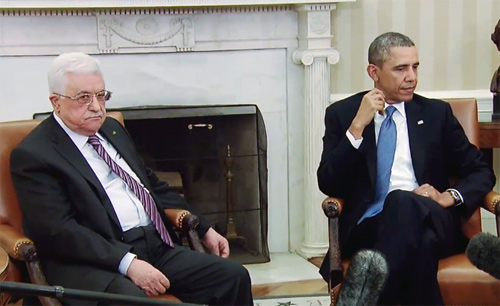 US President Barack Obama and Palestinian Authority President Mahmoud Abbas at a White House press conference on March 17, 2014. (Image source: White House video).
Abbas's rejection of the U.S. proposals for a "framework agreement" with Israel did not come as surprise.
Over the past few months, Abbas and his top aides and negotiators have repeatedly voiced their strong opposition to these proposals, with some accusing the US Administration of endorsing the Israeli stance and failing to serve as a honest broker in the conflict.
Before heading to Washington, Abbas instructed the PA to organize public rallies in the West Bank in his support.
PA employees and schoolchildren were sent into the streets to chant slogans in support of Abbas, urging him not to succumb to U.S. pressure. The rallies were intended to send a message to President Obama and Secretary of State John Kerry that the Palestinian public is strongly opposed to any concessions to Israel.
Upon Abbas' return to Ramalllah, the Palestinian Authority once again organized rallies in support of him. On March 20 hundreds of PA employees and schoolchildren were sent to welcome Abbas at his presidential office and thank him for resisting U.S. pressure.
Bassam Zakarneh, chairman of the Palestinian Public Employees' Union, said that the rallies were aimed at thanking Abbas for resisting "pressure and conspiracies and upholding Palestinian rights."
The pro-Abbas rallies have drawn criticism from some Palestinians, who said they seemed reminiscent of demonstrations organized by dictators and their security agencies throughout the Arab world.
"These rallies are not real," complained West Bank university professor Abdel Sattar Qassem. "They are similar to what Arab intelligence agencies have been doing -- using blackmail and intimidation to force their public servants to show loyalty for the ruler."
Abbas is now hoping to turn himself into a hero by telling his people that he had the guts to say no to Obama and Kerry during his visit to Washington.
Abbas is badly in need of public support, especially in light of increased tensions inside his ruling Fatah faction. In the past few days, these tensions have erupted into an all-out confrontation between Abbas and ousted Fatah Central Committee member Mohamed Dahlan.
Backed by some Gulf countries, Dahlan, a former commander of the PA security forces in the Gaza Strip, is now waging a public campaign to overthrow Abbas on charges of corruption and abuse of power. Abbas has retorted by accusing Dahlan of involvement in the death of Yasser Arafat and six Fatah leaders in the Gaza Strip.
"This is a disgraceful war between Abbas and Dahlan," wrote Palestinian editor Abdel Bari Atwan. "We feel ashamed as we follow the exchange of allegations between the two men, who are accusing each other of theft, murder and collaboration with Israel. The Palestinians have become a joke in the eyes of many Arab brothers."
Abbas's rejection of the U.S. proposals is also attributed to the severe crisis within Fatah.
If in the past Abbas was afraid of Hamas's response to the signing of a peace agreement with Israel, it is now clear that he also has good reason to fear the reaction of top Fatah officials to any move he makes concerning the peace process.
All Abbas can do for now is continue to ask his public servants and schoolchildren to take to the streets and chant slogans in his support. These rallies are intended to send a message not only to Obama and Kerry, but also to Abbas's rivals in Fatah.