Palestinian Authority President Mahmoud Abbas is busy these days trying to persuade the West to accept his recent unity accord with Hamas.
Abbas is especially interested in winning the backing of the U.S. and EU for the deal with the Islamist movement because his Palestinian Authority is almost entirely dependent on American and European financial aid.
Abbas's main argument is that the "reconciliation" deal with Hamas, signed last month in the Gaza Strip, would not affect the peace process with Israel.
Abbas was quoted as saying that there is "no contradiction" between the unity deal and the peace talks with Israel and that he remains committed to a "just peace on the basis of a two-state solution in accordance with international legitimacy."
Earlier, Abbas, in the context of his efforts to calm the U.S. Administration and EU governments over the unity accord, declared that the new Palestinian government would recognize Israel and reject violence. His remarks, however, have been strongly denied by Hamas leaders, who say their movement intends to pursue "jihad" against Israel.
Musa Abu Marzouk, deputy chairman of Hamas's political bureau, announced that his movement would never recognize Israel. "This is a red line that cannot be crossed," he said.
In other words, Hamas is telling everyone not to believe Abbas when he says that the Palestinian unity government will renounce violence and recognize Israel's right to exist.
This week, further evidence emerged that Hamas has no intention of changing its ideology in the wake of the unity agreement with Abbas's Fatah faction.
Hamas's two most senior representatives, Khaled Mashaal and Mahmoud Zahar, have both made it clear that their movement is planning to continue "resistance" actions against Israel even after the formation of the unity government. They also emphasized that Hamas has no intention of dismantling its military wing, Izaddin al-Kassam, as part of the unity accord.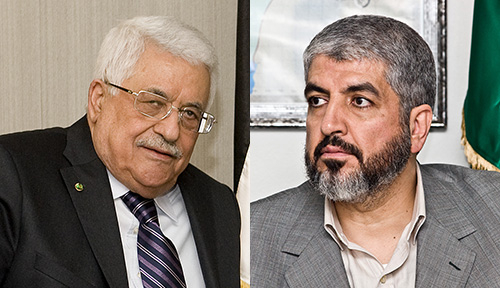 Mahmoud Abbas (left) and Khaled Mashaal. (Image source: Abbas - European Union / Mashaal - Wikimedia Commons)
Asked about the possibility that Hamas would disarm, Zahar said: "Who is this crazy guy who would be able to go to the resistance groups and and ask them to hand over their weapons? Who would dare to do so?"
Zahar also disclosed that Hamas is planning to take advantage of the unity deal to move its terror attacks against Israel to the West Bank. Worse, he declared that after its men set foot in the West Bank, Hamas will target Palestinians who "collaborate" with Israel. "Who said that those who are conducting security coordination with Israel would remain forever?" he asked, referring to the Fatah-dominated security forces in the West Bank.
Zahar, who also said that Hamas would pursue the fight against Israel until the "liberation of all Palestine," is in fact sending a warning message to the Western-funded Palestinian Authority security forces in the West Bank. "We believe in what was mentioned in the Quran: that Palestine, all of Palestine, will be liberated," he added. "The Israeli entity should expect more from Hamas after our rockets reached Tel Aviv."
His remarks may also been seen as a direct and personal threat to Abbas, who has repeatedly vowed to continue security coordination with Israel.
Mashaal, for his part, also vowed that Hamas will never abandon the armed struggle against Israel. Like Zahar, he sees the "reconciliation" as an opportunity for Hamas and all Palestinians to "solidify the resistance" against Israel.
"The reconciliation and politics are not an alternative to resistance," he said. The reconciliation will actually consolidate the resistance. Our steadfast people are continuing to move from one revolution to another and from one intifada to another until the liberation of Palestine."
Abbas says that the unity agreement with Hamas is a chance to bolster the peace process and achieve the two-state solution. This is the message that Abbas is trying to relay to the international community, above all, to American and European donors.
Hamas, on the other hand, considers the unity agreement with Fatah an opportunity to extend its control beyond the Gaza Strip and use the West Bank as a launching pad for more terror attacks against Israel.
The international community does not seem to be listening to what Hamas is saying.
Ignoring Hamas's declared intentions will pave the way for the movement to use the unity agreement to seize control over the Palestinian Authority and many parts of the West Bank. It will also facilitate Hamas's plans to launch terror attacks from the West Bank against Israel.
It now remains to be seen whether the U.S. Administration and EU governments, by blindly endorsing the new unity government, will help Hamas to achieve its goals.