Thousands of schoolgirls in the United Kingdom are at high risk of undergoing female genital mutilation [FGM] during this year's summer break, according to the British government, which is actively promoting several nationwide campaigns aimed at raising awareness of the spiraling problem.
The summer holiday—often referred to as the "cutting season"—is an especially dangerous time for at-risk girls, anti-FGM activists warn. Many families consider the summer to be a convenient time to carry out the procedure because there is time for the girls to heal before they return to school in the fall.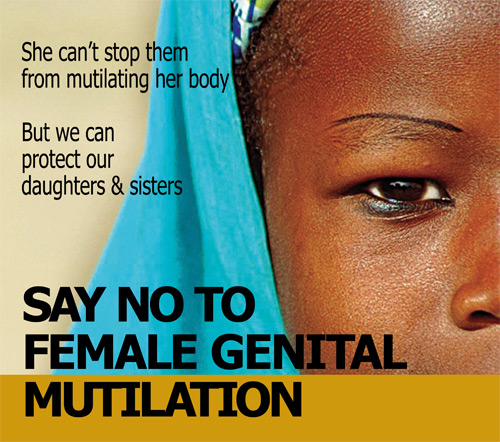 Part of an anti-FGM poster produced in the UK by the Metropolitan Police in conjunction with community organizations.
British girls are often sent abroad during the summer to be mutilated by "house doctors" in their ancestral countries. Others are being sent to Dubai and Singapore for a more "medicalized" form of FGM. But equally large numbers of girls are being cut in Britain, according to London's Metropolitan Police Service.
More than 20,000 girls under the age of 15 are believed to be at high risk of FGM in England and Wales this year alone, according to government estimates.
Britain's FGM problem is massive and growing, and observers say the solutions implemented so far to reverse the trend have been largely ineffective. Despite years of private and public sector efforts aimed at stopping the practice, there is now a very real sense that the UK's fight against FGM is failing to gain traction.
FGM—which involves the removal of the clitoris and part of the labia minora under the pretext that this will protect a girl's chastity—is endemic in Muslim-majority countries across Africa, Asia and the Middle East.
Three million girls between infancy and age fifteen are subject to FGM every year, and it is believed that 140 million women worldwide are suffering from the lifelong consequences of the practice.
FGM has emerged as a major problem in Europe due to mass immigration. The European Parliament estimates that 500,000 girls and women in the European Union are living with FGM, and every year another 180,000 girls in Europe are at risk of being "cut."
Britain has the highest levels of FGM in Europe. According to a government-funded study published in 2007, at least 66,000 women and girls in Britain have had the procedure performed on them, and more than 23,000 girls under the age of 15 are currently at risk.
These figures, however, may be only the tip of the iceberg. A 2011 Department of Health policy paper warns that "it is possible that, due to population growth and immigration from practicing countries…FGM is significantly more prevalent than these figures suggest."
FGM is thought to be common in Britain among immigrant groups from Egypt, Eritrea, Ethiopia, Gambia, Indonesia, Iraq, Kenya, Kurdistan, Liberia, Mali, Nigeria, Northern Sudan, Pakistan, Sierra Leone, Somalia and Yemen.
Although FGM has been illegal in the UK since 1985—anyone convicted of carrying out FGM or helping it to take place faces a maximum sentence of 14 years in prison—there has yet to be a successful prosecution in British courts.
Britain's first-ever FGM-related trial was held at the Westminster Magistrates' Court on April 15 and a ruling is expected soon. But the case has been mired in controversy.
Public prosecutors allege that after an unidentified patient gave birth at the Whittington Hospital in London in November 2012, a 31-year-old doctor in obstetrics and gynecology named Dhanuson Dharmasena "repaired FGM that had previously been performed on the patient" years earlier, thus allegedly carrying out the same crime himself.
Dharmasena is alleged to have been encouraged to perform the FGM by a 40-year-old London man named Hasan Mohamed, believed to be a relative of the patient. If they are found guilty, both men face up to 14 years in prison.
Anti-FGM campaigners say the prosecution represents an important step forward in eliminating FGM in Britain, but doctors and other medical staff who specialize in treating women who are victims of FGM claim that Dharmasena is an innocent victim of political pressure to get a first conviction at any cost.
In any event, public prosecutors admit they have discontinued work on four other allegations of FGM after determining there is "insufficient evidence to demonstrate a realistic prospect of conviction."
The director of public prosecutions, Alison Saunders, told the Guardian that the Crown Prosecution Service had received only 11 referrals—involving a total of just five FGM cases, four of which have been dismissed—during the past several years.
Saunders said the lack of prosecutions is due to a lack of evidence rather than flaws in the legislation. Underage victims of FGM are, more often than not, afraid to speak out against family members. As a result, the abuse usually remains hidden until the children become adults.
The Metropolitan Police Service [Met] is now pursuing an alternative strategy by going after the cutters rather than the parents. In an interview with the London Evening Standard, Met Commissioner Sir Bernard Hogan-Howe said:
"This is a terrible situation for young girls. So our strategy is to target the cutters. They are hurting a lot of people and making profit from it. We realize why sometimes people don't want to complain against parents, but I think there's no excuse for them to fail to give information about cutters."
Hogan-Howe failed, however, to reveal how many cutters have actually been arrested.
In early May, the Met also launched a one-week anti-FGM campaign—dubbed Operation Limelight—at London's Heathrow Airport and six other major airports in the UK. Police focused on flights to and from countries where FGM is widespread in the hopes of intercepting families who might be taking their children abroad for the practice. But after seven days of baggage searches and other "intelligence-led" checks, police made only one arrest, after the FGM had been carried out.
Meanwhile, the Secretary of State for Education, Michael Gove, has been urging teachers to be vigilant in protecting female students against possible FGM ahead of the summer holidays. On May 25 he sent out an email to all schools in England and Wales with "guidance" that tells teachers how to identify girls who are at risk or who have suffered mutilation.
Gove's email was his second on the subject in as many months because very few head teachers in the UK even bothered to read his first email.
On May 22, the London Evening Standard published data based on a Freedom of Information request which showed that Gove's guidance on FGM was sent to 2,922 head teachers in London. Of these, 1,534 opened the email, but only 1,198 "clicked through" to actually read it.
The revelation prompted renewed warnings from MPs and anti-FGM campaigners that schools are failing to take sufficient action to protect girls from mutilation.
Keith Vaz, chairman of the Commons Home Affairs Select Committee, which is conducting an inquiry into FGM, described the response of London head teachers as "dreadful" and called on Gove to ensure that the guidance was read by all staff. He said:
"I am deeply concerned by how few head teachers have even opened the email from Michael Gove. A second email must be sent which is marked urgent and shows that it includes information on possible child abuse in their schools. It is imperative that this guidance reaches the frontline."
The founder of the anti-FGM campaign group Daughters of Eve, Nimco Ali, who is herself a victim of FGM, said the data showed that head teachers were ignoring the problem of mutilation and adding to the risks that girls faced. She said:
"These figures are disappointing and again show the reality that head teachers see the protection of girls as someone else's issue. For protection to become a reality, head teachers need to take the issue seriously."
Amid the apparent apathy vis-à-vis FGM, the National Society for the Prevention of Cruelty to Children (NSPCC) in early June launched a nationwide poster campaign aimed at mothers and care-givers who suspect a girl is at risk of FGM.
The posters—placed in 17 London boroughs, in Birmingham, Manchester, Leicester, Bristol, Sheffield, Liverpool and Cardiff—urge women, particularly those in Somali, Kenyan and Nigerian communities which have a high prevalence of FGM, to call an NSPCC-dedicated helpline (0800 028 3550) to report suspicions anonymously, or to ask for help and advice if their own daughter is at risk.
The posters are being placed in public restrooms and also in schools, police stations and hospitals until August to reach communities during the school holidays when most girls are at risk.
For now, anti-FGM organizations say the greatest success in the fight against FGM so far has been a purported decision by the Muslim Council of Britain [MCB], the most prominent Muslim organization in Britain, to declare that female genital mutilation is contrary to Islam.
The MCB—which is closely linked to the Muslim Brotherhood—has promised to distribute leaflets in 500 mosques and community centers across the UK in an effort to end FGM. It said that it was "not true" that mutilation was a Muslim requirement and that instead one of the "basic principles" of Islam was that followers should not harm themselves or others.
The MCB leaflet states:
"FGM is not an Islamic requirement. There is no reference to it in the holy Qur'an that states girls must be circumcised. Nor is there any authentic reference to this in the Sunnah, the sayings or traditions of our prophet."
According to the MCB, FGM could cause severe pain, bleeding, and problems in pregnancy and even death, as well leaving some victims with lasting psychological torment. Above all, however, the MCB says, FGM is bringing Islam "into disrepute."
If genuine, the MCB's about-face on FGM should be commended. Up until now, however, the group has not published any statement rejecting the practice on its website.
Moreover, the fact remains that FGM is doctrinally, historically, geographically and juridically linked to Islam.
The intellectual leader of the Muslim Brotherhood, Yusuf al-Qaradawi, wrote in a fatwa [Islamic legal opinion] dated February 15, 2014 that: "whoever finds it serving the interest of his daughters should do it, and I personally support this under the current circumstances in the modern world."
Soeren Kern is a Senior Fellow at the New York-based Gatestone Institute. He is also Senior Fellow for European Politics at the Madrid-based Grupo de Estudios Estratégicos / Strategic Studies Group. Follow him on Facebook and on Twitter.