Imagine you are a person of Christian faith living as a citizen in the Islamic Republic of Pakistan: every moment your life is at risk. Imagine a Pakistani Muslim shouting that you have burned a page of holy Quran when you have not; or accusing you of having desecrated the Prophet Mohammed: you have hardly any chance of saving yourself. There would be no question of providing evidence or proof against you. You would be killed either by the mob or by the country's legal system.
If you were one of the 3% minority Christians of Pakistan, you would fear for your life every moment among the majority Muslims; any one of them could shout and point at you as the Nazi collaborators did during the Second World War against the Jews. You inevitably would be beaten to death by your fellow countrymen.
This month in Pakistan, a Christian couple and their unborn child were burned to death, because of a false accusation of burning pages of a Quran.
Local villagers, called through the mosque's loudspeakers, came by the hundreds. They tore apart the room where Shama Bibi and her husband, Shahzad Masih, had taken shelter and took the couple out by force.
The mob beat them and broke their legs so they would not be able to flee. They were then held over an open kiln until their clothes caught fire. "They picked them up by the arms and legs and held them over the brick kiln until their clothes caught fire. And then they threw them inside the furnace," according to Javed Maseeh, a spokesman for the family. When Shama's clothes would not burn, the mob wrapped her in cotton "so she would set alight faster."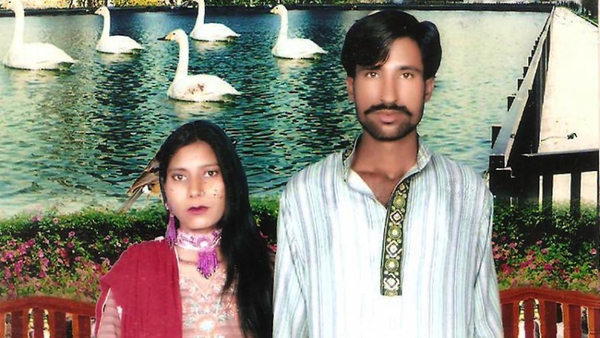 Shama Bibi (left) and Shahzad Masih, a Christian couple and parents of three children, were burned to death by a Muslim lynch mob in Pakistan because of a false blasphemy accusation.
As is typical in these cases, a Muslim man said that he had witnessed Shama Bibi, 24, a Christian mother of three and four months pregnant, burning pages of a Quran. The accuser went to the neighboring villages in the Kasur district and incited the Muslims against her and her husband. On November 12, 2014, about 1,000-2,000 people from five nearby villages gathered at the clay kiln in the village of Chak (south of Lahore), where the couple lived and worked as indentured laborers.
While the Masihs were burning to death and crying out their innocence, the mob was shouting "Allahhu Akbar!" ("Allah is Greater!"), "Death to the blasphemer!" and "Kill the infidel Christians!"
The murders followed reports that Shama Bibi had carried out a cleansing ritual on Sunday evening, after the death of her father-in-law. She had collected some unneeded possessions of the deceased and burned them.
This incident is not an isolated one. Rather, seems to be part of systematic killings, community by community.
People of a country learn their way of life in the light of the country's laws. Many people around the word consider that the constant slaughtering of Christians in Pakistan is morally supported by the country's destructive blasphemy law, used and often abused whether anyone has blasphemed or not. Pakistan's Penal Code states that the desecration of the Quran is punishable by life imprisonment under section 295c, while insulting Muhammad can merit the death penalty.
The Prime Minister of Pakistan, Nawaz Sharif, in his reaction to the murder of the couple, said, "The murderers of Christian couple will be brought to justice. It is unacceptable. A responsible state cannot tolerate mob rule and public lynching with impunity."
Many, however, assumed Sharif's statement to be nothing but parroted rubbish. Father James Channan, coordinator of the United Religions Initiative and director of the Peace Center of the Dominican Order in Pakistan, said," Our present government has the worst record of not punishing the culprits of these cases. All of them are set free after a short time. There is a big question for us: Where is justice?" He stated what has long been known, that Pakistan's controversial blasphemy laws were subject to widespread abuse and were frequently invoked to settle personal scores.
The president of the Pakistan Christian Congress, Dr. Nazir Bhatti, said, "There are blasphemy cases registered in more than a dozen police stations. While the courts have ordered the arrest of one Muslim media station boss and another Muslim artist from a TV channel, they are enjoying a police escort and attending meetings, and no one dares to arrest them. But one false allegation of blasphemy, and the police put Christians behind bars, and courts award them death sentences. That practice indicates that blasphemy laws are only legislated to target religious minorities in Pakistan."
He added that in Pakistan, blasphemy laws are a license to kill Christians at the hands of Muslims.
"The incidents of violence against Pakistani Christians and the Ahmaddyia community have risen to 200% after becoming PML in power in the province of Punjab," said Dr. Bhatti. The Chief Minister of Punjab province, Shehbaz Sharif of the Pakistan Muslim League (N) [PML-N], is the younger brother of Pakistan's current Prime Minister, Nawaz Sharif, commonly known as the Lion of Punjab. Both Prime Minister Sharif and his brother were extremely loyal to the late General Zia-ul-Haq, who was solely liable for introducing the harsher blasphemy laws in early 1980s. In the period of 1984-2004, 964 people were charged with blasphemy, including 119 Christians.
Among those charged with blasphemy, 35 people were killed extra-judicially. About 81% percent, or two million, of Pakistan's Christian population live in Punjab province.
Moreover, the fundamentalist madrassa schools of Pakistan have become an influential power supporting the blasphemy laws. Pakistan has 16,059 high schools and 15,725 madrassas. Total madrassa attendance stands at 1.5 million students, while the regular schools have 1.6 million students. These religious schools are producing a particular world-view called Alem-e-kufr (the World of Infidels). The concept of these religious schools is: "The world is divided into two antagonistic parts: the Islamic world, and the infidel world. With little common ground between them both, clash is eternal, natural and unavoidable, because the forces of evil and forces of good are predestined to be at war. The West is after us, they want to destroy Muslims, Islam and our culture."
Sadly, the leadership and media of the West do not even notice that three million Christians in Pakistan live in fear for their lives. While some international organizations are struggling to make blasphemy laws obsolete, the world's most powerful leaders have been mostly silent about these crimes.
Dr. Nazir S. Bhatti remarked in a letter to U.S. President Barack Obama that the U.S. Administration -- the custodian of human rights, liberty and freedom of speech and expression around the world -- did not even bother to condemn the horrific murder of the Christian couple by Islamic extremists in Pakistan. Moreover, the U.S. State Department has never uttered any comments at all about Christian persecution or the genocide of Christians.