Mahmoud Abbas's ruling Fatah faction in the West Bank is trying to divert attention from its problems at home by further inciting Palestinians and the international community against Israel.
In recent weeks, Fatah gunmen and Palestinian Authority [PA] policemen have been clashing almost on a daily basis in the Balata and Jenin refugee camps in the northern West Bank. Meanwhile, Fatah leaders have been busy badmouthing each other -- a sign of deepening divisions among the faction's top brass.
This incitement, which includes reviving the old disproven claim that Israel was behind the 2004 death of Yasser Arafat and calls for boycotting Israeli companies, is playing into the hands of Hamas and other Palestinians who are opposed to any peace process with Israelis.
During his recent visit to Sweden, Abbas announced that he would work to revive the peace talks with Israel. But while Abbas was talking in Stockholm about his intention to resume peace talks, leaders of his Fatah faction in the West Bank were sending a completely different message to Palestinians.
Unlike Abbas, these leaders were not talking about any peace process with Israel. Instead, they were making statements that would only radicalize Palestinians and give them reason to hate Israel even more.
Not surprisingly, the voices of the Fatah leaders, closely associated with the Palestinian Authority president, did not reach the government officials in Sweden, who went out of their way to roll out the red carpet for Abbas.
So while Abbas was inaugurating the Palestinian Embassy in central Stockholm, the first-ever Palestinian embassy in Western Europe, his officials held a press conference in Ramallah to announce a boycott of Israeli companies.
At the press conference, Mahmoud Aloul, a senior Fatah official, announced a new campaign to boycott products made by six Israeli food companies. Aloul warned Palestinian shopkeepers to clear their shelves of the Israeli products within two weeks. "Activists of all Palestinian factions will be touring the territories to confiscate the products after the two-week deadline," he said.
The latest Fatah-led campaign is not the first of its kind. In the past, Fatah activists in the West Bank have played a major role in the "anti-normalization" campaign, aimed at foiling any meetings between Palestinians and Israelis. The Fatah activists are even opposed to soccer matches between Israeli and Palestinian children and meetings that bring together journalists from both sides.
Further, while Abbas held talks in Brussels this week with European Union leaders, including European Parliament President Martin Schultz, about ways of reviving the peace process with Israel, another senior Fatah official repeated the fabricated charge that Israel was behind the "poisoning" of Yasser Arafat.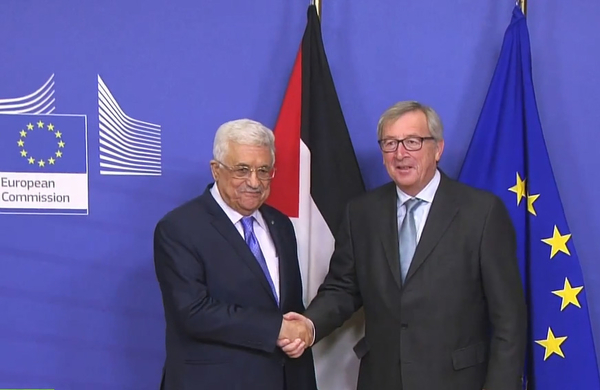 EU leaders, such as European Commission Jean-Claude Juncker (right), who met with Mahmoud Abbas (left) last week, are either unaware of anti-Israel incitement by his Fatah faction or simply prefer to bury their heads in the sand. (Image source: RT video screenshot)
Tawfik Tirawi, member of the Fatah Central Committee and former commander of the Palestinian Authority's General Intelligence Service in the West Bank, made the "dramatic revelation" during an interview with a Palestinian TV station in Bethlehem.
According to Tirawi, who heads the Palestinian commission of inquiry into Arafat's death, "We have managed to identify the person who put the poison [in Arafat's food]. We just need some time to confirm our investigations. But of course we know that Israel was behind the assassination operation. But we are searching for the person who was directly involved."
Tirawi did not reveal the identity of the person allegedly involved in the death of Arafat. Nor did he provide any evidence that Israel was behind the alleged assassination.
Yet by repeating the claim that Israel was behind the death of Arafat, the top Fatah official is simply fuelling more hatred against Israel.
How does such an unfounded accusation against Israel contribute to Abbas's reported talk about renewing the peace process? And how do calls for boycotting Israelis and their products pave the way for peace and coexistence?
These are only two recent examples of how Abbas and the Fatah-dominated Palestinian Authority are leading their people toward eternal confrontation, and not reconciliation, with Israel.
Add to this the daily threats by Abbas and the PA leadership to file "war crimes" charges against Israelis with the International Criminal Court. Once you state that your goal is to punish and boycott Israel, it becomes extremely difficult to talk about any peace process in the future.
Abbas and his "moderate" Fatah faction have not only failed to prepare their people for peace with Israel; they continue to whip up anti-Israel sentiment among Palestinians and other Arabs. If Abbas and Fatah have already determined that many Israelis are "war criminals" who also poisoned Yasser Arafat, how can they ever return to any negotiating table with Israel? How will they then justify to their people that they agreed to resume peace talks with "war criminals?"
Fatah's anti-Israel incitement and campaign to delegitimize and isolate Israel has made it unsafe even for Palestinian children to play soccer with Israelis. Under the current circumstances, it has also become dangerous for Israeli peace activists to visit Ramallah and meet Palestinian colleagues.
The EU leaders who met with Abbas last week are either unaware of the anti-Israel incitement by his Fatah faction or simply prefer to bury their heads in the sand. In both cases, the EU is not helping advance the cause of peace in the Middle East. On the contrary, the EU continues to turn a blind eye to this anti-Israel campaign, and is generously funding it through dozens of NGOs in the Palestinian territories.