On May 7, the British electorate will go to the polls in the 2015 general election. Voters will elect their local members of parliament. It seems voters may not, however, be able to choose their next government.
As in 2010, current polling data suggests a hung parliament, in which no political party can achieve an outright majority. Governance requires the confidence of the House of Commons. Of the 650 parliamentary seats, then, a ruling coalition requires the backing of at least 326 MPs.
For the past five years, Prime Minister David Cameron's Conservative Party has retained the confidence of the House through a reasonably successful and stable coalition with the Liberal Democrats.
This time around, however, things are not so simple. For the first time, special interest and minor parties look set to have a powerful influence over the next government. If, as looks likely, neither the Conservatives nor the Labour Party is able to achieve an outright majority, coalitions with smaller parties will become a necessity.
The Liberal Democrats, the UK Independence Party, the Green Party, the Scottish National Party, Wales's Plaid Cymru and Northern Ireland's Democratic Unionist Party are all possible members of the next coalition government of Labour or the Conservatives.
The political future is uncertain. Amid the anticipated negotiations of coalition-building, promised policies may be quickly abandoned by those political parties desperate to compromise for the sake of power.
For those monitoring counter-extremism issues, the influence of smaller parties is cause for concern.
What approach do the prospective members of the next government take towards the question of Islamic extremism?
Conservatives
Since 2010, the Conservative Party has repeatedly stressed its overhaul of the previous government's counter-extremism programs. In 2011, the government published its review of the PREVENT counter-extremism program, in which Home Secretary Theresa May wrote:
"The Prevent programme we inherited from the last Government was flawed. It confused the delivery of Government policy to promote integration with Government policy to prevent terrorism. It failed to confront the extremist ideology at the heart of the threat we face; and in trying to reach those at risk of radicalisation, funding sometimes even reached the very extremist organisations that Prevent should have been confronting."
Also in 2011, Prime Minister David Cameron gave a much-discussed speech in Munich, in which he acknowledged the flaws of multiculturalism policy and previous counter-extremism efforts:
"Under the doctrine of state multiculturalism, we have encouraged different cultures to live separate lives, apart from each other and apart from the mainstream. ... We've even tolerated these segregated communities behaving in ways that run completely counter to our values."

...

"As evidence emerges about the backgrounds of those convicted of terrorist offences, it is clear that many of them were initially influenced by what some have called 'non-violent extremists', and they then took those radical beliefs to the next level by embracing violence. ... Some organisations that seek to present themselves as a gateway to the Muslim community are showered with public money despite doing little to combat extremism. As others have observed, this is like turning to a right-wing fascist party to fight a violent white supremacist movement."
On the face of it, the Conservative-led government has responded forcefully to extremist influence in the public sphere.
After British newspapers revealed the extent of Islamist influence within state-funded schools – a scandal that has since become known as the Trojan Horse plot – the government immediately established an inquiry and toughened up the monitoring procedures of Ofsted, the schools watchdog. Dozens of schools are being investigated, and up to 100 teachers accused of Islamist links could be banned from working in schools.
In addition, the government has drafted legislation designed to give the Charity Commission greater powers to shut down charities linked to terrorism. Further anticipated legislation will target sharia courts, fight "extremist entryism" in schools and local government, and tackle "hate preachers" in universities.
Some critics argue, however, that many of the government's promises are largely bluster. The government's "review" of the Muslim Brotherhood, for example, has still not published its report – a full year after David Cameron announced an inquiry.
After the Prime Minister and Home Secretary's promises of reform, some extremist organizations have continued to receive taxpayers' money from the Conservative-led government. Between 2011 and 2014, for instance, the government granted £1.5 million of taxpayers' money to Islamic Relief, the flagship charity of the Muslim Brotherhood network in Britain.
In Gaza, Islamic Relief funds Hamas-run institutions such as the Al-Falah Benevolent Society. Islamic Relief fundraising events have featured preachers such as Haitham Al-Haddad, who describes Jews as "pigs and apes;" and Abdurraheem Green, who advocates beating women in order to "bring them to goodness."
Similarly, the Federation of Student Islamic Societies has continued to enjoy the support of senior civil servants, despite Home Secretary Theresa May's condemnation of the group for its failure to "fully challenge terrorist and extremist ideology."
Mosques that promote anti-Jewish, anti-Western and pro-terror preachers have also continued to receive public funds. In 2014, the East London Mosque, one of the most prolific centers in Europe for extremist preachers, was granted £154,358 of public money, drawn from local government, school and healthcare funds.
Also in 2014, the Finsbury Park Mosque, run by fugitive Hamas commander Muhammad Sawalha, received £20,000 from local government sources.

Even after David Cameron acknowledged that state multiculturalism had "encouraged... segregated communities," the government nevertheless continued to support the Islamist grip over British Muslims. Although the Muslim Council of Britain (MCB), for example, was officially cut off from government in 2009 – after one of its officials became a signatory to the pro-terror and anti-Jewish Istanbul Declaration – the Conservative-led government continued to work with the MCB through other channels.
The Ministry of Defence still uses the MCB to accredit Muslim chaplains serving in Britain's armed forces. The MCB also still provides chaplains for public hospitals and prisons, and the Department for Communities and Local Government continues to fund interfaith groups of which the MCB is a leading member. Yet, according to a 2007 survey, 94% of British Muslims believe the MCB does not represent their views.
There is also a strong concern that Conservative ministers are willing to implement measures that threaten free speech. Home Secretary Theresa May has called for a ban on extremists being interviewed on television, speaking at public meetings or using the Internet.
May has also encouraged further use of "Terrorism Prevention and Investigation Measures," which restrict suspects' movements without the need for prosecution. Those under these controls are not allowed to challenge the restrictions or even know why they are subject to such measures.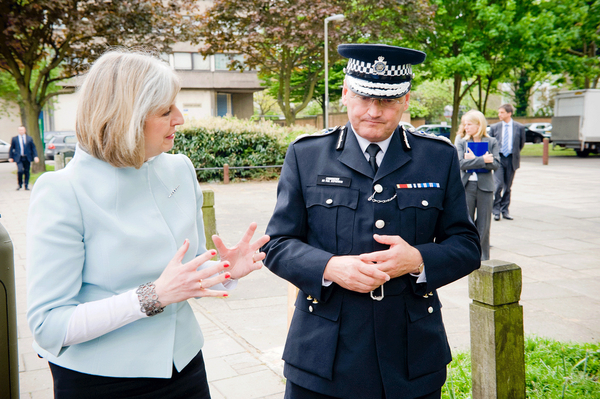 A law proposed by UK Home Secretary Theresa May (left) would target terror suspects by measures such as confiscating passports, denying use of the internet and telephones, restricting domestic travel, and forcible relocation. (Image source: UK Home Office)
The Conservative's manifesto promises a Conservative government would:
Outlaw extremist groups using new "Banning Orders."
Establish "Extremism Disruption Orders" to ban designated "extremists" from "using the internet or communicating via social media."
"Tackle the infiltration of extremists into our schools and public services."
Take "tough measures...against [television] channels that broadcast extremist content."
Allow employers to "check whether an individual is an extremist and bar them from working with children."
"Ensure colleges and universities do not give a platform to extremist speakers."
Labour
The decade after the September 11 attacks was financially and politically rewarding for British Islamism. The then-Labour government, under Prime Ministers Tony Blair and Gordon Brown, poured enormous amounts of taxpayers' money into the wallets of radical Islamic groups.
The Labour government did so under the assumption that "nonviolent" extremists would act as a check on the influence of violent extremists.
The government's counter-extremism program, PREVENT, funded Muslim Brotherhood and Jamaat-e-Islami groups such as the MCB and the Cordoba Foundation. At the time, the MCB periodically boycotted Holocaust Memorial Day, expressed support for Hamas terrorists and blamed Islamic terrorism on British foreign policy and media-driven Islamophobia.
Prominent Labour ministers spoke at Muslim Brotherhood events such as the Global Peace and Unity conference, alongside preachers such as Zakir Naik, who advocates suicide bombings and claims Jews are the enemies of Muslims.
Not everyone in the Labour government, however, was so enamoured of Muslim Brotherhood groups. Communities Secretary Ruth Kelly and her successor, Hazel Blears, eventually realized that the MCB's Islam was not so different from that of the jihadists.
In 2006, Kelly decided to cut funding for the MCB and any other organization that does not "stand up for our shared values." In 2009, Hazel Blears severed relations with the MCB completely after its deputy secretary general, Daud Abdullah, signed a Muslim Brotherhood statement "supporting violence against troops and Jewish communities."
Fast-forward to 2015, and Ed Miliband's Labour Party appears to have forgotten – or perhaps is deliberately ignoring – the lessons learnt from the PREVENT fiasco.
The Labour manifesto explains:
"The Prevent programme was set up under the last Labour Government to stop young people becoming radicalised. But this [Conservative] Government has cut the funding and narrowed its focus. Much of the work to engage Muslim communities has been lost.

We will overhaul the programme to involve communities in countering extremist propaganda, stopping young people being groomed, and also building resilient institutions for social integration."
Labour's manifesto offers nothing more on the issue of extremism. It seems that a future Labour government is likely to welcome Islamist groups such as the MCB back into the fold.
Recent Labour Party events, in fact, have featured MCB stalwarts such as Iqbal Sacranie as well as Muhammad Ali Harrath, a convicted terrorist, former leader of the Tunisian Muslim Brotherhood and founder of the extremist Global Peace and Unity conferences.
After 2010, the Labour shadow cabinet included MPs such as John Denham, who, in the last days of the Labour government, sought to restore ties with the MCB.
The Muslim News has reported that, in a recent interview, Labour leader Ed Miliband promised to criminalize "Islamophobia". Miliband reportedly said, "We are going to make it an aggravated crime. We are going to make sure it is marked on people's records with the police to make sure they root out Islamophobia as a hate crime."
If Labour wins the upcoming elections, the next government will include a number of ministers with strong Islamist ties:
Andy Slaughter, the shadow Justice Minister. Slaughter has frequently spoken at events run by Islamist groups aligned with the terrorist group Hamas, such as the Palestinian Forum of Britain and the Arab Organisation for Human Rights. In 2010, Slaughter met with senior representatives of Hamas.
Slaughter has also expressed praise for the Al-Muntada Trust, a Salafist charity that has given platforms to financiers of the Islamic State and is reported to be funding the Nigerian terrorist group Boko Haram. In 2013, Slaughter hosted an event for the Al-Muntada Trust in the House of Commons.
Sadiq Khan, the shadow Justice Secretary. In 2013, Khan, along with Andy Slaughter, was listed as a speaker at the Muslim Brotherhood's Global Peace and Unity conference. Other speakers included Yasir Qadhi, who claims the Holocaust is a hoax; Jamal Badawi, a Muslim Brotherhood activist who describes suicide bombers as "freedom fighters;" and Yusuf Estes, who advises husbands to beat their wives.
Khan is a prominent supporter and "friend" of Babar Ahmad, a British Islamist convicted on terrorism charges by a U.S. court in 2014.
Shabana Mahmood, a shadow Treasury Minister. Mahmood is a vocal supporter of MEND, an Islamist lobby group described by the Daily Telegraph as a "front group of Islamic extremists."
In 2014, Mahmood spoke at a MEND event alongside Abdul Qudues Zafar, a MEND official who has circulated music videos in support of Bin Laden and Al Qaeda, and has posted videos claiming that the "New World Order" is run by a "Zionist Antichrist."
Mahmood advocates a boycott of Israeli goods and encourages anti-Israel activists to take "direct action" against British firms that do business in Israel.
Liberal Democrats
In 2011, Conservative Prime Minister David Cameron announced that the government would reform its approach to extremism. Immediately afterwards, Deputy Prime Minister Nick Clegg, leader of the Conservatives' coalition partner, the Liberal Democrats, gave a very different speech in the British city of Luton.
In contrast to David Cameron, Clegg argued that "engagement" was important, even with non-violent extremists:
"To take one example, the Global Peace and Unity conference attracts around fifty thousand British Muslims each year and is an important opportunity to engage in argument -- and so Andrew Stunell, the Government's Communities Minister did this year. Simon Hughes, the Liberal Democrat Deputy Leader, also spoke at the event.

Now there may well have been a small minority of organisations and individuals at that event with deeply unpalatable, illiberal views.

But you don't win a fight by leaving the ring. You get in and win."
At the conference Clegg cited, the Daily Telegraph reported that, "Items glorifying terrorism were on open sale... Also available were 'shahada headbands' as worn by many Palestinian suicide bombers... The headbands contain the personal testimony of the suicide bombers."
Furthermore, Global Peace and Unity conference does not merely include a "small minority" of "illiberal" organizations; it was established and run, as mentioned before, by extremist Muslim Brotherhood operatives. And as the Gatestone Institute has previously noted, the clear majority of speakers at the Global Peace and Unity conferences have been pro-terror, anti-gay and anti-Jewish Islamist preachers.
The marked divide between Cameron and Clegg has constrained counter-extremism policy over the last five years. Most recently, the Liberal Democrats blocked Conservative proposals to ban extremist speakers who "preach death" or incite terrorism, on the grounds that such measures erode free speech.
The Liberal Democrat manifesto offers little on the subject of the extremism. It simply states:
"We will work with religious and community leaders, civil society groups and social media sites to counter the narratives put forward by extremists, and create the space for the expression of contrary viewpoints and religious interpretations."
UK Independence Party (UKIP)
The UKIP manifesto mentions extremism and terrorism just once – in conjunction with an isolationist foreign policy:
"UKIP acknowledges there are real, existential threats around the world. The rise of Islamic extremism is at the forefront of this and, indeed, is possibly the most important battle of our generation. But the fight with and against this ideology is not best fought on a battlefield 3,000 miles away, but at home, where we have significant problems of radicalisation and incitement to terrorism."
The UKIP is frequently described as a "right-wing populist party," and leader Nigel Farage has previously claimed that British mosques have been infiltrated by Islamist hate preachers, and that state multiculturalism policy had created a "fifth column" of Islamic extremists.
The UKIP's foreign policy, however, appears tolerant of the Russian-Iranian axis. The UKIP manifesto claims that, "European Union expansionism is putting us increasingly, unnecessarily, at loggerheads with Russia." Farage has argued that the West should not oppose Russian aggression in the Ukraine, because President Putin is "on our side" in the fight against Islamic extremism.
By "Islamic extremism," Farage refers to the threat posed by the Islamic State and other Sunni Islamist terror. Of the Shi'ite Islamist regime in Tehran, however, Farage told a Jewish audience in London that he would not support an Israeli strike against Iranian nuclear facilities: "I do not support acts of aggression, even from countries that feel their existence is threatened. I'd go for a non-intervention policy."
In addition, Farage has expressed opposition to sanctions against the Islamist Iranian regime:
"The approach we have taken with sanctions has been a mistake. By putting sanctions on Iran we have helped foster the view that all the West is against it and Israel's mates have forced Iranians into poverty. A more intelligent approach would have been to love-bomb Iran and give everyone free access to the internet. We can be cleverer about how we deal with issues like Iran."
Green Party
If the UKIP is regarded as the "right wing populist" party that siphons votes from the Conservatives, then the Green Party is considered the left-wing equivalent. The Labour Party has, in fact, identified 22 parliamentary seats in which the Greens pose a threat to the Labour majority.
Although the Greens mostly focus, unsurprisingly, on environmental issues, critics also charge the party with an overly friendly attitude towards Islamist causes and anti-Semitism.
In a recent article for the Forward, Liam Hoare writes of Green Party members circulating articles by "white supremacists," issuing calls to "smash the Zionists," and deeming Green Party members with Jewish surnames to be "Nazi infiltrators" and "agents of Israel."
These reports only skim the surface of the problem. Pippa Bartolotti, leader of the Welsh Greens, has been photographed while posing with the swastika flag of the Syrian neo-Nazi group, the SSNP. The Atlantic has noted that the SSNP pays frequent homage to 1930s European Nazism – members greet their leaders with a "Hitlerian salute."
Bartolotti has objected to the appointment of Jewish ambassadors: "I questioned the wisdom of having a Jewish Zionist ambassador in Israel and stated that their loyalty was a matter for the FCO to investigate. ... From the university of life I have learned that Jews often have a conflict of interest in matters relating to Palestine."
In 2010, Bartolotti travelled to Gaza to meet with senior Hamas leaders Ismail Haniyeh and Mahmoud al-Zahar. Al-Zahar has called for the killing of Jewish children across the world.
Green Party leader Natalie Bennett has expressed support for a complete economic and cultural boycott against Israel – including artists, musicians and academics. In January, Bennett argued that membership of the Islamic State or Al Qaeda should not be a criminal offence.
Deputy Green Party leader Shahrar Ali was recently filmed speaking of Jews: "Just because you observe the niceties of Holocaust Memorial Day it does not mean you have learned the lessons of history." Ali added: "If you tolerate this, your children will be next."
At the last general election, the Green Party and George Galloway's Islamist Respect Party backed each other's candidates in some constituencies. In addition, senior Green Party members have signed up to Muslim Brotherhood campaigns and have regularly shared platforms with prominent British Islamist operatives.
As with the UKIP, the Green Party's manifesto only mentions extremism once. The Party claims that Islamist extremism is a consequence of "ill-advised military interventions," and proposes, without further explanation, "effective programmes to prevent radicalisation."
Scottish National Party (SNP)
The SNP advocates an independent Scotland. After losing a recent referendum on the issue, the SNP has now it turned its attention towards the national parliament in Westminster, where, as a possible coalition partner, it can further Scottish interests and possibly force a second referendum.
Polls suggest the SNP will win a great number of seats in Scotland. A Labour-led coalition is unlikely without SNP support.
Muslim Brotherhood groups have also long enjoyed a friendly relationship with the SNP. In 2005, Hamas's "special envoy" to the UK, Azzam Tamimi, stated, "We have been impressed by the warm and welcoming attitude of the SNP."
Scotland's former First Minister and SNP leader Alex Salmond has shared platforms with prominent Islamist leaders, including Iqbal Sacranie, a leading British Islamist who said of Salman Rushdie that, "Death, perhaps, is a bit too easy for him."
In 2010, the SNP handed £400,000 to the Scottish Islamic Foundation. Counter-extremism experts have stated that the Scottish Islamic Foundation "promotes religious separatism and a range of Muslim Brotherhood-style policies."
At the time, the Scottish Islamic Foundation was managed by SNP candidate Osama Saeed, who has expressed support for the late Al Qaeda leader, Anwar Al-Awlaki. In addition, the Scottish Islamic Foundation arranged in 2008 for Hamas commander Mohammed Sawalha and other prominent Muslim Brotherhood leaders to meet with the SNP culture minister, Linda Fabiani.
In 2013, the SNP Scottish government granted £398,000 to Islamic Relief Worldwide, a leading Muslim Brotherhood charity. Former directors of Islamic Relief Worldwide include Essam El-Haddad, a Muslim Brotherhood leader who is presently on trial in Egypt.
The SNP manifesto offers little on the question of Islamist extremism. It simply states: "We will support targeted, and properly overseen, measures to identify suspected extremists and, if necessary, examine their online activity and communications."
Given the company senior SNP officials have kept, it seems unlikely that these "extremists" would include the SNP's erstwhile Muslim Brotherhood allies.