The Palestinian Authority (PA) has recently come under pressure from Western governments and politicians to hold long overdue elections in the West Bank and Gaza Strip.
But those who are demanding that the Palestinians hold another free and democratic election are ignoring the possibility that Hamas will once again win the vote.
The PA leadership in the West Bank is well aware of Hamas's strong chance of winning the election. That is why PA President Mahmoud Abbas and his ruling Fatah faction are not enthusiastic about the idea.
Abbas and Fatah have yet to recover from the trauma of the January 2006 parliamentary election, which resulted in a victory for Hamas and the subsequent expulsion of the Palestinian Authority from the Gaza Strip.
Recently, Abbas and Fatah suffered another blow when the Hamas-affiliated Islamic Bloc scored a crushing victory in the student council election of Bir Zeit University, in the West Bank. A furious Abbas reacted to the Bir Zeit election by ordering his security forces to arrest several members of the Islamic Bloc in various West Bank universities and colleges. He has also instructed all universities and campuses to call off planned elections for student councils, out of fear that Hamas will win again.
Moreover, Palestinian sources say that Abbas has ordered an inquiry into the circumstances that led to the defeat of Fatah supporters at Bir Zeit University. Senior Fatah officials closely associated with Abbas have reportedly offered to resign over their responsibility for the Hamas victory.
Yet while Abbas and Fatah understand the risk of holding presidential and parliamentary elections, many in the West prefer to continue burying their heads in the sand, refusing to accept reality.
Take, for example, the case of former U.S. President Jimmy Carter, who is now trying to persuade the Palestinians to hold new elections.
On May 2, Carter and members of the "Elders Group" met in Ramallah with Abbas and urged him to work toward holding presidential and parliamentary elections.
Speaking to reporters after the meeting, Carter said: "We hope that sometime we'll see elections all over the Palestinian area and east Jerusalem and Gaza and also in the West Bank."
Norway's former prime minister, Gro Harlem Brundtland, another member of the "Elders Group," also added her voice to those calling for new Palestinian elections.

Carter, Brundtland and their friends in the "Elders Group" are actually calling on Abbas and Fatah to commit political suicide by paving the way for another Hamas electoral victory. Obviously, the "Elders Group" leaders have not heard of the results of the Bir Zeit University elections. Nor are they aware of the fact that Hamas and other extremist Islamic groups such as Hizb al-Tahrir (Party of Liberation) and Palestinian Islamic Jihad continue to maintain a strong political presence in the West Bank and even in some parts of east Jerusalem.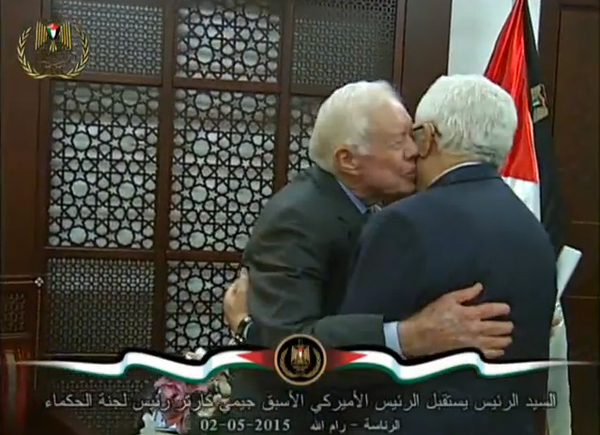 Former U.S. President Jimmy Carter hugs and kisses Palestinian Authority President Mahmoud Abbas as they meet in Ramallah on May 2, 2015. Carter said the same day that he did not ask to meet Israel's Prime Minister Benjamin Netanyahu during his visit to Israel and the PA, because "it would be a waste of time to ask." (Image source: PA President's office)
In fact, as the meeting was taking place in Ramallah, Abbas's security forces were cracking down on a large number of Palestinian Islamic Jihad and Hamas members in the West Bank, in a bid to undermine the two groups.

But what is even more disastrous, if well-intentioned, is that Carter and his "Elders Group" believe that they can act as mediators between Hamas and Fatah. At the meeting in Ramallah with Abbas, they called for the implementation of the unity agreement that was reached between Hamas and Fatah in April 2014.
The unity agreement has thus far failed to materialize due to ongoing differences between Hamas and Fatah. Abbas does not seem to be keen on implementing the agreement out of fear that unity with Hamas would lead to international and Israeli sanctions against his Palestinian Authority. Abbas is also concerned, of course, that Hamas would use a unity agreement to get rid of both him and the PA.
Abbas also fears that the unity agreement would embolden and legitimize Hamas, and help it rid itself of its increased isolation, both locally and in the international arena.
Those who are now calling for new elections and the implementation of the unity accord are, in fact, paving the way for Hamas to extend its control beyond the Gaza Strip. Even more disturbing is the fact that people such as Carter do not consider Hamas a terrorist organization, even while the Palestinian Authority and some Arab countries such as Egypt are waging war on the Islamist movement.
In an interview with Israel's Channel 2 TV station, Carter, possibly wishing to believe anything he was told, declared that Hamas leader Khaled Mashaal was a strong proponent of the peace process. Carter went on to claim that Mashaal has accepted the two-state solution and was in favor of the 2002 Arab Peace Initiative, which recognizes Israel's right to exist in return for a full withdrawal to the pre-1967 lines.
Carter's defense of Hamas comes even as Hamas and its leaders continue to talk about their plans and wishes to destroy Israel. It also coincides with Hamas's ongoing and intensive preparations for another war with Israel. as they dig new tunnels and rebuild others that were destroyed in the Gaza Strip by Israel in the war less than a year ago .
Free and democratic elections are the last thing the Palestinians need now. Such elections would only pave the way for a Hamas takeover of the Palestinian Authority and plunge the region into chaos and violence. As long as Abbas's Fatah faction is not seen as a better alternative to Hamas, it would be too risky to ask Palestinians to head to the ballot boxes. Instead of pressuring the Palestinians to hold new elections, world leaders should be demanding accountability and transparency from the PA.
They should also be urging the Palestinian Authority to pave the way for the emergence of new leaders and get rid of all the corrupt old-guard representatives who have been in power for decades. Finally, the international community should be urging the PA to stop its campaign to delegitimize and isolate Israel, which drives more Palestinians into the open arms of Hamas and other radical groups, who assume that if the Israelis are as terrible as they are told, they might as well join the group dedicated to killing them rather than to discussing peace.