President Barack Obama may have hailed his deal with Iran as an historic breakthrough, but this is not how it is being viewed in Saudi Arabia, where the kingdom has responded to Washington's attempted rapprochement with Tehran by embarking on a massive military build up.
Saudi Arabia is Iran's fiercest regional rival, with enmity between the two countries dating back at least to Iran's 1979 Islamic Revolution, and the Saudi royal family has voiced deep scepticism about the Obama administration's foreign policy tilt towards Iran. Mr Obama will hear these views most forcefully expressed himself with King Salman bin Abdulaziz al Saud, the Saudi monarch visits Washington this weekend.
In the past, the late Saudi foreign minister, Prince Saud al-Faisal, consistently spoke out against the dangers of a U.S.-Iran deal, while other senior Saudi security officials have warned that the kingdom would strike out on its own if its interests were threatened by an unsatisfactory nuclear agreement. The most public demonstration of the Saudis' displeasure came in May when King Salman declined to attend a Camp David summit at which Mr. Obama hoped to reassure Gulf leaders that the Iran protected their interests.
So no one should be surprised that, now that Mr. Obama has signed off his deal with the ayatollahs, the Saudis have embarked on a massive arms build up, one that promises dramatic changes to the military balance of power in the region.
Institutional concerns in Riyadh's defence establishment over the threat posed by Iran have already resulted in Saudi Arabia having the world's fourth largest defence budget. A recent study by London's International Institute for Strategic Studies think tank conservatively estimated Riyadh's defence spend for 2014 at $59.6 billion, although other assessments have suggested it rose by 17 percent to $80.8 billion. Either way this places Saudi spending above that of Britain, at $57 billion and France's £52.4 billion (nearly $80 billion).
Now the Saudis are planning to establish themselves as the Arab world's undisputed military superpower by embarking on a $150 billion defence spending spree that will see the country's Armed Forces double in size over the course of the next five years.
The new Saudi defence doctrine drawn up by senior military officers in Riyadh proposes a doubling in the size of the air force from its current strength of around 250 combat warplanes to 500. Increases of a similar scale are envisaged for the kingdom's other armed forces, with the Navy set to see the size of its surface fleet more than double, as well as acquiring its first submarine fleet. Saudi Arabia also wants to acquire a range of sophisticated ballistic missile systems, air defence systems and battle tanks, while the total number of combat ready personnel will rise above the 500,000 mark.
At this rate, Saudi Arabia will soon replace Egypt as the Arab world's most significant military power.
Nor is Saudi Arabia's huge arms build up confined to conventional weaponry. In a recent interview with the Daily Telegraph in London, Prince Mohammed bin Nawwaf bin Abdulaziz al-Saud, Saudi Arabia's Ambassador to Britain, warned that Riyadh would not rule out acquiring nuclear weapons if Washington failed to provide proper safeguards about Iran's nuclear ambitions.
"We hope we receive the assurances that guarantee Iran will not pursue this kind of weapon," explained Prince Mohammed "But if this does not happen, then all options will be on the table for Saudi Arabia." Nawaf Obaid, a Saudi defence expert and visiting fellow at the Harvard Kennedy School's Belfer Center, said: "Saudi Arabia is preparing itself in case Iran develops nuclear weapons."
Saudi Arabia is known to have close links with Pakistan, where Dr A.Q. Khan, the "father" of Pakistan's nuclear weapons arsenal, is believed to have received Saudi funding for his research into building an atom bomb. Senior U.S. officials have warned Saudi Arabia has recently taken a "strategic decision" to acquire "off-the-shelf" nuclear weapons from Pakistan.
Saudi Arabia's new arms build-up is being undertaken as a direct response to what many Saudis believe is the Obama administration's capitulation to Tehran over its nuclear program. The defence doctrine identifies a nuclear-armed Iran as one of the three main threats the kingdom is likely to face in the future, together with terrorism and regional instability.
The new doctrine threatens to change dramatically the military balance of power in the Arab world, a change that is likely to be viewed with deep concern by Israel. Shortly before Mr. Obama announced the nuclear deal with Tehran, the Saudis announced they had concluded a $12 billion arms deal with France, including helicopters and naval patrol vessels.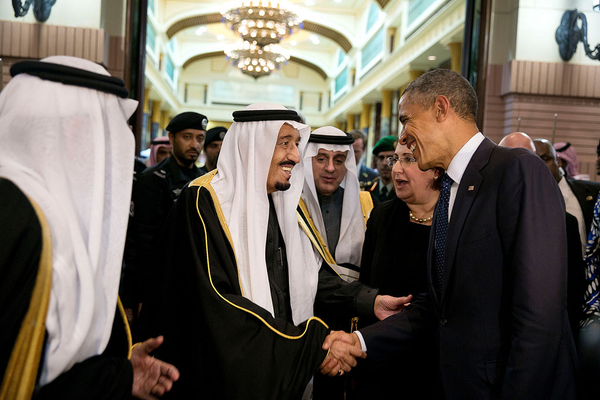 More weapons, please... King Salman bin Abdulaziz of Saudi Arabia bids farewell to President Barack Obama in Riyadh, Saudi Arabia, Jan. 27, 2015. (Image source: White House)
Saudi Arabia's new policy of military assertiveness was recently demonstrated in the Yemen conflict, where the Saudi military played a decisive role in recapturing the strategically important port of Aden after it was overrun by Iranian-back Houthi rebels. As a result, exiled Yemeni Prime Minister Khaled Balah has been able to return to his home country.
After their success in Yemen, the Saudis now intend to focus on Syria, where they are again likely to find themselves in direct conflict with Iranian-backed forces. The Saudi royal family is determined to secure the overthrow of the regime of Syrian President Bashar al-Assad, one of Iran's most important regional allies, and any attempt by Riyadh to deepen its involvement in the Syrian conflict is likely to result in direct military confrontation with Iran.
The tragedy of all this for the Obama administration is that, had it not been for its obsession with doing a deal with Iran, Washington could have formed a useful strategic alliance with Riyadh to defeat common foes, such as Islamic State (ISIS, ISIL) in Syria and Iraq.
But after the Iran deal, the Saudis now appear determined to go it alone, which means they are likely to pursue aggressive policies in the region that will not necessarily be to Washington's liking, and over which the Obama administration will be able to exercise precious little influence.
Con Coughlin is Defence Editor of London's Daily Telegraph and author of "Khomeini's Ghost: Iran since 1979" (Macmillan)​