Ideologically speaking, Iran's hardliners, primarily Supreme Leader Ayatollah Ali Khamenei and senior officials of the Islamic Revolutionary Guard Corps (IRGC) who enjoy the final say in Iran's domestic and foreign policies, have made it clear that Iran will not change the core pillars of its religious and revolutionary establishment: Anti-Americanism and hatred towards the "Great Satan" and the "Little Satan", Israel.
Supporters of Ayatollah Khamenei and the IRGC enthusiastically shouted "Death to America" in response to a recent speech that Khamenei gave, applauding the 1979 hostage-taking and takeover of the US Embassy in Tehran.
Iran's major state newspapers carried anti-American headlines this week, quoting the Supreme Leader. In his latest public speech to thousands of people, which was televised via Iran's state TV, Khamenei made it clear that Trump's presidency will cause "no difference" to Iran-US relationships. Khamenei pointed out that, "We have no judgment on this election because America is the same America". In his speech, Khamenei attacked President-elect Donald Trump and the American people. The Ayatollah called the US election "a spectacle for exposing their crimes and debacles."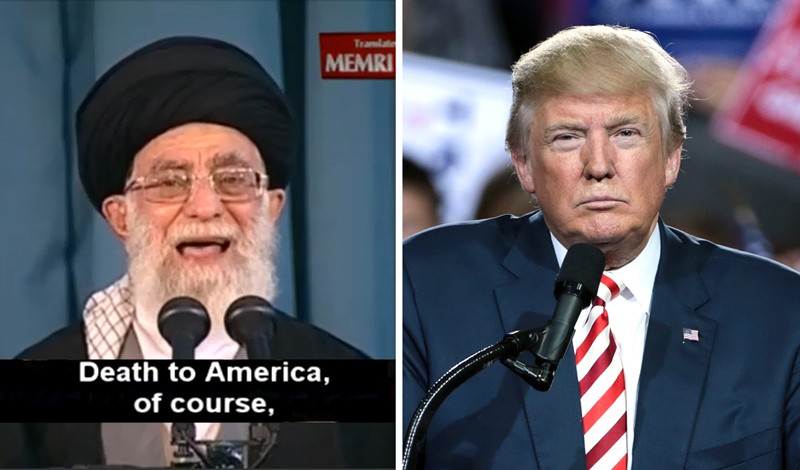 Other hardliners echoed the same message that there would be no change in Iran's revolutionary principles and ideals against the US and its allies. The deputy commander of the Revolutionary Guards, Hossein Salami, told Iran's Fars news agency: "When the Republicans were in power, they threatened us and showed their hostility... and when the Democrats were in power, the policies of the United States were the same."
Khamenei also remarked that the US will remain the evil, or the "Great Satan," saying:
"In the past 37 years, neither of the two parties who were in charge did us any good and their evil has always been directed toward us....We neither mourn nor celebrate, because it makes no difference to us... We have no concerns. Thank God, we are prepared to confront any possible incident."
He added that the remarks made by Donald Trump "over the last few weeks on immoral issues -- which are, for the most part, not baseless accusations -- are enough to disgrace America."
Militarily, strategically and geopolitically, Tehran's core pillars of damaging US national interests, and scuttling US foreign policy objectives will remain intact.
Iran's semi-official Fars news agency reported that Iran's armed forces chief of staff, General Mohammad Hossein Bagheri, has heavily criticized Donald Trump for stating that the US will confront Iranian boats in the Gulf if they harass US Navy ships. In the last year, Iran has increasingly harassed and provoked US Navy ships, and detained 11 American sailors.
General Bagheri stated out that, "The person [Trump] who has recently achieved power, has talked off the top of his head! Threatening Iran in the Persian Gulf is just a joke."
In 2016, the number of incidents of boats from Iran's navy and Revolutionary Guards provoking and harassing the US Navy ships rose significantly to 31 incidents, highlighting that the IRGC evidently feels sufficiently emboldened to damage US national security publicly and on a regular basis. From the perspective of Iranian moderates, reformists and hardliners, the US is not a superpower anymore; but a weak actor in the Middle East and on the global stage.
In addition, Iran, with underlying anti-American objectives, is aggressively expanding its military presence and naval bases in foreign nations and international waters. Major General Mohammad Hossein Baqheri said, as cited by the Iranian Tasnim news agency, that the expanding presence in international waters and naval bases in foreign countries "could be ten times more efficient than nuclear power." For the first time, the Iranian Navy's 44th flotilla, comprised of a Bushehr logistic warship and an Alvand destroyer, has now sailed into the Atlantic Ocean as well.
Tehran is also considering having naval bases on the coasts of Yemen and Syria to support the Assad government and the Houthis. As Iran's Chief of the General Staff told a gathering of senior naval commanders, "One day, we may need bases on the coasts of Yemen and Syria, and we need the necessary infrastructures for them under international maritime law."
Iran's naval commander, Rear Admiral Habibollah Sayyari, also told the gathering of senior naval commanders that boosting military presence in international waters reflects Iran's power.
According to the Tasnim news agency, Iran's navy has already deployed 49 flotillas to various maritime zones. Sayyari added that the flotillas "showcased Iran's symbol of power."
Iranian leaders also made it clear that Tehran will continue supporting Hezbollah and other groups that are designated as terrorist groups by the US Department of State.
These groups pursue anti-American and anti-Israel agendas.
Khamenei and IRGC are sending a strong message that Iran will neither alter its core religious and revolutionary pillar of anti-Americanism, nor change its foreign policy and military objectives of damaging US interests. Iran's policy towards the "Great Satan" will remain as it has been since the establishment of the Islamic Republic of Iran in 1979.
Dr. Majid Rafizadeh, political scientist and Harvard University scholar is president of the International American Council on the Middle East. He can be reached at Dr.rafizadeh@post.harvard.edu.