Greece: Taxpayer-Funded Mosque Planned in Athens
Opponents of the mosque argue that Greek taxpayers should not be footing the bill for this project at a time when their massively indebted country is dependent upon foreign aid just to stay afloat. The Greek government appears to be worried about thinly veiled threats of violence by thousands of residents in Athens who have been pressuring government ministers to meet their demands to build a mosque or face an uprising.

"It is a very big tragedy for us Muslims that there is no mosque here. Greece produced democracy and civilization and the respect of religion, but they don't respect our Muslims to provide us with a regular, legal mosque." — Syed Mohammed Jamil of the Pakistan-Hellenic Society
The Greek government has awarded a tender to build the first taxpayer-funded mosque in Athens, one of the few remaining capitals in the European Union that lacks a state-funded mosque.
The Ministry of Infrastructure, Transport and Networks said on November 14 that it had finally chosen a consortium of four construction companies to build the mosque. Four previous tenders had failed due to a lack of interest amid mounting public opposition to the mosque.
Construction of the 600 square meter (6,500 square foot) mosque—which will cost Greek taxpayers at least €950,000 ($1.3 million)—is due to begin within the next two months. Once the contracts are signed, the tender calls for the project to be completed within six months.
The plan calls for renovating an existing government-owned building on a disused naval base in the industrial district of Votanikos near the center of Athens. The mosque—which will not have minarets—will have a capacity for around 500 worshippers.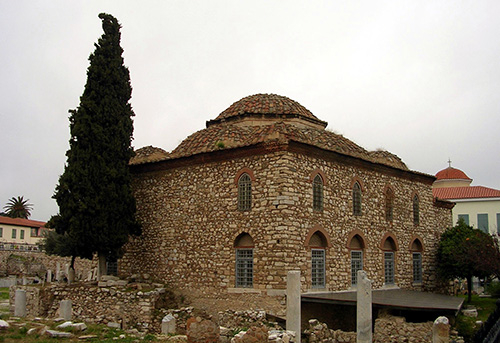 The Fethiye Mosque in Athens, Greece. It was built in 1456/1458 on the ruins of a middle Byzantine basilica. (Image source: Lapost/WikiMedia Commons)
The mosque plan continues to generate considerable controversy. Opponents of the mosque argue that Greek taxpayers should not be footing the bill for this project at a time when their massively indebted country is dependent upon foreign aid just to stay afloat.
According to the latest available statistics, the Greek economy—which has been struggling through six years of recession—contracted by another 3% during the third quarter of 2013. The unemployment rate now exceeds 27% (the jobless rate for those under 25 exceeds 60%) and analysts say the Greek economic crisis shows no signs of ending.
But the Greek government appears to be worried about thinly veiled threats of violence by thousands of Muslim residents in Athens who have been pressuring government ministers to meet their demands for a mosque or face an uprising.
Officially, Greece has a Muslim population of around 500,000, mostly of Turkish origin. But in recent years, tens of thousands of Muslims have migrated to Greece from Africa, the Middle East and North Africa, as well as from Central and Southeast Asia.
Athens is now home to an estimated 200,000 Muslims, many of whom are illegal immigrants from Afghanistan, Bangladesh, Egypt, Nigeria and Pakistan. Greece—which is the number one gateway for illegal immigration to Europe—is believed to have an illegal immigrant population of around 2 million; this in a country where the total population is only 11 million.
Muslims in Greece often pray in makeshift mosques in basement apartments, coffee shops, garages and old warehouses; there are believed to be more than 130 unlicensed Muslim prayer sites scattered across Athens alone.
The Greek government's decision to proceed with construction of the mosque is the latest chapter in a long-running debate that centers on the question of whether Greece—which is predominantly Christian Orthodox—should officially cater to followers of Islam.
Athens has not had an official mosque since 1832, when Greece won independence from the Ottoman Empire after nearly 400 years of Turkish rule. As of today, the Turkish-dominated Muslim enclave of Thrace in northeastern Greece is the only place where the Greek government officially supports Islamic sites and shrines.
In the run-up to the 2004 Athens Olympic Games, the late King Fahd of Saudi Arabia offered to finance a mega-mosque in Paiania, a suburb about 20 kilometers (12 miles) east of downtown Athens, near the international airport. But that plan was abandoned in the face of opposition from the Greek Orthodox Church.
In 2006, the government promised to spend €15 million ($20 million) for an Athens mosque by 2009. But that plan was also abandoned, again due to public opposition.
In 2007, Muslims decided to take matters into their own hands. Using a donation of €2.5 million ($3.4 million) from a Saudi businessman, a small non-profit organization called the Greek-Arab Educational and Cultural Center transformed an old textile factory in Moschato, a southern suburb of Athens, into a 6,000 square meter (19,500 square foot) prayer site that can accommodate more than 2,000 worshippers at a time.
But plans for building a large state-sponsored mosque remained stalled until the Muslim Association of Greece—a group that claims to represent all Muslims in Greece, and is linked to the Muslim Brotherhood—staged a series of highly provocative mass public prayer sessions across Athens aimed at pressuring the government into building an official mosque.
In November 2010, for example, Muslims held open-air prayers in 15 locations across Athens. In one case, over 1,000 Muslims took over the square in front of the main building of the University of Athens and held public prayers inside the portico on the first day of the Muslim festival of Eid al-Adha. More than 7,000 police officers were deployed to keep the peace.
In August 2011, the Greek government gave Muslims permission to celebrate the Islamic holy month of Ramadan at the Olympic Stadium of Athens. The initiative was aimed at preventing large groups of Muslim immigrants from gathering in downtown city squares.
In September 2011, however, Muslims—angry at being pushed out into the suburbs—celebrated Eid al-Fitr (the end of Ramadan) by holding open-air prayers in public squares near the city center. The Muslims were met by angry local residents who threw eggs and yogurt at them. Members of Golden Dawn, a far-right nationalist group opposed to runaway Muslim immigration, also threatened to physically remove the Muslims from the square, although they were held back by riot police.
Athens—like many other European cities—has also experienced spontaneous violence involving Muslim immigrants. In May 2009, for example, more than 1,000 Muslims chanting "Allah is the Greatest" clashed with police in downtown Athens after a police officer was accused of stepping on a Koran during a police check at a Syrian-owned coffee shop.
Nearly 50 protesters were arrested during the uprising, while seven Muslim immigrants and seven policemen were hospitalized. More than 70 cars were torched and around a dozen businesses were destroyed in the clashes.
"This [Muslim resentment] is a time-bomb," Naim El-Ghandour, the chairman of the Muslim Association of Greece, said at the time in an interview with the French news agency AFP. "It might not explode now but in 10 years it will be a huge problem."
Since then, at least 15 makeshift mosques have been burned in attacks by unknown arsonists. In one case, at least three people in Athens were hospitalized after arsonists set fire to a coffee shop used as a Muslim prayer center for immigrants. In May 2011, arsonists set fire to a makeshift mosque in the Kallithea district of Athens causing damage but no injuries.
Fearing the Muslim-related tensions could spiral out of control, the Greek Parliament voted in September 2011 to move ahead with the plan to build a taxpayer-funded mosque; the measure was supported by 198 out of 300 deputies from the left, right and center.
Despite the vote in parliament, the mosque project has faced repeated delays, in part because the government could not find any construction companies willing to build the mosque due to public opposition.
"It is a very big tragedy for us Muslims that there is no mosque here," according to Syed Mohammad Jamil of the Pakistan-Hellenic Society. "Greece produced democracy and civilization and the respect of religion, but they don't respect our Muslims to provide us with a regular, legal mosque."
Frustrated by the lack of action, Muslims in Athens recently enlisted the support of Turkish Prime Minister Recep Tayyip Erdogan in an effort to increase the pressure on the Greek government.
In January 2013, Erdogan told his Greek counterpart Antonis Samaras that Turkey would be willing to pay for the construction of a mosque in Athens. Erdogan also wants Muslims in Greece to be able to elect their own Mufti (religious leader), who is currently chosen by the Greek government.
Erdogan sparked another feud in October by suggesting that Greece should re-open two Ottoman-era mosques in Athens in return for the re-opening of an Orthodox clergy school in Turkey.
Erdogan's moves have angered many Greeks, who feel a mosque would represent a continuing Turkish presence in the country. But Muslims in Greece have been elated by Erdogan's support.
"We are very grateful to Mr. Prime Minister," Mazen Rassas, of the Muslim Association of Greece, told the Anadolu Turkish news agency. "His offer [to pay for the mosque] has made us utterly pleased." Rassas now wants Erdogan to pressure Greece to build Muslim cemeteries.
"Apart from a mosque, there is a more important issue of a Muslim grave yard," Rassas, of Palestinian origin, said. "We could always find a place to pray but we can't find anywhere to bury our dead."
Although the Greek government has finally managed to award a tender, the mosque project may be subject to further delays.
Golden Dawn has said it will "fight until the bitter end" to block the mosque plan. "There is money to build a mosque but there is no money for Greeks to live with dignity," Golden Dawn, the third most popular party in Greece, said in a statement.
Protests have also been gathering steam outside the planned site in Votanikos, where residents— led by a local Greek Orthodox bishop named Seraphim—have filed a motion against plans to build the mosque with the Council of State, the highest administrative court in Greece.
In an interview with the Greek newspaper Ekathimerini, Seraphim said: "I want to emphasize that Athens is the only European capital that went through four centuries of slavery under Islam, and managed to free itself just 200 years ago by spilling rivers of blood."
"Building a mosque would offend the martyrs who freed us," Seraphim said in a separate interview with the BBC. "We are not a multicultural country."
Soeren Kern is a Senior Fellow at the New York-based Gatestone Institute. He is also Senior Fellow for European Politics at the Madrid-based Grupo de Estudios Estratégicos / Strategic Studies Group. Follow him on Facebook. Follow him on Twitter.
Related Topics: Soeren Kern receive the latest by email: subscribe to the free gatestone institute mailing list
Reader comments on this item
| | | |
| --- | --- | --- |
| Title | By | Date |
| Most of them are illegal immigrants [73 words] | George | Nov 26, 2013 15:42 |
| Re: Greece: Taxpayer-Funded Mosque Planned in Athens [154 words] | Mark Matthias | Nov 23, 2013 20:38 |
| Saudi Arabia has a ban on Christianity [77 words] | George | Nov 22, 2013 19:00 |
| Sounds like Greece... [10 words] | Gnarlodious | Nov 21, 2013 04:18 |
| Why Should Western Taxpayers Be Responsible For Building Mosques? [74 words] | Mark Anderson | Nov 20, 2013 23:04 |
| Why does the government have to build mosques for Muslims? [51 words] | Windy | Nov 20, 2013 22:18 |
| A church for a mosque [33 words] | Robert Davis | Nov 20, 2013 11:45 |
| Take up Erdogan's offer [73 words] | Jen Schiller | Nov 20, 2013 10:45 |
| ↔ Never! [91 words] | Ephesian | Nov 21, 2013 02:19 |
| Tax money [66 words] | Niki | Nov 20, 2013 09:51 |
| The answer is Home [113 words] | Eric Price | Nov 20, 2013 08:17 |
| ↔ Muslim's home? [119 words] | Ephesian | Nov 20, 2013 11:57 |
| ↔ Mosque-schmosque. [150 words] | A.T. Halmay | Nov 20, 2013 20:25 |
| ↔ You are right [92 words] | Eric Price | Nov 21, 2013 04:48 |
| ↔ The Law ? [75 words] | E Dodds | Jun 30, 2014 18:19 |
Comment on this item
Subscribe To Mailing List
Tweets by @GatestoneInst
Latest Articles
by Khaled Abu Toameh
To understand what drives a young Palestinian to carry out such a deadly attack, one needs to look at the statements of Palestinian Authority leaders during the past few weeks.
The anti-Israel campaign of incitement reached its peak with Abbas's speech at the UN a few weeks ago, when he accused Israel of waging a "war of genocide" in the Gaza Strip. Abbas made no reference to Hamas's crimes against both Israelis and Palestinians.
Whatever his motives, it is clear that the man who carried out the most recent attack, was influenced by the messages that Abbas and the Palestinian Authority leadership have been sending their people.
by Richard Kemp
Would General Allen -- or any other general today -- recommend contracting out his country's defenses if it were his country at stake? Of course not.
The Iranian regime remains dedicated to undermining and ultimately destroying the State of Israel. The Islamic State also has Israel in its sights and would certainly use the West Bank as a point from which to attack, if it were open to them.
There can be no two-state solution and no sovereign Palestinian Arab state west of the Jordan, however desirable those things might be. The stark military reality is that Israel cannot withdraw its forces from the West Bank.
Fatah leaders ally themselves with the terrorists of Hamas, and, like Hamas, they continue to reject the every existence of the State of Israel.
If Western leaders actually want to help, they should use all diplomatic and economic means to make it clear to the Palestinians that they will never achieve an independent and sovereign state while they remain set on the destruction of the State of Israel.
by Louis René Beres
The Palestine Liberation Organization [PLO], forerunner of today's Palestinian Authority, was founded in 1964, three years before Israel came into the unintended control of the West Bank and Gaza. What therefore was the PLO planning to "liberate"?
Why does no one expect the Palestinians to cease all deliberate and random violence against Israeli civilians before being considered for admission to statehood?
On June 30, 1922, a joint resolution of both Houses of Congress of the United States endorsed a "Mandate for Palestine," confirming the right of Jews to settle anywhere they chose between the Jordan River and the Mediterranean Sea. This is the core American legacy of support for a Jewish State that President Obama now somehow fails to recall.
A sovereign state of Palestine, as identified by the Arabs -- a Muslim land occupied by "Palestinian" Arabs -- has never existed; not before 1948, and not before 1967. From the start, it was, and continues to be, the Arab states -- not Israel -- that became the core impediment to Palestinian sovereignty.
by Timon Dias
It looks as if this new law is meant to serve as a severe roadblock to parties that would like to dismantle the EU in a democratic and peaceful way from within.
A rather dull semantic trick pro-EU figures usually apply, is calling their opponents "anti-Europe."
Most Shared
Most Viewed