A recent surge in stabbings and knife-related violence across Germany is drawing renewed attention to the deteriorating security situation there since Chancellor Angela Merkel's 2015 decision to allow in more than a million migrants from Africa, Asia and the Middle East.
In recent months, people armed with knives, axes and machetes have brought devastation to all of Germany's 16 federal states. Knives have been used not only not only to carry out jihadist attacks, but also to commit homicides, robberies, home invasions, sexual assaults, honor killings and many other types of violent crime.
Knife-related crimes have occurred in amusement parks, bicycle trails, hotels, parks, public squares, public transportation, restaurants, schools, supermarkets and train stations. Many Germans have the sense that danger lurks everywhere; public safety, nowhere.
Police admit they are outnumbered and overwhelmed and increasingly unable to maintain public order — both day and night.
Statistics that are reliable on knife violence in Germany — where police been accused of failing to report many crimes, apparently in an effort "not to unsettle" the public — do not exist.
A search of German police blotters, however, indicates that 2017 is on track to become a record year for stabbings and knife crimes: Police reported more than 3,500 knife-related crimes between January and October 2017, compared to around 4,000 reported crimes during all of 2016 — and only 300 in 2007. Overall, during the past ten years, knife-related crimes in Germany have increased by more than 1,200%.
The media in Germany do not report most knife-related violence. Crimes that are reported are often dismissed as "isolated incidents," unrelated to mass immigration. Moreover, many crime reports, including those in police blotters, omit any reference at all to the nationalities of the perpetrators and victims — ostensibly to avoid inflaming anti-immigration sentiments.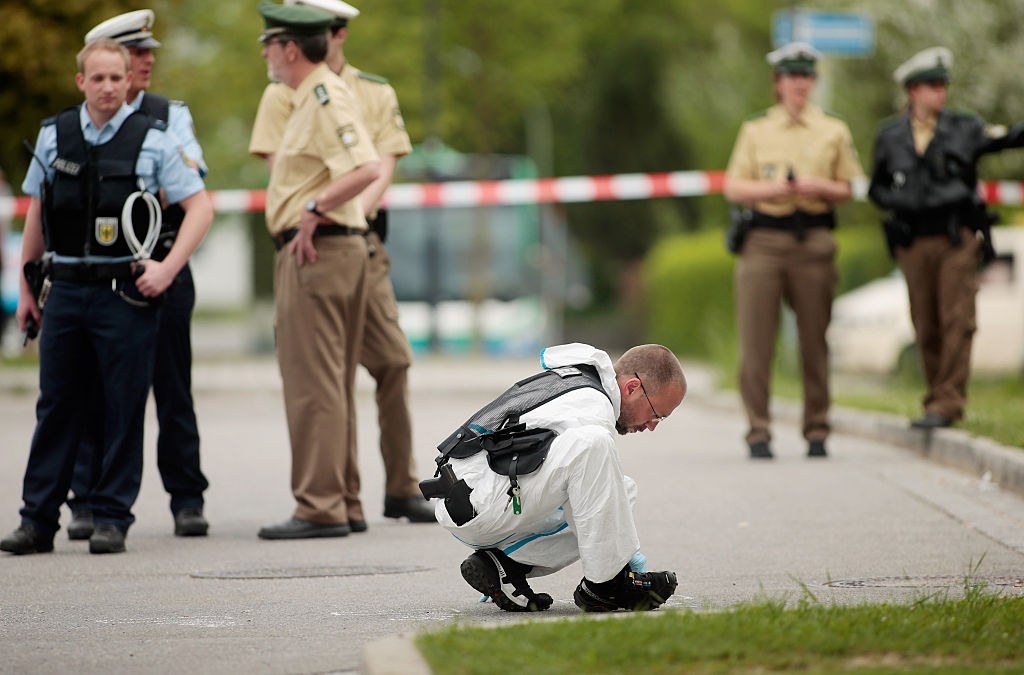 Pictured: German police secure the crime scene after a knife attack on May 10, 2016 at the train station in Grafing. A man stabbed four people while reportedly shouting "Allahu Akbar" ("Allah is greater"), killing one. (Photo by Johannes Simon/Getty Images)
Merkel's open-door migration policies have, however, set in motion a self-reinforcing cycle of violence in which more and more people are carrying knives in public — including for self-defense.
The epicenter of knife-related violence in Germany is Berlin, where some areas are now so dangerous that they have effectively become no-go zones. In Neukölln and other neighborhoods with large immigrant communities, stabbings have become daily features of life. Migrants were responsible for at least 45% of the crimes committed in the German capital in 2016, according to the Berliner Morgenpost.
The northern cities of Bremen and Bremerhaven are also hotbeds of knife violence. In 2016, at least 469 people — more than one a day — were stabbed in Bremen, according to official documents obtained by the newspaper Bild. More than a dozen people in Bremen died of their stab wounds. Another 165 knife attacks were registered in nearby Bremerhaven, a 75% increase since 2014. Migrants, according to Bild, were found responsible for most of the violence.
Another flashpoint of knife violence is North Rhine-Westphalia; stabbings are rampant in Bielefeld, Bochum, Bonn, Cologne, Dortmund, Düsseldorf and Essen, among other cities. Düsseldorf's city center has been particularly plagued by stabbings.
Many knife attacks appear to be random, indiscriminate assaults on innocent bystanders — especially at transport hubs and on public transportation:
Knife attacks increasingly involve teenagers and young children as well as women:
In mass brawls between groups of people from different nationalities and ethnic groups, knives appear to be weapons of choice:
Knives have also been used in "honor" violence and internecine disputes:
Knife attacks also occurred against social workers and public servants:
Attackers are often repeat offenders known to police:
Recent knife-jihad attacks include:
Meanwhile, other knife-related crimes reported during October include:
Hagen, October 1. An unidentified man slashed a man with a machete at the central train station. Speyer, October 1. A 27-year-old man with a knife attacked police during an identification check at the central railway station. Werl, October 1. A "southern-looking" man (südländischer Typ) robbed on a 20-year-old man at knifepoint.
Wilhelmshaven, October 1. A man speaking German with an Eastern European accent robbed a gas station at knifepoint. Freiburg, October 2. Two "Turkish-looking" teenagers (türkisches Aussehen) robbed two teenagers at knifepoint in a public plaza. Ulm, October 2. Three "dark-skinned" men (dunkle Hautfarbe) robbed a 20-year-old man at knifepoint.
Soest, October 4. An 18-year-old Somali stabbed a 39-year-old German man at a railway station. Hamburg, October 5. A 24-year-old security guard at a clothing store was stabbed when he confronted two male shoplifters. Wolfsburg, October 6. Two men were slashed during a fight in the Hochring district. Wiesbaden, October 6. A 23-year-old man was stabbed in the city center.
Johanngeorgenstadt, October 7. Five teenagers had their knives confiscated during a weapons check at the German/Czech border. Münster, October 7. Two men robbed a 16-year-old at knifepoint at a bus stop. Bremen, October 8. Two men were stabbed during a fight in the city center.
Weinheim, October 9. A 24-year-old store clerk was stabbed by a 46-year-old client. Hofheim, October 10. A private security guard was slashed at an Oktoberfest celebration. Cologne, October 10. A 36-year-old man was stabbed by a 26-year-old at a kiosk in the Zollstock district.
Stade, October 11. A "southern-looking" man (südländischem Aussehen) stabbed and seriously injured a 38-year-old man. Berlin, October 13. A man was seriously injured in a knife fight at the Alexanderplatz. Kassel, October 15. Two "Arabic-speaking" men robbed a 43-year-old woman at knifepoint in the Wesertor district.
Niederstetten, October 17. A 19-year-old man stabbed a 30-year-old man in the stomach at a restaurant. The stabbing occurred after the 30-year-old allegedly "offended" the 19-year-old's wife. Bremen, October 19. A 25-year-old man was stabbed by a group of males in the Huchting district. When police arrived to investigate, they were immediately surrounded by a mob of between 30 and 40 men. Police used teargas and dogs to restore order. Berlin, October 19. A 19-year-old Romanian was stabbed to death in the Tiergarten district.
Halle, October 19. A man was stabbed during an dispute over drugs. Düsseldorf, October 21. Two men were stabbed by four assailants in front of a McDonald's restaurant in the city center. Stemwede, October 21. Three members of the same family were stabbed during a dispute. The attack was apparently initiated by a 43-year-old man opposed to his step-daughter's choice of boyfriend.
Hamburg, October 22. An 18-year-old clerk at a cellphone store was stabbed by a 21-year-old man unhappy with the service. Hamburg, October 22. A 30-year-old man was stabbed in the stomach at the entrance to a subway station. Düsseldorf, October 22. A 21-year-old man was stabbed while trying to break up a fight.
Rheine, October 22. A 20-year-old Romanian stabbed a 44-year-old Romanian during a disagreement. Berlin, October 23. A 59-year-old man was stabbed and seriously injured at a store in the Schöneberg district. Leipzig, October 23. A 21-year-old man was stabbed during a fight at the central train station.
Solingen, October 23. A 19-year-old man was stabbed during an fight. Berlin, October 24. A 39-year-old man stabbed a 20-year-old man at the Jewish Hospital in the Wedding district. Hünstetten-Bechtheim, October 27. An 18-year-old man was stabbed at an annual festival.
Wangen, October 29. A 56-year-old man stabbed a 52-year old man during a disagreement at a restaurant. Chemnitz, October 29. A 27-year-old Libyan was stabbed during a knife fight involving migrants from North Africa.
Gießen, October 30. Two Syrian asylum seekers were stabbed during an altercation with another Syrian in the city center. Waldshut, October 30. A 32-year-old man was stabbed and seriously injured during a row at a bus station in the Tiengen district. Frankfurt, October 30. An apartment manager was stabbed and seriously injured when he attempted to evict a family from the premises.
Kulmbach, October 31. A 38-year-old Turk stabbed a 33-year-old German during a dispute. Berlin, October 31. Three men were injured during a knife fight involving six men at a store in the Schöneberg district. The Berliner Zeitung provided an unusually detailed account of the fight, including the ages of each of the participants, but failed to give any information about their nationality.
Soeren Kern is a Senior Fellow at the New York-based Gatestone Institute.