Italy's new populist government-in-waiting resigned on May 28 after its choice of a eurosceptic finance minister was rejected by the country's pro-EU president — who instead asked an unelected technocrat to form a pro-EU government.
The political wrangling ends a bid by Italy's two anti-establishment parties — the left-leaning Five Star Movement (M5S) and the center-right League (Lega) — to form a populist coalition government, which would have been the first of its kind in Europe.
The political situation reflects the stranglehold on power wielded by the pro-EU establishment, which is evidently determined to preserve economic austerity at the expense of democracy.
Italian president Sergio Mattarella refused to accept the nomination for finance minister of Paolo Savona, an 81-year-old former industry minister who has called Italy's entry into the euro a "historic mistake."
In his latest book, "Like a Nightmare and a Dream" (Come un incubo e come un sogno), Savona called the euro a "German cage" and warned that "we need to prepare a plan B to get out of the euro if necessary... the other alternative is to end up like Greece."
Mattarella, who was installed by a previous pro-EU government, said that the "uncertainty over our position in the euro has alarmed Italian and foreign investors who purchased our government bonds and invested in our companies." He added that "membership of the euro is a fundamental choice for the future of our country and our young people."
Mattarella said that he wanted the next finance minister to be someone "who is not seen as a supporter of a line that could probably, or even inevitably, provoke Italy's exit from the euro."
Mattarella has now asked Carlo Cottarelli, a former official at the International Monetary Fund, to form a government of unelected technocrats. Known as "Mr. Scissors" for making cuts to public spending, Cottarelli presumably would seek to maintain the strict fiscal discipline imposed on the euro currency bloc by Germany.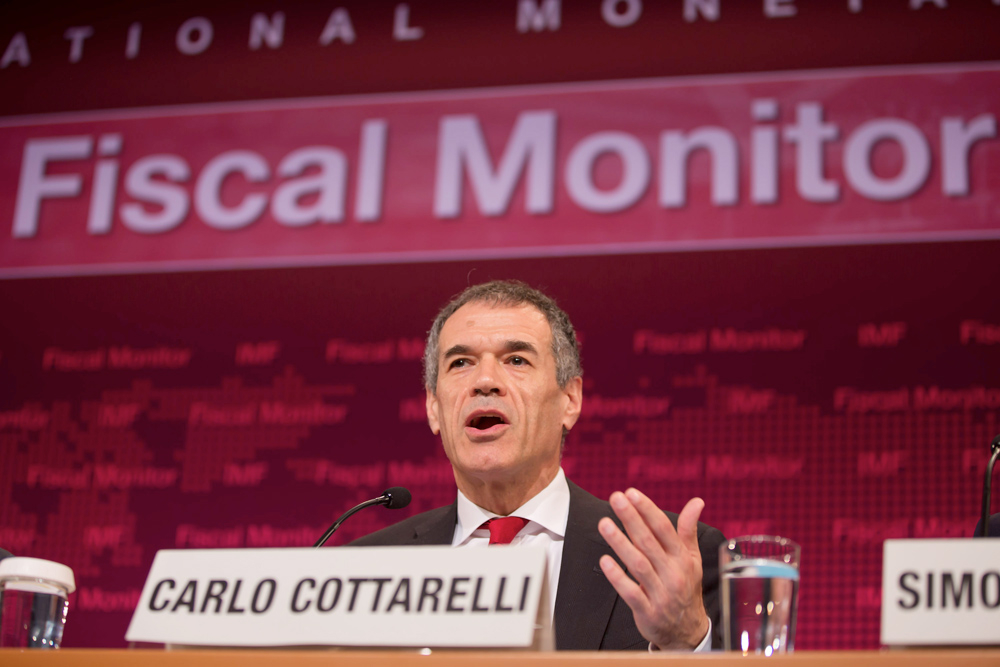 Italian president Sergio Mattarella has asked Carlo Cottarelli (pictured above), a former official at the International Monetary Fund, to form a government of unelected technocrats. Cottarelli is known as "Mr. Scissors" for making cuts to public spending. (Photo by Stephen Jaffe/IMF via Getty Images)
On May 17, the League and M5S, rival populist parties now in a coalition, published a 39-page agreement called "Contract for a Government of Change." A two-page synthesis closely resembles U.S. President Donald J. Trump's "Contract with the American Voter."
In an effort to boost economic growth, the League promised to cut taxes, while M5S pledged to increase public spending.
Italian GDP is forecast to grow by just 1.5% in 2018, the same level as in 2017, making it the worst performer in the 19-nation euro zone.
Italy already holds the world's third-largest public debt, totaling €2.3 trillion ($2.7 trillion). Italy's current debt-to-GDP ratio is 130% of GDP, the highest in the eurozone after that of Greece.
The League and M5S promised to reduce public debt by increasing growth by stimulating domestic demand and by promoting exports rather than "through tax and austerity-based interventions."
The coalition agreement also called for: a flat tax; a simplification of the tax code; increased retirement and maternity benefits; a crackdown on government corruption and crime; swift deportations of illegal migrants; increased defense spending aimed at making Italy a "privileged partner" of the United States; and a revision of the EU treaties involving monetary policy.
M5S leader Luigi Di Maio denounced President Mattarella's pro-EU move and called for the president to be impeached for overstepping his authority:
"In Italy, there is a problem of democracy. In this country, you can be a convicted criminal, convicted for tax fraud, under investigation for corruption and be a minister...but if you criticize Europe, you cannot be the Minister of the Economy in Italy."
Lega leader Matteo Salvini, also criticized Mattarella's decision, but declined to join Di Maio's call for impeachment:
"A government cannot be formed in Italy without the approval of Berlin, Paris or Brussels. It is madness. I would like Italy to return to being a free country."
Cottarelli must now form a government and then have it approved by parliament, where M5S and Lega hold majorities in both houses. Therefore, Cottarelli likely will only head a caretaker government until snap elections are called, which could be held on September 9, according to the newspaper Corriere della Sera.
Italy, the eurozone's third-biggest economy after Germany and France, has been without a government since inconclusive elections on March 4, when the League (which ran within a four-party center-right coalition), won a plurality of seats in the Chamber of Deputies and in the Senate, thereby becoming the main political force.
M5S, however, was the party most voted for and came in second, while the center-left coalition led by former Prime Minister Matteo Renzi came in third. Therefore, no political group or party won an outright majority, which resulted in a hung parliament.
"The majority of Italians (6 out 10) see it with favor," said a survey published by the daily La Repubblica as the two party leaders, the 5Stars' Luigi Di Maio.
Recent polls show that new elections could result in an even bigger majority for the M5S and the Lega. Considering that their prospective coalition government collapsed after Mattarella rejected the eurosceptic Savona, M5S and Lega may frame the next election as a referendum on Italy's role in the EU.
Soeren Kern is a Senior Fellow at the New York-based Gatestone Institute.