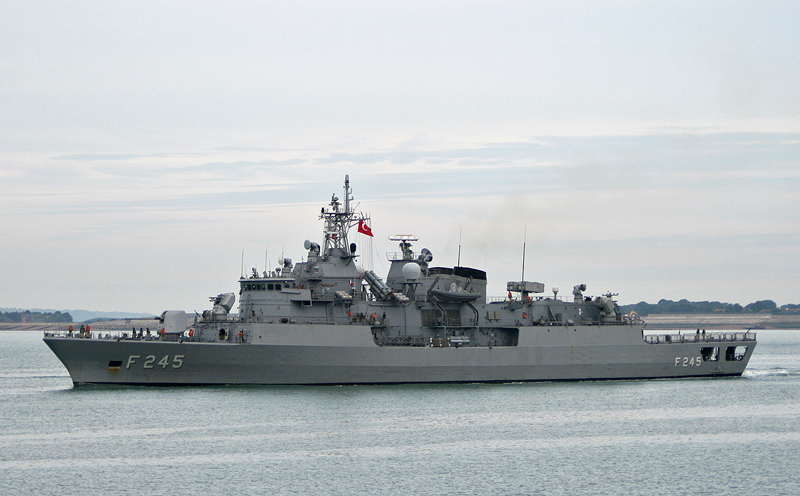 Turkey's Naval Forces Command has "submitted a proposal to the Ministry of Foreign Affairs stating that Turkey should establish a naval base in the Turkish Republic of Northern Cyprus." Pictured: The Turkish Navy frigate TCG Oruçreis. (Image source: CC-BY-SA-3.0/Brian Burnell via Wikimedia Commons)
Turkey's Naval Forces Command has "submitted a proposal to the Ministry of Foreign Affairs stating that Turkey should establish a naval base in the Turkish Republic of Northern Cyprus," according to Turkey's strongly pro-Erdogan daily, Yeni Safak, which recently endorsed the proposal for the base in an article entitled, "Why Turkey should establish a naval base in Northern Cyprus."
"The base will enable the protection of Northern Cyprus' sovereignty as well as facilitate and fortify Turkey's rights and interests in the Eastern Mediterranean, preventing the occupation of sea energy fields, and strengthening Turkey's hand in the Cyprus peace process talks."
Having a naval base in northern Cyprus would also strengthen the self-proclaimed "Turkish Republic of Northern Cyprus," which is recognized only by Turkey. Cyprus is strategically important: a naval base there would give Turkey easier access to the Eastern Mediterranean's international trade routes and greater control over the vast undersea energy resources around Cyprus. In the past, Turkey has blocked foreign vessels from drilling for these resources; in June, Turkey began its own exploration of the island's waters for gas and oil.
This is not the first time that Turkey has set its sights on the area's resources. In 2014, Ankara dispatched surveillance vessels and warships to Cyprus's Exclusive Economic Zone (EEZ) to search for hydrocarbons. This incident took place just before the leaders of Greece, Cyprus and Egypt deepened their an energy-cooperation, "freezing Turkey out." As soon as the accord was signed, Cypriot President Nicos Anastasiades blasted "Turkey's provocative actions," saying that they "do not just compromise the peace talks [between Greek and Turkish Cypriots]... [but] also affect security in the eastern Mediterranean region."
At the time, UN-brokered reunification negotiations, which had been renewed after a long hiatus, ended unsuccessfully yet again, as a result of Turkey's search for hydrocarbons in the EEZ. According to a November 2014 report in the Guardian:
"Turkey's decision to dispatch a research vessel into disputed waters last month not only resulted in talks being broken off but has exacerbated the row over drilling rights."
The possibility of a Turkish naval base does not bode well for the chances of a Cyprus reunification deal, particularly after the breakdown of the July 2017 peace talks between Turkish-Cypriot leader Mustafa Akinci and Cypriot President Nicos Anastasiades. The talks were suspended when "Turkey had refused to relinquish its intervention rights on Cyprus or the presence of troops on the island." Turkey has 30,000 soldiers stationed on Cyprus, the northern part of which it has illegally occupied since 1974.
Another factor that may be contributing to the Turkish Navy's desire for a base in Cyprus is Israel. Aside from Ankara's extremely rocky relations with Jerusalem, Israel and Cyprus have been working to forge an agreement to join their electricity grids and construct a pipeline to link their gas fields to mainland Europe. Although they are in a dispute over development rights of one of these gas fields, Aphrodite, they are invested in reaching a solution that will not damage their increasingly friendly relations.
Erdogan's considerations should concern NATO, of which Turkey, surprisingly, is still a member, and the rest of the West. As Lawrence A. Franklin recently wrote for Gatestone:
"If Greek-Turkish tensions escalate, the possibility of another ill-timed military provocation could escalate with them. The ability of NATO to respond to other conflicts in the area could be affected, as well as NATO air and naval assets based in both countries. Moreover, such a conflict might open up an even greater opportunity for Russian interference."
Debalina Ghoshal, an independent consultant specializing in nuclear and missile issues, is based in India.