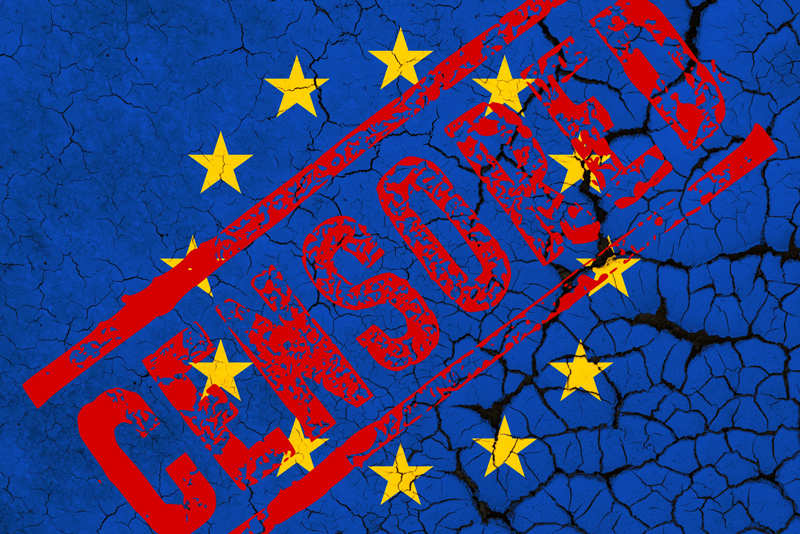 On December 3, the European Commission hosted a "high-level conference to address intolerance, hate speech and discrimination affecting Muslims in the EU". According to the EU press release, "By sharing good practices, the aim of the event is to identify key actions at all levels to address intolerance, racism and discrimination against Muslims in the coming years". The event brought together over 100 "representatives of national authorities, civil society, academia, the religious community, EU agencies and international organisations."
There is, according to the European Commission, a "need for action", as "unfavourable views of Muslims appear to have surged in the past few years". The European Commission does not, of course, offer up the possibility that such unfavorable views might be due to the fact that an overwhelming majority of all terrorist attacks on European soil in recent years have been committed primarily by one group, among several other signs of transformation on the European continent. Examples include preaching jihad against "infidels" in mosques; the rise of rape, as well as rape grooming gangs -- not exclusively, but overwhelmingly run by the same group in countries such as the UK, the Netherlands and now also apparently Finland; brutal misogynist practices such as female genital mutilation (FGM), honor killings, forced marriages and polygamy -- in addition to an exponential rise in anti-Semitism, especially in France. Sadly, the main victims of many of the abuses that the European Commission seemingly wishes to silence are Muslims, often women and children, and often too scared to speak out (here, here and here).
These minor details, however, do not appear to interest the European Commission.
"Recent surveys show that intolerance towards Muslims is growing in the EU and the protection of their basic fundamental rights is being challenged. In our European vision, there is no place for discrimination against any minority. After all, we are all minorities in the European Union" said First Vice-President Frans Timmermans at the high level conference.
"Discrimination, acts of intolerance or racism against the 25 million Muslims living in the EU is a violation of their fundamental rights, but it also fuels marginalisation and self-exclusion. We need to fight this intolerance and discrimination, as these only make us weaker and more fragile," said Vĕra Jourová, Commissioner for Justice, Consumers and Gender Equality.
According to Kuwait News Agency -- apparently, only Arabic news outlets covered the conference -- Jourova said, "Muslim minorities are perceived as someone different", stressing that "all of us must confront this cultural stereotypes [sic] because they are dangerous and poisoning [our] modern secular and tolerant societies."
"How do we nurture a sense of belonging that allows every Muslim to live his or her life as a Muslim in the EU alongside all other religions?" Jourova asked.
"We have a very serious problem in the EU and I hope this meeting is a testimony to getting more serious about tackling it," said Michael O'Flaherty, director of the EU's Agency for Fundamental Rights at the conference.
"Situation is so bad that I was in a European capital last week and a representative of an Islamic community said to me that things are getting so dangerous for my community now that people are thinking of emigrating. I haven't heard that before but it brought home to me as a non-Muslim the extent of the problem."
Kuwait News Agency further reports:
"He [O'Flaherty] said that the FRA will soon publish a survey with data which fundamentally challenges the lie in public discourse that says somehow there is a correlation between the largely Muslim migration into Europe, and a rise in anti-Semitic hate crime: 'That is a lie and we will be publish evidence in two weeks time', he added."
FRA did not publish such evidence. However, it did publish its "Second survey on discrimination and hate crime against Jews in the EU" in December 2018:
"With respect to the most serious incident of antisemitic harassment, on average, across the 12 Member States surveyed, the most frequently mentioned categories for perpetrators were: 'someone else I cannot describe' (31 %); 'someone with an extremist Muslim view' (30 %); 'someone with a left-wing political view' (21 %); 'work or school/college colleague' (16 %); 'teenager or group of teenagers' (15 %); 'an acquaintance or friend' (15 %); 'someone with a right-wing political view' (13 %).

"While the category 'someone with Muslim extremist view' is reported often, respondents frequently selected it in combination with another category. In one third of the cases of anti-Semitic harassment, respondents chose it together with 'someone with a left-wing political view' (33 %); in one quarter, together with the category 'teenager or group of teenagers' (22 %). Slightly fewer respondents also selected 'someone else I did not know' (15 %), 'work or school/college colleague' (14 %); or 'someone with a right-wing political view' (13 %) in addition to 'someone with Muslim extremist view.'"[1]
Previously, in November 2018, O'Flaherty's agency published a report, "Antisemitism - Overview of data available in the European Union 2007–2017," which stated:
"The main perpetrators of antisemitic incidents are 'Islamists' and radicalised young Muslims, including schoolchildren, as well as neo-Nazis and sympathisers of extreme-right and, in some cases, extreme-left groups".[2]
Antisemitic incidents were defined as including "violence; threats; insults directed at Jews going to the synagogue; harassment of rabbis; repeated attacks on Jews wearing symbols of their religion; hate speech; antisemitic bullying in schools; and damage to or desecration of property, including arson".[3]
"Religious intolerance and discrimination in its various forms is rising globally and not only in Europe and in particular against the Muslims," said Ismat Jahan, ambassador of the Organisation of Islamic Cooperation (OIC) in Brussels. She also condemned any attempt to link religion and Muslims with terrorism as "irresponsible" and warned that it "further polarizes society".
The high-level conference is just one small aspect of the system that the EU has in place to combat what it sees as manifestations of hate against Muslims, and many call "Islamophobia".
On the same day of the conference, the EU's Fundamental Rights Agency launched a new online tool, "Freeing Muslims from hatred: a toolbox for Europe." It is a database meant to "assist Member States as they confront anti-Muslim hatred. It seeks to expand the knowledge base available to policy makers and practitioners so they can develop more effective responses". The database "brings together information on significant international, European and national, regional and local level case law and rulings relating to hate crime, hate speech and discrimination against Muslims". Furthermore, "By providing a unique street-level view of victim support services in all 28 EU Member States, it will also guide to where they can find appropriate information, support and protection."
One of the foremost tools used by the EU is its "Code of conduct on countering illegal hate speech online," including hate speech against Muslims. By signing up to the Code, the major technology and social media corporations have committed themselves to censoring the internet on behalf of the EU, including the review of offending content in less than 24 hours and, if necessary, removing or disabling access to such content. "Progress" is regularly reported in the context of the High Level group on combating racism, xenophobia and other forms of intolerance; according to the EU, "in the recent evaluations of the Code, hate speech targeting Muslims features as the most frequently reported ground of hatred online".
The EU is not the only organization in Europe laboring to censor voices critical of whatever they may not agree with.
In October, the Organization for Security and Cooperation in Europe, (OSCE) held a conference on a similar topic, "Conference on Combating Intolerance and Discrimination, with a Focus on Discrimination Based on Religion or Belief: Towards a Comprehensive Response in the OSCE Region". In a completely secularized Europe, religion, for decision makers, has become one of the top issues.
At the OSCE conference, "Government officials and representatives of civil society and religious communities discussed good practices for addressing racism, xenophobia and other forms of discrimination".
"Fighting intolerance has been among the priorities of Italy's OSCE Chairmanship. We firmly believe that freedom of religion or belief, individual or collective, is indivisible: each offense to a religion is an offense to all," said Guglielmo Picchi, Italian Undersecretary of State for Foreign Affairs and International Co-operation.
Which "religion" in Europe takes constant "offense"? The religion that Picchi is referring to is the only one that seems constantly to be taking offense. Apparently, it is no longer enough, as "each offense to a religion" is now "an offense to all", that members of one religion are offended. Now, it seems, according to the OSCE, every European is supposed to be offended in solidarity with them, as well.
Judith Bergman, a columnist, lawyer and political analyst, is a Distinguished Senior Fellow at Gatestone Institute.
---
[1] Second survey on discrimination and hate crime against Jews in the EU, p 53.
[2] "Antisemitism - Overview of data available in the European Union 2007–2017" p 14.
[3] Ibid.